By JEFF ROUBAL
Special to the Gazette
Everyone loves getting letters and packages in the mail. Mail is one way that Vivian and kept our family close over the years.
Several of my assignments with the Air Force required extensive travel away from the family. One time, I was sent to Somalia for six months. Another time, I was assigned to an inspection team that was on the road 270 days a year.
This was during the 1990s — before we had cell phones. To keep in contact with the family, I would call home once a week and send lots of letters. The challenge for me was to keep the letters interesting for our young children. I found early on that the kids were thrilled if I could put something in the envelope with a note. Sticks of Juicy Fruit chewing gum were great to mail. When the kids got tired of that, I started looking around for different stuff.
Paper napkins imprinted with the name of any restaurant or hotel were excellent stuff. I could write a personal note on the back. The kids saved some of these these mementos for decades.
Next I branched out to matchbooks, drink stirrers, toothpicks, newspaper comics, stickers, sugar packets, salt and pepper packets, cardboard drink coasters, free address labels, loose change, leaves, dried flowers, photos, paper clips, ticket stubs, and anything else flat enough to fit in a #10 envelope and less than an ounce so extra postage would not be needed.
Doodles were a favorite. While on a flight or in a meeting, I would doodle something on a piece of scratch paper to mail to the kids. Anything and everything was good subject for a doodle: geometric designs, sketches of things around me, calligraphy of the kids' names, jokes, cartoons, stick figures. The kids would make doodles for me too. I still have some of these saved with my important papers.
I got in trouble one time by mailing mustard, catsup, and pickle relish packets. The mechanized postal processing equipment smashed these and made a big mess. The kids showed me their envelopes when I returned from the trip. They were really gross. The envelopes were delivered in plastic baggies with angry notes from folks at the mail-processing center. I never tried that again.
The family stayed in California when I was reassigned to Scott Air Force Base in Illinois for two years. In addition to weekly telephone calls, I added a 45-minute cassette recording. This was produced every Saturday morning while running errands with a battery-powered boombox strapped next to me in the passenger seat. Again, this was before anyone had cell phones. I felt pretty clever driving around town pointing out the sights, singing "On the road again", and talking about what I'd eaten for breakfast, lunch, and dinner the previous week. I described each of my errands in detail at the grocery store, dry cleaners, filling station, hardware store, shoe repair, etc.
Vivian would put her cassette player on the table during dinner so everyone could hear that I had three pants and one jacket to pick up at the dry cleaner this week. Years later, my kids confessed that these tapes turned out to be less entertaining than I had hoped. I liked to drive with the windows open, so it was hard to hear anything over the wind noise. Listening to each tape entailed 45 minutes of straining to hear words over the roar of traffic. One daughter described them as "excruciating." Two lessons learned for next time – roll up the car windows and use a written script.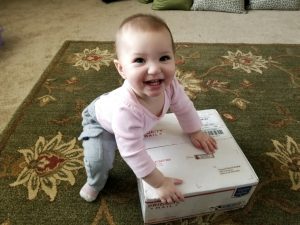 My extensive business trips ended when I retired from the Air Force. Ironically, just as Vivian and I settled down, our kids started traveling extensively. The mail continued but, as our kids turned into adults, I had to get more creative.
I found a huge edition of Far Side cartoons at the library book sale, cut off the binding with my table saw, and threw away the hard covers. Six loose pages of cartoons fit neatly in a #10 envelope and weighed exactly one ounce. Another time, I was given a Page-a-Day calendar with quotes from famous people. I mailed these quotes to a different kid each day with a stick of Juicy Fruit. My favorite quote was by Theodore Roosevelt about "The Man in the Arena." I still have that one hanging on the wall next to my computer.
One time, while our daughter was an exchange student in Bordeaux, I killed a huge mosquito and carefully taped it to a 3"x5" card. On the bottom, I duly recorded my name with the date, time, and location of capture. I padded this with a little cotton and mailed it abroad to France. She was impressed that the mosquito arrived in perfect condition. Her roommate was amazed that someone would mail a dead mosquito around the world. In hindsight, I probably violated some customs or agricultural regulations by mailing a non-quarantined insect to another country, but their astonishment mad it worth the risk.
When our other daughter was stationed with the Navy in Parvan Province, Afghanistan, I had another brilliant idea. I bought a 250-piece puzzle at the dollar store and mailed her ten random pieces a week. It was a great success. She finished the puzzle of a California seascape after 25 weeks and hung it on the wall in her barracks. She returned from Afghanistan after a year but, as far as I know, the puzzle is still be hanging somewhere at Bagram Air Base.
When this same child was teaching at the Mersin Naval Academy, Vivian and I mailed her care packages with magazines and snacks. Our daughter reported that Turkish customs officials would open and inspect every package, help themselves to some of the cookies and crackers, then deliver the half-eaten boxes. We briefly plotted about putting something weird tasting in the next box but instead just stopped sending snacks to Turkey.
Things were similar when she lived in China except the officials were more concerned about censoring the reading material. Some of her reading material would arrive with missing sections or pages. We soon stopped sending magazines in the packages to China for fear of displeasing the censors.
When our son was stationed in Qatar, he mailed us a plastic water bottle full of sand. He explained that there is not much else in Qatar, at least not on Al Udeid Air Base where he lived. We keep sand with our other souvenirs.
We don't send as many letters now. Everyone has cell phones, IM, email, Facebook and Skype. But, with one kid in Mariposa, one in Seattle, and one in Omaha, it is still a challenge to stay connected. Vivian and I are using more USPS flat-rate boxes.
The medium size flat-rate box is 11″ x 8.5″ x 5.5″. The carton is free. Priority postage is only $13.65 to send it anywhere in the country in 1-3 days, and it can weigh up to 70 pounds. (I don't know how you would put 70 pounds in a carton that size.) Vivian and I mailed three boxes to Omaha and two to Seattle last month with books, baby clothes, and snacks.
I encourage you to go ahead and mail someone a box full of random stuff. It is fun for everyone. You get to clean out your house and clutter theirs. I have found that mailing things to people in the United States is very safe – officials don't get into the snacks or magazines.