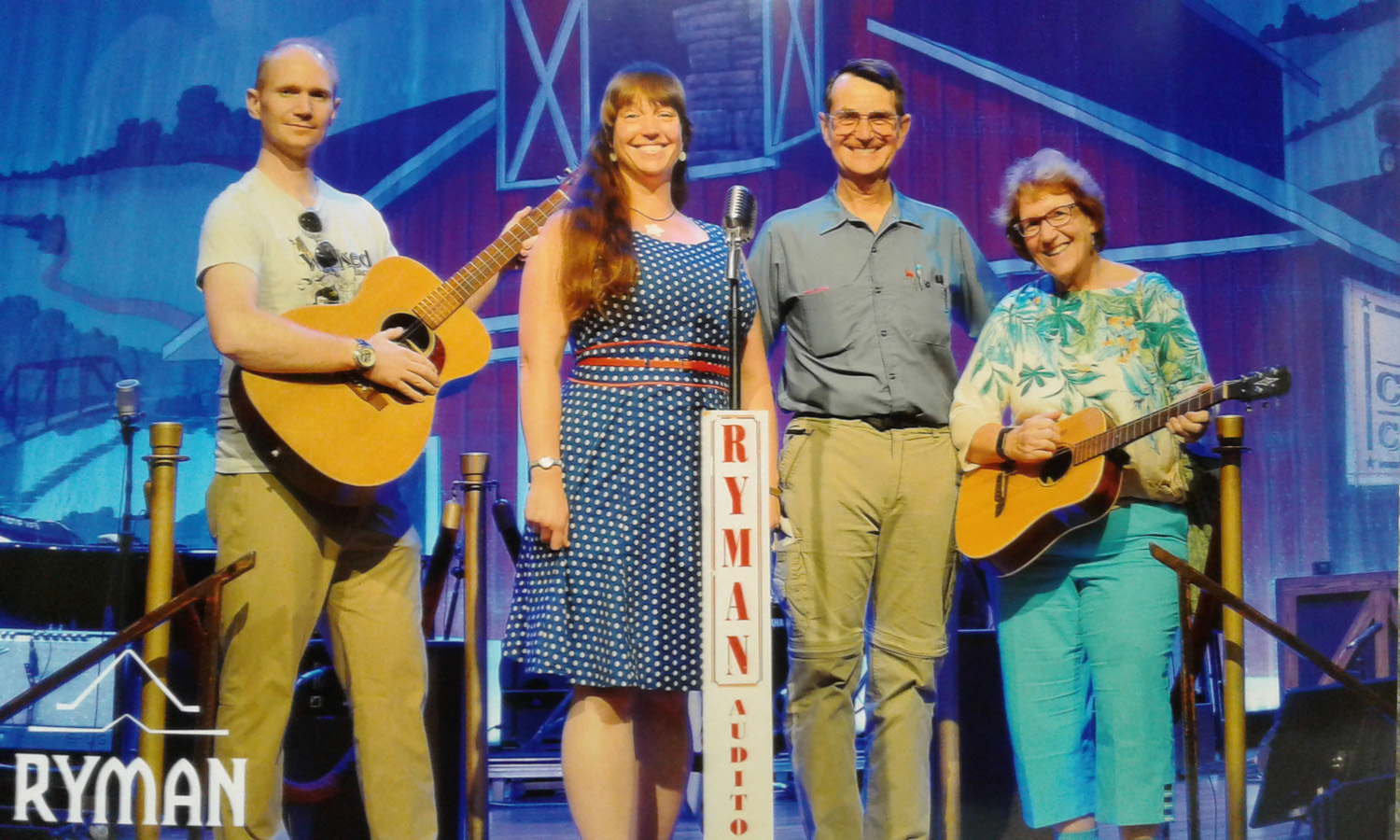 "How-w-w-DEE-E-E-E! I'm jest so proud to be here!"
Can you guess where I was last weekend? Yup. I was at the Grand Ole Opry in Nashville, Tennessee. Minnie Pearl was in evidence everywhere! Our mini vacation was a whirlwind of new and old, and filled with heaps of pride and nostalgia.
My husband Jeff, son Eddy, daughter Marion, and I flew in to Nashville to participate in the "Rock and Roll Marathon." Eddy is working on completing "50 marathons in 50 states" (It's an actual club!). Ed, Jeff and Marion signed up for the marathon. I signed up for the fun 5k fun run/walk. And fun I did have!
The 5k race started off at 6:45 am in front of the convention center. Jeff and our kids walked me over to my "corral," as they call an area for people with similar race times. Then they headed off for their 7:15am marathon starting line on Broadway, Nashville's famous Music Row.
So that's why we were in Nashville last weekend.
We had arrived in Nashville a couple of days before the race so we could do a little touristing. None of us had ever been there before. Where should we start? Before leaving Martinez, we looked at possible walking tours and the "hop on, hop off" bus and trolley lines. We saw that most of the famous attractions were in the center of town. We drove into town the first day and lo and behold! The NFL Draft Pick was going full blast. Party!! Streets were blocked and bus tours were canceled or modified because of street closures. No problem. We're all good walkers so we walked from the free parking lot at the Nissan Stadium, home of the Tennessee Titans, into downtown Nashville. We found the Nashville tourist information center and got the low down on things to see and do.
We went to the Country Music Hall of Fame and Museum. It is amazing. It has a collection of over 2.5 million artifacts. From Hank Williams' Martin Guitar to Elvis Presley's custom Cadillac. I was amazed to find that I thoroughly enjoyed walking through the museum.
Why? Because I was tortured with country music as a teenager. Sleep in on Saturday? Nope. My kid sister Johnette and I would wake up to:
"I went down, down, down,
and the flames went higher.
And it burns, burns, burns,
the ring of fire, the ring of fire."
Johnny Cash was Mom's favorite alarm clock. It most definitely was not ours. And Hee Haw, the television show? Mama planted herself in the living room every week to watch it. Country music was not cool when I was in high school. At least the Ed Sullivan Show had the Beatles.
The warm blanket of nostalgia that wrapped around me as I walked through the country western museum was a welcome surprise. I knew my mother loved that music genre. I hadn't realized how much that it had affected my growing up years. When I came upon a glass case containing one of Minnie Pearl's straw hats, complete with the original $1.98 price tag, I made Jeff take a picture so I could send it to my sisters. I knew they would understand. Mama loved Minnie Pearl.
"Your cheatin' heart
Will make you weep
You'll cry and cry
And try to sleep…
When I heard Hank Williams singing that song at the museum, I heard my mother's voice again. That was one of the songs my mother sang around the house. Or partially sang. I don't think she ever knew all of the lyrics of any song. Mama sang phrases like "Your cheatin' heart" and then "da da di da da" and "will make you weep…" and "da da di da da" for the rest for the rest of the song. I get all teary-eyed just hearing her singing in my head. I loved it when she sang because it meant she was happy.
I called my older sister Brenda when I got home. Because of the twelve-year difference in ages, sometimes her growing up years were very different from mine. Brenda confirmed that Mama had always loved country western music. Our Dad loved classical. "You could bet there would be classical music on the radio every Sunday after church" Brenda recalled. Dad worked at the steel mill in Pittsburg and Mom worked at Pacific Telephone in Pittsburg. Both did shift work. "I don't remember what music they listened to when they were home together," Brenda mused, "but they both liked popular music too."
"We didn't get a television until 1955 or '56," Brenda said. "Mama and Daddy had a lot of records, but most of the time our music came from the radio. Mama used to listen to 'Your Hit Parade' and 'The Grand Ole Opry'." Mama loved listening to Roy Rogers, Gene Autrey, Patsy Cline, Roy Acuff, Minnie Pearl and so many more."
After spending several hours in the Country Music Museum, we walked over to the Ryman Auditorium where the radio program, "Grand Ole Opry" (Longest running radio show in US history) was broadcast for many years. It was built in 1892 as a Methodist church but rented out space during the week as an entertainment venue to pay the bills. Eventually it became a full-time theater. The Grand Ole Opry radio show moved into the Ryman Theater in 1943. They were there until 1974 when they moved to a new building. The Ryman Auditorium was renovated in the 1990s.
We took the backstage tour of the Ryman (dubbed "The Mother Church of Country Music" by Nashvillians). We saw themed dressing rooms and sat in chairs that may have once held the backsides of Dolly or Elvis. We stood on the same stage that had held John Phillip Sousa, Susan B. Anthony, Booker T. Washington, Sarah Bernhardt, President Theodore Roosevelt, Helen Keller, Charlie Chaplin, Enrico Caruso, Harry Houdini, Will Rogers, Marian Anderson, Elvis Presley, Johnny Cash, Patsy Cline, Charlie Pride, Merle Haggard and so many more. We stood in the same spot where Bluegrass was born in 1945.
That night we went back to the Ryman for a show. Larry Gatlin was host and Ashley Campbell, TG Sheppard, Tony Jackson, and The Gatlin Brothers performed with Trace Adkins as the featured entertainer. Oh my! Trace may be my new favorite singer! What a voice! Deep and oh so manly….
Our brief stay in Nashville has helped me understand why my mother loved country western music so much. I discovered that it was a popular music genre in her youth. As she grew older the songs about living, loving, and loss must have resonated with her. I know the lyrics are more meaningful to me now that I'm not young anymore. I plan on tuning it to the Grand Ole Opry station to start listening to more country songs. All except "Ring of Fire". I still hate that song.
For more information: Tune your radio dial to 650 AM WSM or go to https://wsmonline.com/to hear full, unedited broadcasts of every Opry show. WSM has broadcast the Opry since its inception and today can be heard in more than 30 states, as well as parts of Canada. SiriusXM Radio carries the Grand Ole Opry on Channel 59.