"Grammie, its time for you to go home!" Jeff and I teased his mother recently. Unfortunately, she did have to go back to Oregon. "Back to the rain and gloom," Grammie sighed.
Grammie moved to Oregon several years ago. The wet winters there finally got to her. Last year she came for a two week winter visit and liked it so well she stayed for six weeks this year. Next year she plans on staying for two months. Grammie misses our California sun. We're glad to have her!
Of course, we didn't want her to go home. We teased her because she said she wasn't coming to visit her son. She was coming for the sunshine. And she sure got the sunshine! It didn't rain one day while she was here. Fearing another drought we teased her about leaving so it would rain again. Sure enough, an hour after she got on the airplane, it started to rain.
I drove up to Washington State to attend the Sewing Expo a few days after Grammie left. I love the rain, but for several days before I left Martinez I prayed "Please no snow going over the Siskiyou Mountains"! Snow chains are seriously not fun to put on. Happily, my wish was granted and I drove north on a gloriously sunny day. I stopped in Durham on the way north to share a cup of morning tea with my cousins Brion and Linda.
I left Martinez at the crack of dawn and drove up Highway 5 then crossed over to Highway 99. The recent rains had convinced the fields on either side of the road to grow green with lush grasses. Open flat lands were bright yellow with wild mustard. A few bright orange poppies dotted the landscape. I drove down narrow country lanes through blooming almond orchards for miles without seeing another car. As I drove under the canopy of white blossoms, an intermittent breeze mischievously caused a swirl of sweetly fragrant blossoms to snow down around me. It was such a magical route that I would not have been surprised to see a fairy fly by.
The abundant white blooms and sweet aroma took me back to another time and place. My husband and I were newlyweds living in Japan while Jeff was stationed at Yokota AB with the Air Force in 1979. MWR (Morale, Welfare, and Recreation) offered affordable cultural tours to servicepersons and their families. Eager to explore our new surroundings, Jeff and I signed up for every tour we could. We went to temples, shrines, parks, zoos, and gardens. We went to festivals and parades, and took Japanese folk dance classes. So, when we heard about the Atami Plum Garden Festival held at the end of our first February, we signed up. The festivals we had visited prior to this event had included food booths, parades, and stage entertainment. We were looking forward to tasting fine plum delicacies. We should have read the fine print.
Plums have some of the first blooms of the year in Japan and are heralded as the harbingers of spring. The Japanese plum, originally from China and sometimes called the Japanese apricot, has played an important role in Japanese culture for many centuries.
Like cherry trees, plum trees come in a myriad of varieties, many of which took centuries to cultivate. Most plum blossoms have five petals and range in color from white to dark pink. Unlike cherry blossoms, plum blossoms have a strong sweet fragrance. Believed to bring good fortune, plum blossoms, plums and the trees themselves are thought to ward off evil, so the trees are often planted around shrines, temples and other spiritual areas.
The Atami Ume Matsuri, Atami Plum Festival, was a long, two and a half hour drive from Yokota AB through stop and go traffic until we reached the Sagami Gulf of the Pacific.
We stopped at a small park long enough to stand on the cliff, look out across the Pacific Ocean and wave to our relatives back home in California.
When we finally arrived at the Atami Gardens, the tour guide walked our group into the park and said "Enjoy the blossoms! We will leave in two hours." And then he disappeared.
That was it. There were no food booths, no parades and no entertainment. And for those of us who didn't read the fine print about packing food, there was no lunch.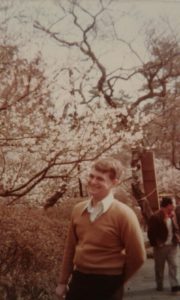 So Jeff and I wandered through the beautiful gardens enjoying the more than 800 plum trees in 60 different varieties with some of the trees being more than 100 years old. The trees were artfully arranged on both sides of a stream with maple trees and many azaleas filling in the landscape. There was very little empty space on the ground beneath the trees. The land was covered with picnic blankets with families sitting on them while eating with chop sticks out of little boxes.
We were new to Japan when we took that trip and had not yet seen a bento box. A bento box is like our lunch box only much nicer. The box contains a single-portion meal which traditionally holds rice or noodles, fish or meat, with pickled and cooked vegetables. The box itself has small compartments to hold each of the items. Each compartment is artfully arranged and decorated.
There were carrot flowers and radish roses. It was fascinating to see those containers filled with food I could not yet identify.
"Hanami", as we soon found out, is one of Japan's all-time favorite pastimes. It literally translates as "flower viewing" and refers to picnics under the blooms to appreciate the flowers and to welcome spring. The custom is believed to have started with plum blossoms in the eighth century, but by the twelfth century cherry blossoms had come to attract more attention. It's hard to think of springtime in Japan without the image of a sea of pink blooms.
Sukura, or cherry blossoms, are deeply symbolic in Japanese culture. With only a week of existence, the life of a bloom is brief. This gives an appreciation for the beauty of the fleeting nature of life. The blossoms also symbolize new beginnings.
Shortly after our trip to the plum gardens in 1979, we found that we were going to be a family. Flash forward three decades and Jeff and I are now happy to be grandparents. And you know what's really cool? Our granddaughter's middle name comes from her father's grandmother, Hanami. Truly a flower to watch, another new beginning.
The ornamental plum trees in Martinez were in full bloom while Grammie was here in February. Every afternoon she would sit on our front porch, feel the warmth of the California sun and watch as each blossom bloomed and then faded.
Plum blossoms are precious but do not last very long. Springtime also passes quickly by. Years too are fleeting. It seems like only yesterday that we were in Japan, but that was almost 40 years ago. In another sense, however, plum blossoms are as eternal as love and life. Grammie has watched them come and go for 85 years. We are looking forward to their return next spring and to hers.
But we made Grammie promise to let it rain at least a little while she's here.