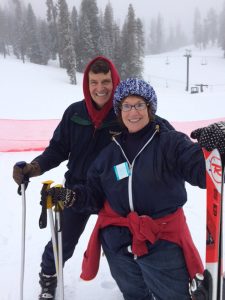 I was a Recreation major in college. I took the necessary recreation business and management classes but always looked forward to the courses highlighting different recreation possibilities. I studied scuba diving, synchronized swimming, nature crafts, archery, and many more fun classes. My mother used to laugh saying I was the only person she knew who was going to get paid to play.
My widowed mother worked full time for Ma Bell. When she wasn't working, she was a crocheting machine. If she was sitting down, she had a crochet hook in her hand. She didn't know how to just sit still. She crocheted baby sweater sets for every newborn in the family and for friends and neighbors.She crocheted more Afghans than could be counted. When ponchos were big in the 1970's, she crocheted for me – one of every color to match my outfits. She crocheted covers for our living room furniture, tablecloths and doilies and even made dish rags. My mom was an amazing woman. She didn't have much money, but she had time and that's what she spent on her loved ones.
One of my college classes was in winter recreation. It took place over spring break in 1975. The class took over a small ski resort near Quincy that had closed for the winter (even though there was still plenty of snow on the ground). The recreation class played host to the physical education classes that signed up for skiing lessons. Our recreation class practiced running the resort which included cooking all of the meals, organizing the nightly entertainment, and doing laundry. We also took some of the winter sport classes offered. I signed up for winter survival which was fun but not something I'd do again on purpose. Sleeping in the snow was too cold for me! I also signed up for ski lessons.
My mother was thrilled that I was going to learn to ski. She had it in her head that only rich people could afford to ski. The ski equipment, lift pass, and the right fashionable waterproof ski clothing were out of her economic range and that of almost everyone she knew. So there I was, the first in the family going to college and now I was skiing!
My mother crocheted a new hat, mittens and a scarf for me to wear on the trip. It was a new pattern that involved using an afghan stitch with double threads. They were made of dark blue and white acrylic yarn. The set was very warm and comfortable and matched my one and only jacket. I didn't have to rent any ski equipment because the class was all inclusive. I wasn't the only one skiing in jeans so I was good to go.
Well, I took my first lesson along with a dozen other skiing newbies. The college PE teachers used a system call "GLM" or graduated length method to teach us to ski. We started out on very short skis and the idea was to work our way up to the proper length of ski. I had so much fun! I was not very coordinated, so I fell down a lot. But it didn't matter. The snow was soft and I wasn't being graded on my skiing ability. By the end of the first lesson I was pretty good on those short skis.
The next day they gave me longer skis and poles to play with. I spent the day gleefully going up and down the bunny hill, falling into nice soft snow. The third day it rained a little and the snow wasn't soft and fluffy anymore. It hurt to fall down. So I finally learned how to stay upright on skis. And then the week was over and that was that… until forty years later.
I went skiing again last weekend! I went up with my family to Badger Pass in Yosemite National Park. It was my daughter and son-in-law's birthday month so we decided to celebrate on the slopes. My son-in-law had never been on skis and my husband Jeff and our daughters hadn't been on skis in a decade so we all signed up for the beginner class together. We had a blast. It didn't take long for Jeff and the girls to pick it right back up. There's a lot to be said for muscle memory.
My son-in-law is an athlete so it didn't take him long to figure out how to maneuver his skis. I, on the other hand, still found falling into soft fluffy snow more fun than swooshing down slopes. Except that falling down in your 60's is not quite the same as falling down in your 20's! After our lesson, Jeff and the kids headed for the ski lifts and I grabbed the camera. A fun time was had by all.
I had heard of Badger Pass but had never been there. It's closed in the summer and until this year I had never been to Yosemite in the winter. It's a very well hidden gem. Did you know that Badger Pass Ski Area is reputed to be the first ski resort in California? It's located in Yosemite National Park and has been a pioneer in the history of winter recreation.
Yosemite's first ski school opened shortly after the building of the Ahwahnee Hotel in 1927. It's believed that this ski school was the first in California. An ice rink, a toboggan run, cross country skiing and snow shoeing trails soon followed. Yosemite was even on the short list to host the Winter Olympics of 1932, but lost out to Lake Placid.
Yosemite is a beautiful place and interest in winter activities kept increasing. In 1933 the first ski lift in the West was built at Badger Pass, a few miles up from Yosemite valley. With the opening of the Wawona Road and tunnel, the ski resort became more accessible. More than 25,000 skiers hit the slopes in 1935. Badger Pass is one of only three lift serviced ski areas operating in a US National Park today.
We drove into Yosemite Valley from Mariposa early in the morning. We parked at Yosemite Lodge and took the free shuttle up to Badger Pass. The legendary Yosemite ski school is home to the famous "Guaranteed Learn to Ski" promise and I can safely say we all learned to ski. Some better than others! They also offer snowboard and cross-country ski instruction, rental equipment, a ski shop, children's programs and various dining options. And it was all very affordable.
When you only ski once every forty years you really don't need fancy waterproof pants. I skied in my jeans and a water proof jacket and the scarf and hat my mother crocheted for me so long ago. I think she would be pleased to know I still use them.
This column is a reprint, it orignally ran in February 2016