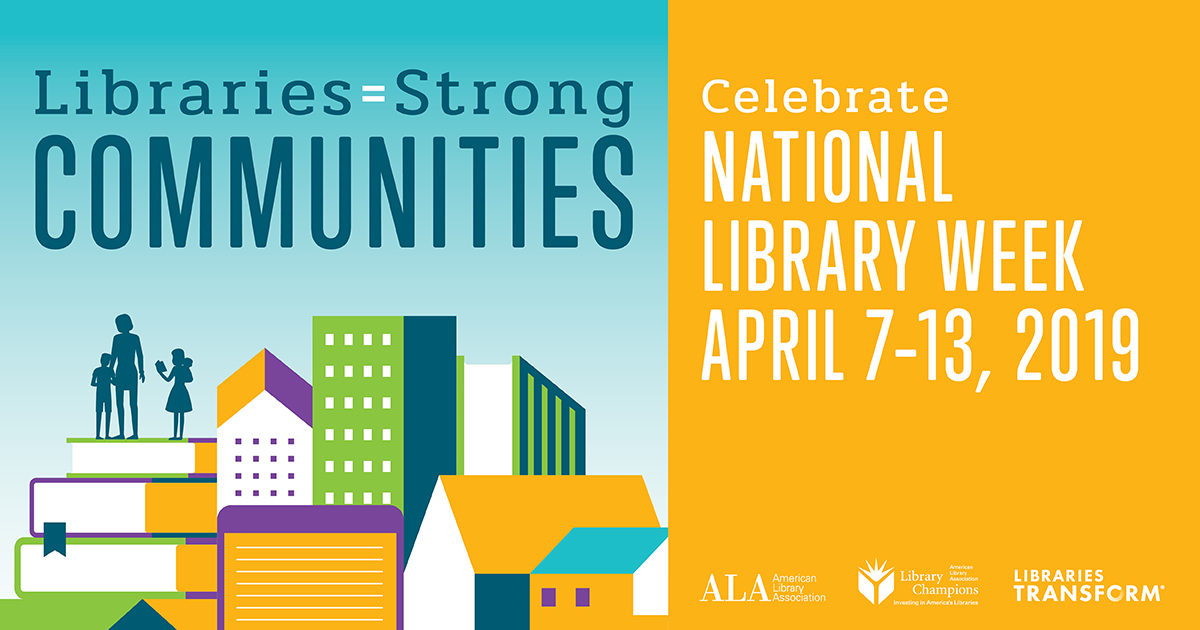 Next week is National Library Week. I love the library. We Americans are so lucky to have them in nearly every town across our nation.
This morning I posed the question to my Facebook friends "What are your favorite memories of going to the library?" Alice remembered reading "Harold and the Purple Crayon". Tracey and Marion read every book in the Nancy Drew series. I loved "Danny the Dinosaur". Peggy loved all the beautiful books with great photos. April walked to the library near her elementary school in San Francisco. She "read lots of fairytale books, each in different colors." Tracey used to ride her bike about a mile to the library and check out books all summer long.
"The smells" said Madelyn. "It smelled like the answer to every question ever asked" Laura replied. I too loved the smell – that musty old woody smell. Isn't funny how smells, or even the description of a smell can take you back in time to a place near and dear to your heart?
Debbie's best memory was of the old Antioch Library children's book section. "I would sit and go through the Dr. Seuss books. My favorite was the birthday book which was new so usually it was checked out. I loved Madeleine also. Barbar was not a favorite because of the cursive writing." Debbie also remembered the magic of watching the teenagers doing their "homework".
My friend Peggy remembered back in the day, that "The librarian always helped me find just the right book for my report."
Do you remember how it was before the internet? Thumbing through the card catalog or flipping through the Reader's Guide to Periodical Literature? Checking out a reference book for an hour because it wasn't allowed to leave the library? It sure feels good to remember the good old days at the library – until you remember how long it took to look something up! And then you had to hand copy it or pay five cents a page to copy it on the copier -if you were lucky enough to have a copier in your library. Thank goodness our libraries have computers now.
When my own children were toddlers, I took them to the library on whatever military base we were stationed. Most libraries had "story time" which consisted of an adult volunteer reading to the children. My oldest would concentrate and listen to every word of the story. My middle child would often fall asleep. My son, Eddy, the youngest, would roll around, turn upside down, and stand on his head, but never say a word. I'd ask Eddy what he thought of the story afterward, thinking I'd catch him not paying attention. Surprise! He could repeat the story almost word for word. How do kids do that?
My daughter Marion told me that getting her very own library card when she was ten years old gave her that first sense of independence. We stationed at Osan Air Base in Korea at the time. Marion was so proud that she could walk to the library all by herself and check out any book that she chose on her own.
When my children were older and we were living in California again, I drove the kids to the library every Thursday during the summer. Our local library offered "Summer Reading challenge Awards". If you read enough books you could "win" certificates for free scoops of ice cream at Baskin Robbins, a free kid' meal at Sizzlers, free Oakland A's tickets, or a free book. If you didn't read enough for your age group, you got pencils and erasers. My kids earned a lot of ice cream.
I come from a family of readers. My parents and sisters read to me, my sisters and I read to our children, and now our children are reading to their own children and grandchildren. Is it any wonder that we have two librarians in the family?
My sister Brenda gets 'homework' from her daughter Teresa who is a middle school librarian near Seattle. When Teresa gets a new book in the library, she reads it before putting it on the shelf for her students. Sometimes she gets behind on her reading. "Mom, read these three books and let me know if they are appropriate for this age group," Teresa might say. Brenda says it usually works out quite well. "I like young adult books!"
My niece Robin was a librarian at an elementary school in Pittsburg. She gave her mother homework too, but of a very different nature. When my sister Karen retired. Robin asked her, if she had time, to please come read to the children in the library one day a week. "Grandma Karen," as the children called her, was happy to oblige.
One day, Karen was in the fabric store picking out material for a couple of new blouses that she was going to sew for herself. She discovered a fabric with Dr. Seuss characters on it. It just so happened that she was going to be reading Dr. Seuss books the next week. The proverbial light bulb went on over her head and she smiled a big smile to herself. The next week Grandma Karen matched the book she was reading! The children were so tickled with Grandma Karen's blouse that my sister made herself a whole literary wardrobe after that. Charlie Brown, Raggedy Ann, Curious George, Micky Mouse, and the Cat in the Hat were just a few of Karen's special treats for the kids.
National Library Week has been celebrated since 1958 and is sponsored by the American Library Association (ALA). According to the ALA website, "National Library Week (April 7-13, 2019) is a time to celebrate the contributions of our nation's libraries and library workers and to promote library use and support…" The theme for 2019 is "Libraries = Strong Communities."
Our Martinez Library "provides public internet computers, wifi, a steady supply of new materials in various formats, and provides regular programming for children, teens, and adults." Take your toddlers to story time, encourage your teens to try a recreational drop-in, do crafts with your family, or join a book club. Enjoy their lecture and music series. Shop 'til you drop at the Friends of the Library book shop downstairs. Such a bargain!!! Our little library is proof that libraries = strong communities. Take time out from your busy schedule to celebrate National Library Week. Visit a library near you, like for instance, the Martinez library. Built in 1941 and renovated in 2011, it's a wonderful library. Even though the building has been updated, it still has that very special library smell.