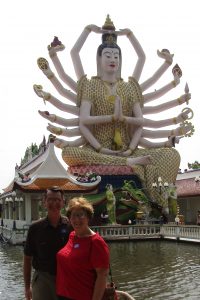 Sawasdee! (Hello in Thai).
It's good to be home in cool and rainy Martinez. Jeff and I have returned from a cruise to Southeast Asia where the flowers were in full bloom, trees and grasses were lush and green, and the humidity was high. Ever get out of a hot shower and the room is all steamed up? Try walking around in that all day, 24/7. It feels good to be wearing a sweater today.
Our cruise took us to Singapore, Penang, Malaysia, Ho Chi Minh City, Vietnam and three ports in Thailand, Ko Samui, Laem Chabang, and Phuket.
We spent a few days in Singapore before boarding the Princess Sapphire. We had been in Singapore almost 30 years ago so it was fun to see all of the changes.
Jeff tries to learn a few words of native language from every country we travel to. Most countries have people who can speak English, but making the effort to learn how to say please, thank you, and hello, is a way to show respect for them and their country. I remember the first time we went to Singapore in 1991. Jeff hadn't had time to learn those words before our flight into the country. On the way to the airport he asked the cabdriver "How do you say 'Hello' in Singapore?" The cabbie answered "Hello". Jeff thought the driver misunderstood him so he asked again. "In your country, how do you greet people?" "Hello" said the cabbie again. "I mean in your language" Jeff tried again. The cabbie replied with a little glint in his eye, "Sir, we speak English in Singapore."
Before we went on this recent trip, we were told by many of our friends that we needed to see the movie "Crazy Rich Asians". We watched it on the plane as we crossed the Pacific Ocean. Singapore is every bit as modern as the movie depicted. It is the ideal city of the future. Everything is clean, organized and well-functioning. You can drink the water there from any faucet. I'm not sure I'd want to live there, but it's an awfully nice place to visit.
Singapore has developed some interesting ways of dealing with traffic congestion. Their traffic gurus have figured out how many automobiles the city state can handle smoothly. So, it's now a one car out before another car can come in. If you want to have a car in Singapore, you put your name on a list to buy a "Certificate of Entitlement". The COE costs about $50,000. When it's your turn to buy a car, you can buy any car that meets Singapore standards. Just keep in mind that the import duty on that foreign car (all cars there are foreign) is going to be more than 100 percent. Also, they have graduated toll pricing. A FastTrack like device takes a few cents out of your account every block or two. The more cars on the road at certain times of the day, the more you pay to drive. And to think that we complain about the price of driving on highway 680 to San Jose!
Singapore is a very fine city. If you drop a piece of litter and a plain clothes policeman sees you, it's a $50 fine. If you drop your cigarette butt on the ground and a policewoman sees you, it's a $50 fine. If you cross the street when the light is red, well, it's another fine. Singapore is certainly a fine city!
In Vietnam, we went to a history and cultural museum where we saw a traditional folk play using water puppets. We sat in raked seats surrounding a pool on three sides. A wooden theater with bamboo curtains was on the fourth side. Traditional music played on stringed instruments as puppets emerged from between the curtains. The puppets were extended by poles which were hidden under water. We watched fish puppets swim and jump, puppet ducks chased by a cat and puppet fishermen and women in boats pull fish into their nets. There was a dialog in Vietnamese but the actions of the wooden puppets were easy for everyone to understand even if they didn't know the language. The puppets were delightful.
We shopped through the Ben Thanh Market place, which is more than a hundred years old. Shop! Oh my. So much to buy, so little room in my suitcase.
I purposely did not sign up for any tours involving military history in Vietnam. I wanted to see the country and the people of today. I didn't want our visit to a beautiful country to be a sad remembrance of past wars. It was foolish thinking on my part. Evidence of the war is still very much present in Ho Chi Minh City.
As we drove along the wide boulevards in our air conditioned bus, our tour guide pointed out the various sights of interest along the way. On one corner stood a museum dedicated to the captured American military vehicles and air planes on display outside. On another shady thoroughfare were out door exhibits of Chinese and Russian war machines.
Our tour even stopped for a photo shoot in front of the Independence Palace, now known as the Reunification Palace. It had been the home and office of the President of South Vietnam during the Vietnam War. Jeff and I stood on the very same spot where a North Vietnamese Army tank crashed through the gates on April 30, 1975, ending the war with the fall of Saigon.
Our tour next took us to the Saigon Central Post office. The building was constructed when Vietnam was part of French Indochina in the late 19th century. Its high ceilings and elegant woodworking showed its Gothic, Renaissance and French influences. You can still buy stamps and post a letter, but it is now mostly a tourist attraction and of course you can also shop for souvenirs.
As we came out of the post office, our tour guide pointed to a building a few blocks away. With one look at the building we knew exactly what we were seeing. I saw this same scene recreated and dramatized as the spectacular climax of the stage musical "Miss Saigon" last year.
The scene captured by Dutch photojournalist Hubert van Es in 1975 is one of the most dramatic photographs from the Vietnam War. When I saw the building I remembered the front page of our newspaper with that same photograph of desperate people scrambling up a ladder to reach a US helicopter perched atop an apartment building elevator shaft.
"That is where the famous helicopter evacuation by the Americans took place," our tour guide explained. "People always think that picture was taken of the American embassy, but it was actually an apartment building where many Americans lived. The CIA was posted in that building during the war." That building is once again a functioning apartment building, a building with a Saigon history dwarfed by a nearby Ho Chi Minh City office tower of the future.
We had been in Thailand many years ago and we enjoyed it again this time just as much, maybe even more. We were able to connect with people we hadn't seen in many years. It was lovely to see them again. I dislike humidity, but I'd make the trip back to visit them again.
Jeff and I travel for a lot of reasons. Traveling gives you a different perspective of the world. Travel develops skills you didn't know you had. Travel is an education. You make new friends. You appreciate the folks back home. It keeps our minds sharp and enhances creativity.
And travel gives us some pretty cool stories to tell.