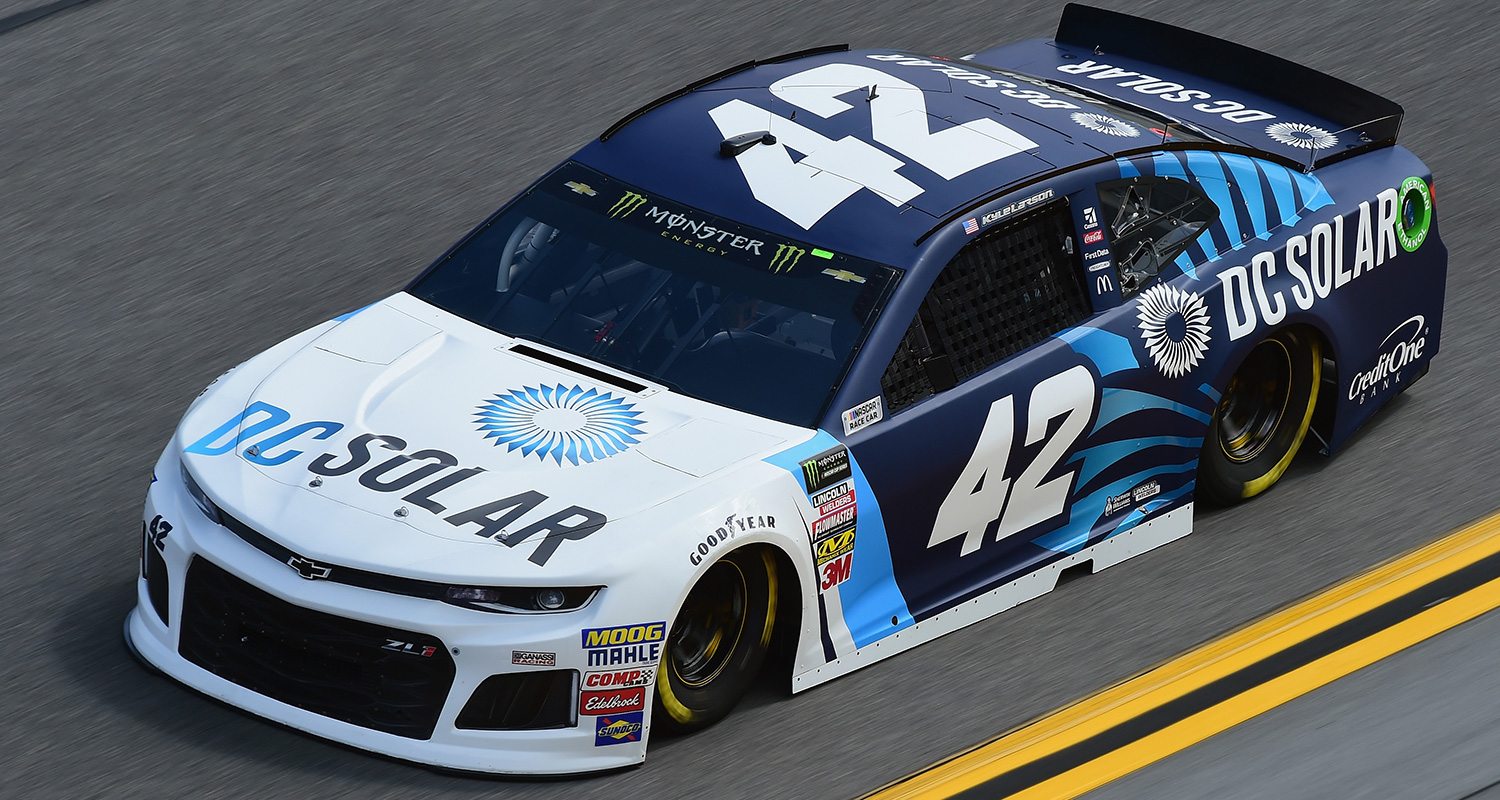 (DC Solar's name has backed some of Chip Ganassi's racing team drivers, including Elk Grove native Kyle Larson, one the stars of the younger crop of racers in both the second-tier Xfinity Series and the premiere Monster Energy NASCAR Cup Series.)
DC Solar and its affiliated companies have filed for reorganization in the U.S. Bankruptcy Court for the District of Nevada.
It's the latest development after the companies' Benicia campuses as well as the home of their owners, Martinez residents Jeff and Paulette Carpoff, were raided December 18 by Federal Bureau of Investigation agents.
Court papers indicate the company is in multi-million-dollar debt, especially to NASCAR-related businesses.
The seizures took essential business-related property and forced the layoff of the entire workforce, the papers noted.
The FBI confirmed the raids shortly after they happened, but the agency has released few specifics, citing the ongoing investigation.
However, papers filed in the court gave more details, saying funds were seized and bank accounts were frozen when the FBI executed "sweeping search and/or seizure warrants" at DC Solar's Benicia headquarters.
Since 2008, DC Solar has been manufacturing and leasing mobile, solar-powered energy products, including generators, light towers, telecommunications equipment and electric vehicle charging stations.
Among other items collected in the raid were computers, hard-copy files containing corporate books and records, investment agreements, lease agreements, communication with investors and customers and invoices, hundreds of items which the documents said were "essential for the company to conduct and operate its ongoing businesses…."
The court documents said the warrants claimed an investment fraud had been perpetrated by the company.
Agents arriving that day told employees to leave, and the company had to let lay off 100 people the week before Christmas, the documents said.
"Following the seizure, the Company has continued to receive strong support from its employees, its customers, its partners and its investors," documents said in various filings.
"Buoyed by the support of its key constituencies, the company is securing debtor-in-possession financing and commenced these Chapter 11 cases in order to reopen its business operations so it may continue to serve its customers and other stakeholders, compensate its employees and continue to deliver and develop its best-in-class products and services for the benefit of all…." the papers said.
If the applications are approved, DC Solar and its associated companies could reorganize while being protected from its creditors and would be allowed to maintain existing insurance and utilities "to avoid irreparable harm."
Some of the documents are signed by Daniel S. Briggs of Las Vegas, who is described as DC Solar's president and chief executive officer. Published sources said the Carpoffs have agreed to withdraw from the company's day-to-day operations, with others to be approved to take over, "in order to alleviate any concerns with regard to prior management…."
The company's Nevada legal representative, Tracy M. O'Steen, of the bankruptcy counsel Clark Hill, has requested the court allow Seth Freeman of San Francisco to be named the debtors' chief restructuring officer (CRO) to guide the reorganization.
Documents show that there are three DC Solar companies – DC Solar Solutions, DC Solar Distribution and DC Solar Freedom. But there are other affiliate companies that have made up the Carpoffs' holdings.
Double Jump is credited as holding 100 percent of DC Solar stock and the limited liability companies (LLCs) that hold real estate assets – Dora Dog Properties, Dog Blue Properties, Brandy Boy Properties and other real estate companies, 475 Channel Road, Park Road and 140 Mason Circle LLC.
Assets of the real estate debtors would be pledged as collateral, the documents said.
O'Steen asked the court Sunday to let GlassRatner Advisory and Capital Group, the San Francisco firm for which Freeman works, provide the chief restructuring officer and additional personnel.
The documents indicate the group of DC Solar companies have more than 100 creditors, and the 20 largest claims include those associated with NASCAR. DC Solar had been involved in stock car racing as a sponsor, not only of races but also of race teams,
DC Solar's name has backed some of Chip Ganassi's racing team drivers, including Elk Grove native Kyle Larson, one the stars of the younger crop of racers in both the second-tier Xfinity Series and the premiere Monster Energy NASCAR Cup Series.
Another driver, Ross Chastain, had been announced as having a full-season ride in the Xfinity Series for Ganassi under a DC Solar sponsorship. However, shortly after the raid, Ganassi's team announced it was shutting down its Xfinity participation because of the loss of sponsorship.
The documents listing creditors show Chip Ganassi Racing, of Concord, N.C., is owed $4,310,000. International Speedway Corp., Daytona Beach, Fla., which owns many of the NASCAR-affiliated tracks, is owed $1,025,000.
Richmond International Raceway, Richmond, Va., Kansas Speedway, Phoenix Motor Speedway in Avondale, Ariz., and Americrown Daytona Speedway, Daytona Beach, each are owed $750,000.
Exide, of Atlanta Ga., is owed $2,031,653.68, and US Tower Corp. is owed $2,059,979.11.
Others among the larger debts are $105,721.61 to AT&T; $104,092.79 to CED of San Francisco; $585,330.76 to Charge Point, Pasadena; $81,447.34 to Cranbrook Realty Investment Fund, Modesto; $294,726.07 to ECI Fuel Systems; $185,198.07 to Hanover Insurance Group; $294,490.73 to Net Jet Sales; $475,308.69 to Pacific Metal Fabrication; $79,927.79 to Soligent Distribution; $97,722.82 to WEX Fleet; $1,156,624 to Xtreme Manufacturing; $1,192,310.75 to Ahern Rentals; $207,000 to Hancock Whitney Equipment Financing; $164,500 to JG Energy Solutions and $620,000 to Sun Trust Equipment Finance and Leasing.
Also on the list are several Solar Eclipse Investment Funds of Benicia, described as in equipment rental and leasing and having the same address as DC Solar. Documents indicate the combined funds are due $9,608,750.
Multiple other debts are owed. Among them are those to the city of Benicia, the California Franchise Tax Board, Snap On Tools of Martinez, SP Automotive of Martinez, Tutt's Truck Outfitters of Pittsburg and Verducci Entertainment of Berkeley.
The court documents show that the debtors' attorneys have asked creditors to shorten the time to hear their clients' initial emergency motions. Most did not respond, although a few indicated they agreed.
Only one, the United States Securities and Exchange Commission, represented by Sara Cho, Chris Nee, Danciel Michael and Andres Sporkin said the Commission objects to the request regarding the retention of GlassRatner and designation of Seth Freeman as CRO. SEC's position is that either a Chapter 11 trustee should be appointed or the case should be dismissed, they said.
A meeting of creditors for both DC Solar companies is expected to take place in the court at 2 p.m. March 4. Judge Bruce T. Beesley has been added to the case.
The Carpoffs' attorney, Armando Gomez, of the Washington D.C. firm of Skadden, Arps, Slate, Meagher and Flom, which has been asked to be special counsel in the bankruptcy case, issued a statement to the Martinez News-Gazette on behalf of his clients after the raid.
"The Carpoff family was surprised and disappointed with the actions taken by the government earlier this week, which appear to relate to an ongoing tax dispute.  They are long-time residents and supporters of the Martinez community who believe in our country and all that it stands for," the statement said.
"The Carpoffs are grateful for the support of their friends and family, and have trust in the system to resolve this matter in a fair and just manner at the earliest opportunity so that they can continue to grow their business, which brings clean, reliable, renewable power to first responders and others whenever and wherever needed," it continued. "Until that time, they will have no further comment on this matter."
Then there's the matter of Paulette Carpoff's baseball team, the Martinez Clippers, which had its inaugural season last year.
It's situation remains unresolved, although the Pacific Association of Professional Baseball Clubs Commissioner Theo Fightmaster said earlier the league remains optimistic the local ball club will be playing this summer
He said Monday, "The Carpoffs have stated their intention to own and operate the team in 2019."
The Carpoffs' legal troubles could mean the ball club's status is unsettled while other teams are picking their players.
But Fightmaster said baseball team rosters "are very fluid, and while it's certainly not advantageous to throw a team together last minute, it's not as big of a disadvantage as it might be at other levels of baseball."
If the situation isn't resolved by the time the season begins at the end of May, the Pacific Association has backup plans.
"Hypothetically in a situation with a five-team league, we would add a sixth team and run it as a travel team – no home games. For many reasons, this isn't desired," Fightmaster said. "Or we could simply have more off days built into the schedule."
He said he hopes to have a league schedule by the end of this month. "This isn't too far off from years past," he said.
One tryout session for players will take place April 20 in Sonoma, and there may be a second tryout date April 21.
"Spring training will start for each team approximately on May 20. This will vary from team to team, depending on facility availability," he said.
City staff has been reviewing the five-year lease agreement Martinez has with the club owner for use of Field 3, but has not made any announcements.