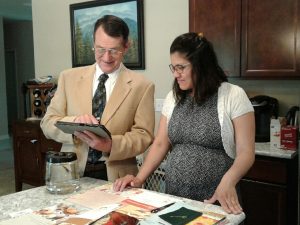 I did my first research report way back in elementary school. I don't remember why we were given the assignment but I'm fairly sure the purpose was to make us more aware of the world around us. My report was on the country of Peru. I learned that the Incas were a great society, that the Spanish moved in,that potatoes came from Peru and that guano (bird poo) was an important export. In the process of drawing the required map of the country for my report, I decided that the country looked like a leaping rabbit. I got an 'A'. Thankfully, I've learned a whole lot more about the country since then.
A few years ago my daughters went on a 'sister' trip to Peru. They flew into the mountain city of Cuzco. From there they walked a hundred miles on the Inca trail to the incredible ruins of the great empire of Machu Picchu. They marveled at the beauty of the Andes Mountains, lakes, and valleys. Our daughters' photographs convinced my husband Jeff and I to put Peru on our list of places we plan see in person someday. Our son has given us an even more compelling reason to visit Peru. He's given us a beautiful Peruvian daughter-in-law!
Jeff and I have just come back from a wonderful visit with our son and his family in Nebraska. It was hard leaving our two-year-old granddaughter but thank goodness for Skype. It's not quite the same as holding her in my lap, but at least we will get to visit little Betsy again soon via telephone from our Martinez living room.
A highlight of our visit to Nebraska was the wonderful Peruvian cuisine. My favorite daughter-in-law, Susan, is a great cook. We also enjoyed a splendid meal with her mother and sisters. I've been promised the chicken, potato, rice, and a scrumptious cheese sauce recipes, but they will need to be translated. I'm afraid my high school Spanish from 50 years ago isn't quite enough to do the job on my own and although Betsy is bilingual, she can't read yet!
I am happy to report, however, that I did get some dessert recipes! Susan and Jeff worked together one evening translating them for me from Susan's new cookbooks her father brought her from his last trip to Peru. It was fun watching Jeff and Susan trying to figure out how to translate uncommon ingredients (to us) such as sweet potato flour and purple corn.
I enjoyed the cookies and puddings and I know you will too! Susan told me that Peruvian ingredients can be found at Spanish grocery store if not at a store like Safeway or Lucky's. Jeff and I are looking forward to our next visit to Nebraska. I can't wait to learn more about Peru! Especially if it's delicious.
Alfajores de Maicena (Cornstarch Cookies)

One cup of butter
One cup of cornstarch
One cup of flour
6 tablespoons of powdered sugar
½ cup of shredded coconut (optional)
1 can of dulce de leche

Beat the butter and sugar together until smooth. Add in the cornstarch and flour. Mix together until it forms a ball. Refrigerate dough for about 20 minutes. Roll out the dough to abou ⅛ inch thick. Cut out with a round cookie cutter. Place on a cooking sheet and bake for 15 minutes at 350 Fahrenheit. When cookies are cool, take two cookies and sandwich them with dulce de leche in between.Optional: Roll sides in coconut flakes. Optional: Sprinkle powdered sugar.
Arroz con Leche (Peruvian Rice Pudding)

4 cups water
½ cinnamon stick
2 ¼ cups uncooked white rice
4 cups whole milk
4 cups evaporated milk
1 ¼ cups white sugar
Ground cinnamon

Put cinnamon stick in a saucepan with the water over high heat. Boil and cook about 5 minutes.Remove cinnamon stick. Add rice, turn heat to low. Cover, and cook until rice is tender and water is absorbed, about 20 minutes.

Slowly add whole milk to rice, then evaporated milk. Stir in sugar. Cook uncovered until mixture is thickened, about 10 minutes.

Serve warm or cold. Sprinkle each portion with ground cinnamon.
Mazamorra Morada (purple corn)

2 pounds dried purple corn on the cob
10 cups water
1 pineapple, washed stem and bottom removed, diced with skin on
2 fresh green apples, washed and chopped with skins on
2 cinnamon sticks
8 whole cloves
Juice of 1 lemon
1 ½ cups sugar
½ cup dried prunes
½ cup dried cherries
½ cup dried apricots
1 ½ cups sweet potato flour or ¾ cup cornstarch
Ground cinnamon

Soak the purple corn in the water overnight. Move the corn to a large pot and measure the liquid. Add water to make 15 cups. Pour the liquid back over the corn, and add the pineapple, apple, cinnamon sticks, cloves, lemon juice and sugar. Bring to a boil, reduce the heat, and simmer for 2 to 2 ½ hours.

Take off the stove. Take out the corn cobs and strain the liquid. Press the fruit against the strainer with a spoon to squeeze out all the juice. There should be about 8 cups of liquid.Throw away the corn and fruit. Place the liquid in a heavy saucepan, reserving 1 cup of the liquid.

Add the dried prunes, cherries and apricots to the 7 cups of liquid.

Combine the reserved 1 cup of liquid and the cornstarch or sweet potato flour in a small bowl until the flour is dissolved. Put this mixture back into the rest of the liquid and dried fruit. Bring to a boil over medium heat, stirring until the mixture is thick, about 25 minutes.

Pour the pudding into a serving dish or individual cups. Let cool. Serve with a dust of cinnamon.