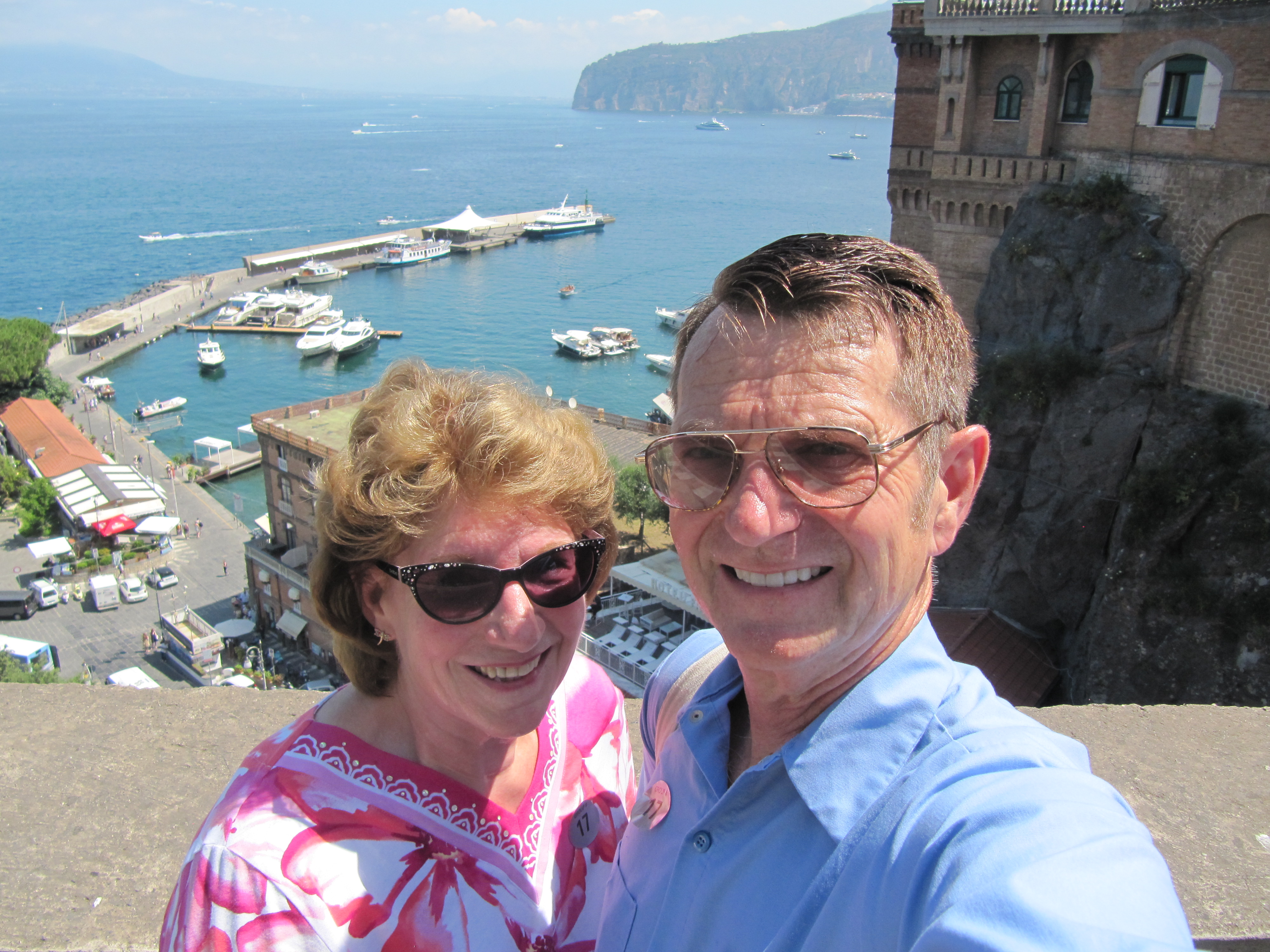 Ola! Cheerio! Bonjour! Ciao! Yassou! Salve!
Hello! Jeff and I just returned from a Mediterranean cruise. Wow. Totally awesome. Wow. What else do you say after actually seeing and doing things you only dreamed about? As my husband likes to say "We're so lucky!"
Cruising has changed dramatically during my lifetime. I remember going with my older sister Karen to see her friend off from New York City to Europe in 1960. It was raining buckets that day, but we stood underneath a warehouse-like structure and waved up as her friend waved down at us. I had seen Groucho Marks in the 1931 movie 'Monkey Business' and wondered if Karen's friend was a stowaway or first class. I was seven.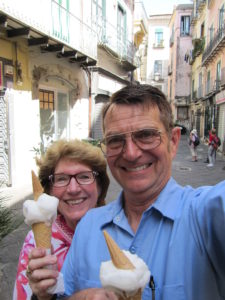 Ocean liners were the only way to get to Europe or Asia until 1958 when the first commercial jets streaked across the sky cutting travel time from five days to slightly over five hours. Transportation exports predicted the end to ocean travel, but the shipping lines changed course and became a part of the new transportation age. In 1966, the Norwegian Line offered the first short trip out of Florida to the Caribbean. The next year it was building ships better suited to passengers than cargo. Crews exchanged formality for fun and brought a new atmosphere to shipboard life. "Getting there was no longer half the fun. It was the fun" reports "The Unofficial Guide to Cruises", a book our daughter Marion gave us when we dropped off our cat Lexy for her to watch while we were gone.
"The Love Boat" was one of the few television shows that we were able to watch on the AFN (Armed Forces Network) when we lived as newlyweds in Japan where Jeff was stationed in the late 1970s. It was fun watching the antics of Captain Stubing, cruise director Julie McCoy and the crew. I never felt like those 'passengers' were regular people like us though.
Getting to the ships was a problem until the cruise lines and the airlines saw an advantage to joining forces in the 1970s. By offering special deals passengers could roll the cost of the ship and air together. The ships could then offer cruises all year round from where ever it was warm. With the popularity of The Love Boat and a lower cost, millions of Americans who might never have considered a cruise in the past started climbing aboard. 1980's Kathie Lee Gifford's commercials for Carnival Cruise Lines made cruising look like so much fun!
As cruising become more popular, Jeff and I started hearing stories from our friends who were bitten by the cruise bug. Something that sounded so impossible, (only for rich people!) became feasible. We spent our 25th anniversary on a cruise to the Caribbean and have been avid cruisers ever since.
You see, Jeff and I are lazy travelers. We want to see and experience as much of the world as we can, but we're too lazy to keep packing and unpacking our suitcases and moving from one hotel to the next. It's nice to settle in to a small, but nice, hotel room and have the hotel take you to a different place every day. It's also very nice to have all of your meals cooked for you and not have to dishes or make your bed. I have been spoiled.
Cruises are not expensive anymore. If you figure the cost of hotel rooms, transportation, meals and entertainment, a cruise can be less expensive. But like all things in life, you have to watch for the sales.
Knowing that we would be going somewhere special for our 40th anniversary, I started looking at the different cruise itineraries a year ago. I had wanted to go to the British Isles but suddenly the prices doubled after the Brexit vote. Not sure if there is a correlation or not, but I started looking at other possibilities. One day I clicked on an advertisement for Princess Cruises. Lo and behold, there was a cruise package to the Mediterranean that seemed way too low in price and too high in fun possibilities. I emailed the ad to our travel agent who also happens to be a friend and fellow retired teacher. April emailed back "Book it!" So we did. And so did April and her husband. And four other retired teachers and friends. We had a twenty day party for eight!
We flew into Barcelona and spent two days there before boarding the Crown Princess. I loved Barcelona, not because of all the impressive architecture or Gaudi's world famous Sagrada Familia. I loved the people. The city was clean. The people were kind and friendly. When we got on the metro (underground train similar to BART) a young man got up to give us his seat. (Are we that old?!) At another stop, a middle aged woman gave up her seat for a young pregnant woman. Jeff moved faster when the next pregnant woman got on.
From there we sailed to Gibraltar. Yes! I climbed the Rock of Gibraltar! But not all the way. The top was closed for the day. Gibraltar, even though it on the tip of Spain belongs to the British. Everyone spoke English and the British pound was the preferred currency. Who'da thunk!?
We spent the next day in Marseille, France which is a very cosmopolitan city. April and her husband Tony, Jeff and I went out on our own that day while the others explored Provence. We saw cathedrals, medieval fortresses, walked down narrow alleys and enjoyed the modern homemade art on the walls and doors of ancient residential buildings. We even rode a local bus up a street not unlike San Francisco.
From there we went to Florence where I fulfilled a dream to visit the Uffizi museum. Jeff and I and friends Sharon and Chris rubbed shoulders with Michelangelo, Leonardo De Vinci, Botticelli, Raphael, and Caravaggio. (Shh….Chris and I got lost in Florence. It was quite an adventure. Luckily there was a happy ending and a good story to tell another time!) From Florence we went to Rome and the ever amazing Vatican. Then we cruised on to Naples where we took a shuttle to Milan where we saw Teatro Alla Scala, the famous opera house. We had lunch on the shores of Sorrento as we gazed across the sea to Mt. Vesuvius with fingers crossed for no eruptions. Our friend Lloyd was climbing the volcano that day.
Have you ever heard of Montenegro? It's a pretty little country that used to be a part of Yugoslavia. It's nestled on the coast of the Adriatic Sea in some of Europe's most rugged mountains. We tasted goat cheese, homemade prosciutto, honey and wine in a small village up a very steep and winding road along scary cliffs on the way to the old royal capital of Cetinje where we visited the palace of King Nickolas.
Greece was next on our amazing adventure. On the island of Corfu we visited the palace where Prince Philip, Queen Elizabeth's husband was born and we trekked through the Old Fortress built by the Venetians. Crete was the next Greek island to welcome us where we toured Suda Bay War Cemetery, a Commonwealth cemetery with soldiers from WWI and WWII. It was a beautiful and peaceful place. From there we traveled to Mykonos and a side trip to Delos. Delos! The birthplace of Apollo and his twin sister Artemas! It was goosepimply to walk down the stone streets first paved 6,000 years ago.
Alas, the cruise had to come to an end. Athens was our last port and couldn't have been a better place to end our odyssey. We hiked up the Acropolis to the Parthenon, and then down to the temple of Zeus. We shopped our way through ancient alleyways and sampled delicious Greek foods. Two days in Athens, and then a day on the plane back home.
We had a marvelous time on our trip but it's good to be back home right here in Martinez. As my husband likes to say "We're so lucky!"