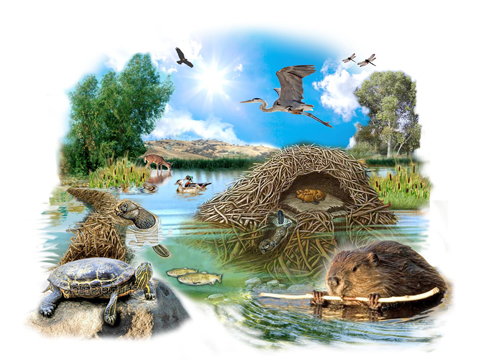 The Martinez beavers are back, and so is the annual Martinez Beaver Festival that celebrates wildlife and their contributions to a healthy environment.
Founded 11 years ago at a time a new beaver dam in Alhambra Creek might have exacerbated flooding in the city's downtown business district, the first festival gave residents and ecology supporters a chance to advocate for the aquatic mammals and encourage the city to find a path toward coexistence.
That came in the form of the "beaver deceiver" that averted the dam's impact on downtown floods and put Martinez on the map as being one of the first cities to use the device.
This year's festival, which takes place Saturday, marks a number of firsts, according to Heidi Perryman, whose "Worth a Dam" organization has been a longtime supporter of the local beavers.
This will be the first year the Beaver Festival will be in Susana Park, on Susana and Estudillo streets, moved south from Beaver Park on Alhambra Avenue. On the border of Susana Park is a new beaver dam, and festival goers can take a peek not only at the dam, but see if any of the beavers are swimming by.
Appearing at the festival for the first time is Napa street painter Amy G. Hall, who will be creating a sidewalk mural of a beaver pond and the wildlife that benefit from it.
Attendees, especially children, can pick up some chalk and create their own companion paintings on Susana Park's sidewalks.
Ben Goldfarb will introduce his book, "Eager: The Surprising Secret Lives of Beavers and Why They Matter," published by Chelsea Green, and with one chapter on the Martinez beaver story.
The festival will have a lineup of musicians playing upbeat bluegraxx and Dixieland music. Children can assemble a picture of beavers and wildlife through an educational treasure hunt for stickers available from certain participating exhibitors.
As usual, multiple local, regional and national wildlife-oriented organizations will have interactive displays and exhibits, where people can find out more about the surrounding environment and the birds, animals and fish that inhabits it.
In conjunction with the festival, Sarah Koenigsberg will have the West Coast premiere of her documentary, "Beaver Believers," at 7 p.m. Thursday at Empress Theatre, 330 Virginia St., Vallejo. Martinez, Perryman and the Beaver Festival are featured in the documentary. Admission is $10.
The Martinez Beaver Festival will take place from 11 a.m. to 4 p.m. Saturday at Susana Park, Estudillo and Susana streets. Admission is free. Those interested may visit the websitewww.martinezbeavers.org.