Barbara Woodburn
December 5, 1940 – April 12, 2019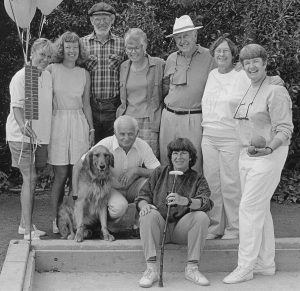 Barbara Woodburn, former Martinez City Councilmember and community activist, died at her home in Eureka on Friday, April 12, 2019 after a long illness. She was 78.
A graveside service will be held at 11 a.m. on Thursday, April 25.
Ms. Woodburn was born in Washington, Iowa on December 5, 1940. Her family moved to Richmond, California in 1943 when her father enlisted in the Navy. They lived in Atchison Village, housing for many moving into Richmond from all over the country but particularly the South and the Midwest to work in the shipyards or to serve in the military. She grew up in the city graduating from Richmond High School in 1958 with lifelong friends including future Martinez residents John and Sandra Vojoda and retired State Senator Bob Campbell.
A cousin of 1940s and 50s Hollywood movie star Forrest Tucker, Barbara developed a lifelong love of American and British cinema. Tucker visited the Woodburns every time he came to the Bay Area, often to star in a play or for a film opening.
"He (Tucker) was quite a character" recalls her son, Erin, who was a young boy at the time. He has never forgotten a story told by his mother about the time vaudeville and music hall star Sophie Tucker (no relation) was in San Francisco at the same time as cousin Forrest and his mother, Doris Tucker. Barbara never forgot Sophie and Doris playing duets on the piano and singing old music hall favorites with Forrest. Both were large, older women of whom Barbara remarked often that it was "the most bosom she had ever seen in one place" in her life.
Two years after graduation, Barbara met and married the love of her life, Bob Woodburn. They had two sons, Sean and Erin. She loved family life and became an accomplished cook. Bob was a special education teacher and later an elementary school principal in the Richmond schools.
In 1969 he secured a three-year teaching post at Mangilao school on the island of Guam. With the boys enrolled in school, Barbara pursued her love of ocean life, particularly that of shell fish. Besides collecting and cleaning sea shells, she learned about the species that had made each shell its home. She became so knowledgeable that she was hired to teach marine biology at St . John's Episcopal School. Although she did not graduate from college or seek a California teacher's credential until years later, she qualified for a job on Guam because anyone could teach as long as they were hired to teach any grade up to the highest grade level they had completed. St. John's Episcopal school scored a real bargain with the very intelligent and dedicated Barbara Woodburn.
When the family returned home, Bob became an elementary school principal in Richmond until his health failed and he was forced to retire at a young age. He died not long thereafter. In some ways, Barbara never got over his death, but she used it for what her son calls "a real calling to service".
That opportunity started with a rainstorm on the evening of the day he died, January 7, 1986. The water pouring down from the Franklin Hills caused a slide and flooding at the Woodburn home in the lower part of the hills near Canyon Way. Located at the junction of Serrano and Saint Mary's streets, the home and property was in the direct line of the flow of water from the hills. The January 7 storm caused considerable damage to the Woodburn home and property.
At the very same time, developers were preparing applications for housing developments on the hillsides from Highway 4 to Carquinez Scenic Drive despite the fact that there was always a lot of run-off with associated property damage on the residences in the neighborhoods and the Alhambra campus after any big storm.
As the Woodburns and their neighbors struggled with the 1986 storm's havoc, 11 people and their families including Barbara and her neighbors and some who did not live in the neighborhood but who seriously cared about the environment anywhere in the City, formed the Friends of the Franklin Hills to fight the development proposals. Her son Erin, who was 22 at the time and his older brother, Sean, worked side by side with the Friends. As Erin points out, while there were only 11 hard working members of the core committee, they were very resourceful and very smart about their tactics and they always help informing residents all over the city when the hills were threatened.
The City, he recalls, always waited until the last legal minute to release the pubic notice of any City Council or Planning Commission agendas that included hearings on the Franklin Hills development proposals so the public wouldn't "flood" the council chambers. However, the committee and their families, friends and fellow environmentalists, were always ready to immediately canvas all Martinez neighborhoods with notices of the meetings and information about the agendas.
Consequently, Erin recalls, the Council or Commission would enter the chamber on meeting night finding not the mostly empty chairs they expected but a standing room only crowd.
"We would go out and hit every house in as short a time as possible. We would mobilize a big crowd!" said Erin with pride.
During those years, he notes, there were lots of clandestine planning meetings held by the Friends at Jean Wills' house at the top of St. Mary's Drive, the first stop for the run-off on the edge of the open space targeted for development.
Asked about what Barbara Woodburn's impact has been on the city, committee member Tim Platt describes her as "one of the first citizens to stand up straight against powerful land owners and politicians and to fight for the common man."
"She had a strong voice, a razor-sharp mind and bulldog tenacity and she used every one of those qualities to save the Franklin Hills and preserve those beautiful lands," Platt continued noting that she also had a personality that drew people to her and to support her efforts.
Sherida Bush remembers being campaign chairperson of Barbara's second campaign for City Council which she won in 1990. She recalls that Barbara worked very hard in a grassroots campaign with little money and total dependence on volunteers.
"Her primary message to the voters was "I am going to listen to you," Sherida says. Even though Barbara had a brusque exterior, she continued, citizens knew she really cared about them and their concerns.
For many years, Barbara not only served on the Council but also worked at the Contra Costa Crisis Center as Night Supervisor.
Jim Bouquin, who was Executive Director of the Center during part of her employment, described Barbara as a "unique and special person for sure." People would call in desperation at 3 a.m. and Barbara would show them patience, kindness and love. "She was the lifeline" for so many, he added. She was also charismatic. Despite her gruffness and her straight talk, "the staff who worked with her loved her," Bouquin recalls.
But as committed as Barbara was to her work, the Franklin Hills and later to the Martinez City Council, she could be distracted by another topic – trivia, particularly but not exclusively historic movie trivia.
A group of journalists, mainly from the Contra Costa Times but with one News-Gazette writer and Community Page editor, had formed a group in the early 1980s that met monthly to compete over who knew the most answers to the questions in the new Trivial Pursuit game.
As Times staff began retiring or moving elsewhere, TP members began looking for new players, many of whom came from Martinez. One of them, Kay Cox, saw Barbara at a 1988 election fundraiser and passed along a piece of political gossip. Her immediate reaction was "where did you hear that?" Cox replied that she heard it at Trivial Pursuit. Barbara immediately dropped the gossip and demanded to know "What Trivial Pursuit game?" That was followed immediately by "Can I join?"
After she retired to Eureka, she drove down to Martinez twice a year to conduct personal business, see friends from throughout Central County and to play Trivial Pursuit with the gang. When she wasn't here, whichever team got a movie question they couldn't handle called her in Eureka for the answer! She always knew it.
She also loved bocce and was on the"Having A Ball" team in the Friday night league. Her friends loved the wonderful and clever Christmas cards she and her pets produced each year. Many of us have kicked ourselves for not keeping them all.
One of the TP group, Migs Carter, observes that "even when Barb retired from the Council and moved to Eureka, she cared a lot about what happened in Martinez. There were times she was frustrated and lamented she wasn't here to speak up. But she celebrated the good things and revered her years of activisim. She was proud of what she had accomplished but she knew it was time to go."
Barbara is survived by her sons, Sean, of Willits, and Erin and his wife, Michele and Barbara's grandson, Sean Robert, all of Eureka. Her sister, Dixie Hall of Fairfield and many nieces and nephews.
Local residents, friends, and those who turned to her for help either involving their property in the city or their emotional issues are invited to a graveside service at Oakmont Memorial Park at 11 a.m. on Thursday, April 25.
She will be interred in the plot she will now share with the husband she always loved and always missed. But since his death 31 years ago she has become one of the bravest and most honest elected officials in this part of the County and one of the most respected and appreciated of the staff at the Contra Costa Crisis Center and a loving and loyal friend.
Memorial contributions may be made in Barbara's name to the Contra Costa Crisis Center, P.O. Box 3364, Walnut Creek, CA 94598 or to the charity of the donor's choice.
– Harriett Burt