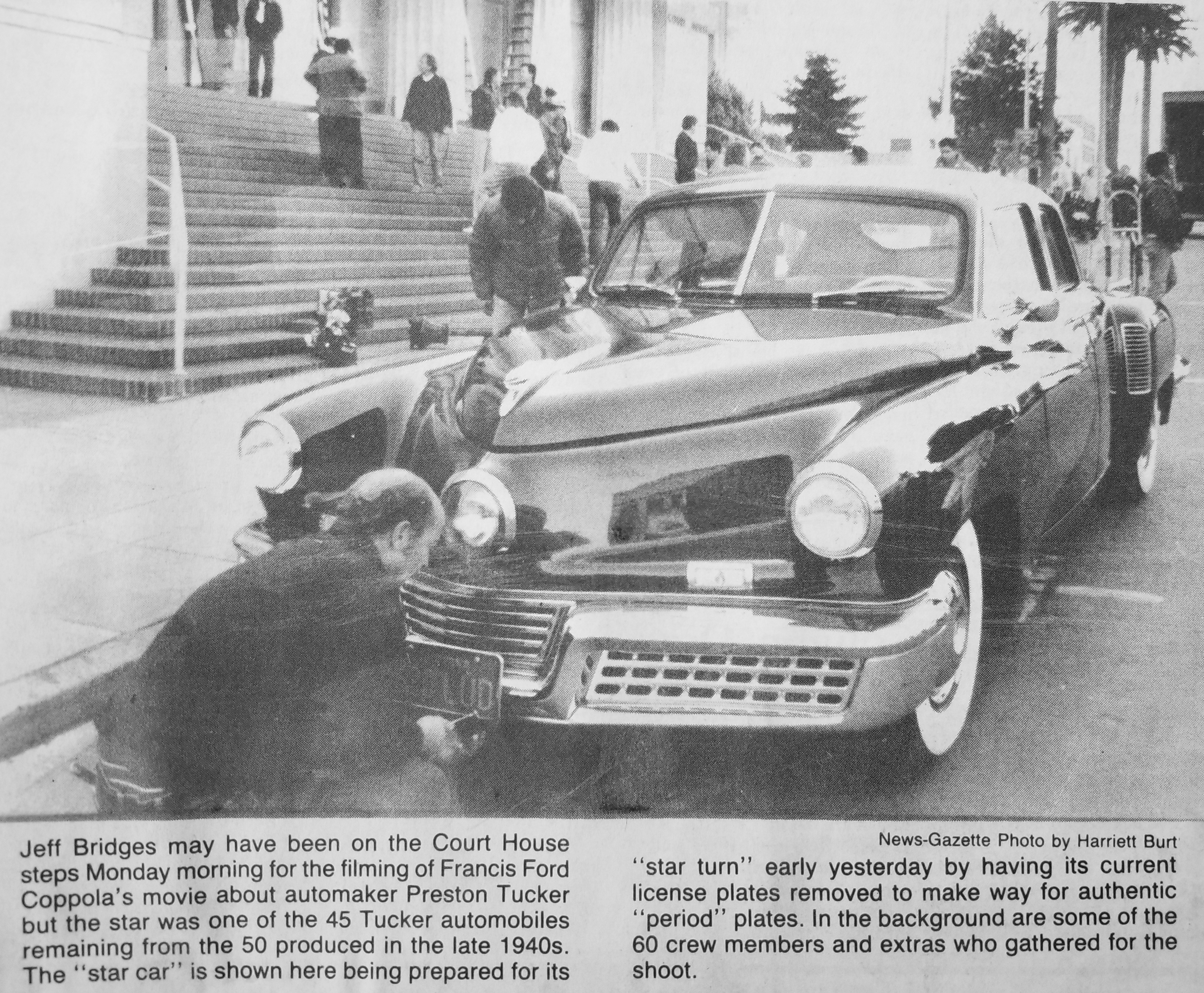 By HARRIETT BURT
Martinez News-Gazette Contributor
Editor's note: A showing of the recently restored Francis Ford Coppola film "Tucker: The Man and His Dream" is scheduled for Saturday, August 11, 2018 at the Shell Club House. The benefit for the Martinez Historical Society will take place starting at 6 p.m. A small portion of the 1988 story of maverick car designer Preston Tucker and his ill-fated challenge to the auto industry was filmed at the Contra Costa County Court house, now the Wakefield Taylor Court House. Although a Cannes Film Festival award winner, the film was not immediately commercially successful so was withdrawn fairly soon after its release. 'Tucker' features not only a star-studded cast headed by Academy Award Winner Jeff Bridges, but tells the story of the maverick car designer and his ill-fated challenge to the auto industry. Restored recently by American Zoetrope, Coppola's film will be released on blue-ray through Amazon starting at the end of August. However American Zoethorpe film archivist James Mockoski has approved the film being shown to benefit the Martinez Historical Society on August 11 and later in the month at the Pebble Beach Concours d'Elegance before its general blue-ray DVD release through Amazon and other outlets on August 28, 2018. See accompanying box for more information about the event and how to obtain tickets. (HJB)
This writer remembers grabbing her camera and racing up to the Court House on April 28, 1987 to get some shots of the filming of Francis Ford Coppola's latest project, a biographical film about maverick car designer Preston Tucker's ground breaking new automobile, the Tucker 48. The car introduced a number of improvements to automobile construction, style and safety that not only made it news-worthy but very exciting to a nation in love with its cars. It also became the perfect target for the Big 3 auto companies (Ford, General Motors and Chrysler) and their Congressional protectors who did not want their empires undermined by new ideas from outsiders that would cost them money and possibly their position as industry leaders.
News-Gazette colleague and city desk reporter Jim Caroompas was covering the story, one of a number of examples in the '70s and '80s of film companies finding Martinez public buildings providing the perfect images for whatever their particular stories needed wherever they were actually set.
While some locals and the City were pleased with the attention and the revenue, others, particularly business owners and local residents, found the disruption to the already severely
limited downtown parking availability intolerable. It later became a political issue resulting in a sharp drop in the City's acceptance of requests by film companies that lasted until fairly recently.
The film was released to generally positive reviews in 1988 but did not fare well at the box office and so was pulled out of release shortly thereafter. James Mockoski, film archivist for Coppola's production company, American Zoetrope, says this is a very common thing in the film business. "If you don't do well in the first one or two weeks, it's pulled because the studio needs people filling seats." That was in spite of a 'star-studded cast' including Academy Award winners Jeff Bridges and Martin Landau and Academy Award nominee Joan Allen.
George Lucas, who shared Coppola's enthusiasm for the Tucker story, financed it significantly so owned the film rights. When Lucas later sold his business to Disney, Coppola saw the chance to buy the Tucker film back. American Zoetrope is one of the few production companies that own their own films, says Mockoski.
"My job is to get our library films back out" says the Martinez resident. "Sometimes you don't find the right audience at first. The reviewers appreciated it but the viewers didn't. Our titles are worth redoing", he says with obvious pride. "Apocalypse Now, which is ranked as one of the top 100 films of all time, took 10 or 15 years to pay back the money" invested in its production. "That was even though it was critically successful at (the) Cannes" Film Festival.
Coppola has a strong personal interest in Preston Tucker's story. His father, Carmen, was an investor in the Tucker company and took ten-year-old Francis to meet his friend and see his revolutionary car.
"Francis loves that here was a guy who was trying to do something better," observes Mockoski. There were these big forces against him – the big 3 auto companies, and a powerful Michigan senator.
"For Francis, the question is how can anybody be against safety, a better product? He sees a lot of parallels in film making. He always likes that person who always wants to change things… who says, 'I can do it better.'"
So how did a Coppola film become the 'star' of an elegant summer evening event in Martinez? The Martinez Historical Society connection consists of two people. Deborah Hebert Lee was an intern at the museum while studying for her master's degree in public history. A history instructor at DVC, she currently works part time at American Zoetrope, Francis Ford Coppola's production company as an assistant to James Mockoski who coincidentally lives in Martinez. As the Tucker restoration neared completion, the idea of allowing the local Society to show the film as a fund-raiser developed.
Besides the film, the event will also feature elegant 'dinner-substitute' hors d' oeuvres by popular local caterer Cynthia Espinosa and wine tasting of Coppola wines in addition to wines by Viano Vineyards in Martinez and Bray Vineyards in Auburn. A not-your-average-silent auction will feature a number of items including a wine tasting for four at the Coppola Winery in Napa, two portrait sessions by Martinez photographer Franci Lucero, multi-media art by Martinez resident, retired DVC art instructor and well-known Bay Area artist Joy Broom; a 60-90 minute performance for a private party by popular Bay Area and Armando's stars, Jeff Magidson and Isabelle Fontaine aka Duo Gadjo; a day boat trip to the Delta featuring a gourmet lunch provided by boat captain Marta Van Loan and "Fish Patrol," a painting of Jack London's schooner sailing in Carquinez Strait, donated by Kevin Murray. London wrote stories about the Delta while spending time on his boat there. (partial list of auction items).