Martinez's annual Youth Baseball and Softball Parade will take place at 10 a.m. Saturday, March 3, starting at City Hall Plaza, 525 Henrietta St.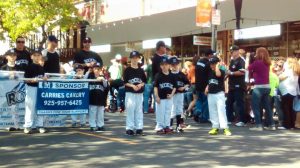 Each year, the Martinez Baseball Club and the Martinez Youth Baseball and Softball Association players and coaches march down Alhambra Avenue, then turn onto Main Street until they reach Las Juntas Street.
The teams and coaches will be introduced by Al Boyce.
Alhambra Avenue will be closed to traffic for the duration of the parade, about 25 minutes. The closed area will be between Jones and Main streets. Main Street also will be closed, to parking from 9 a.m. to noon and to traffic from 10 a.m. to noon that day.
After the parade, the Martinez Youth Baseball and Softball League will assemble for team photographs and a barbecue lunch at Ranken Park.
Those interested may call Martinez Recreation at 372-3510.