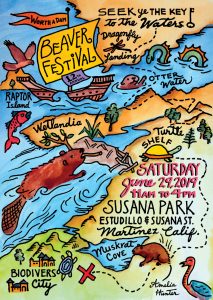 MARTINEZ, Calif. – In 2008, a group of people decided a festival would be a way to unify supporters and to show detractors how many people wanted to protect a family beavers who had moved to the downtown area of Alhambra Creek.
This year, the 12th Martinez Beaver Festival once again will celebrate the aquatic animals that are a key species in California and other states.
In announcing the 2019 edition of the festival, founder and president Heidi Perryman said, "A decade ago, Martinez found itself at the center of controversy over some furry neighbors nobody expected."
Not everyone welcomed the two beavers who moved into the creek in 2007 and started to build a dam so they could raise a family, she recalled.
As the beavers worked on the dam, fears rose that the structure would increase the flooding to which the downtown area is prone. Some people wanted the beavers trapped and eliminated.
But others objected to that course. "And how," Perryman added.
The beavers soon became a hot topic, not just locally but through national news outlets as well.
During a Martinez meeting, so many people packed City Hall, the meeting was moved to the Alhambra High School auditorium. Residents were joined by members of the Sierra Club, animal advocacy groups and a documentary filmmaker, and most told the city they wanted the flooding concerns addressed without harm coming to the beavers.
Perryman was asked to be part of a task force made up of members of the City Council, creek experts, beaver supporters and property owners who had 90 days to propose solutions. Among the solutions proposed was a "Beaver Deceiver" flow device developed by scientist Skip Lisle.
Beaver supporters also formed "Worth a Dam," an organization that has become a longtime advocate for both the animals and the humane approach that allow the beavers to remain in Alhambra Creek while preventing their dam from aggravating the downtown flooding.
Besides meetings and advocacy, advocates decided to plan a gathering to celebrate the aquatic animals that gradually have become one of Martinez's iconic symbols.
"Defenders guessed the beavers would be harder to kill after residents threw a party for them, and in 2008, the first Beaver Festival was born," Perryman said.
In the meantime, local beaver sightings have risen and fallen. The original family moved when they lost an entire litter of kits. Later, other beavers were seen mating in the creek. Then beavers were seen not in the downtown but in a portion of the creek close to Susana Park.
Just as beavers live and interact with other elements of the environment, the Beaver Festival involves more than celebrating beavers, Perryman said.
"Over the years, it has grown to be one of the biggest wildlife events in Northern California, drawing conservation and nature groups from more than five Bay Area counties," she said.
Save the Snakes, NorCal Bats, the Marine Mammal Center and other groups will be participating this year.
Napa artist Amy G. Hall will return to Martinez to spend two days creating a chalk mural showing beavers and the other wildlife species they sustain. This will be displayed in Susana Park's central plaza.
Attendees can watch as she paints.
Each year, the festival has a special event for children, and this year, youngsters can participate in a special treasure hunt to find the "Lost Key to the Waters." Those participating on the quest will be awarded a commemorative key.
"They say when life gives you lemons, you should make lemonade, but when life gives you beavers, you should definitely celebrate with a 'dam' fine festival like this," Perryman said. "Come see for yourself what only Martinez has to offer!"
Those interested in learning more about the history of Martinez beavers as well as environmental topics elsewhere may visit the website www.martinezbeavers.org.
Admission to the Martinez Beaver Festival is free. It will take place 11 a.m. to 4 p.m. June 29 at Susana Park at the intersection of Susana and Estudillo streets.