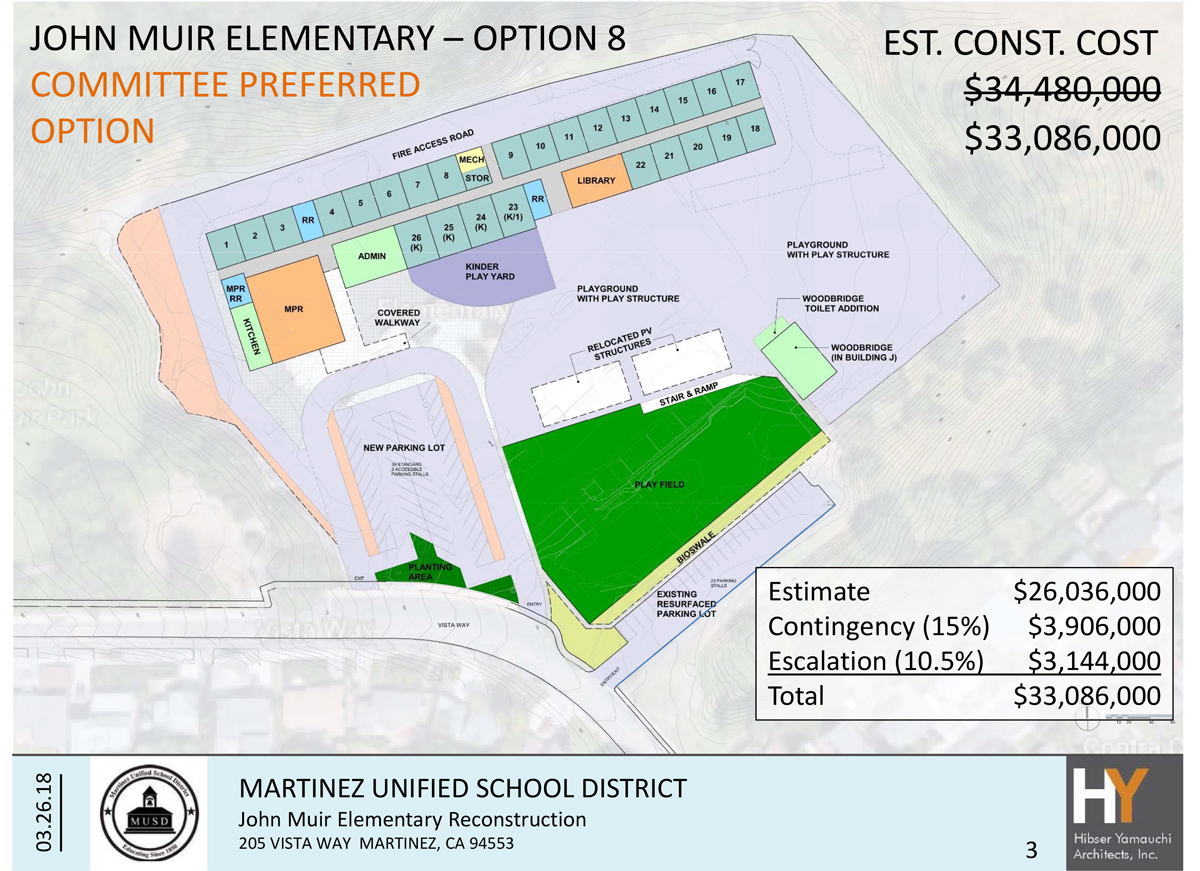 The new John Muir Elementary School building that will be erected on the current campus grounds will be a single building, add more parking space and streamline parents' drop-off and pick-up flow, the Martinez Unified School District Board of Education decided Monday night.
The panel went with the higher-priced option that is more expensive than what has been budgeted from the Measure R bond money approved Nov. 8, 2016, by voters.
But the single-building option, which calls for razing and replacing existing structures, reduces the public access to the building, a security issue that has gotten more attention since the Feb. 14 slaying of 17 students and staff at a Florida high school.
That tragedy has sparked student-led walkouts, protests and demonstrations across the country, including those at Alhambra High School and Vicente-Briones Schools in Martinez.
In addition, the local school district and the Contra Costa County community college district recently have dealt with threats of harm that were determined to be false alarms, although Diablo Valley College closed its campus for the day after discovering its threat, and John Swett Elementary School went into lockdown as a precaution when its own written threat was found.
Those concerns made the single-building design more appealing to Boardmembers, although they remain concerned that spending extra money at John Muir Elementary might impact plans for the district's three other elementary schools and Martinez Junior High School.
Hibser Yamauchi Architects, the district's contractor, presented lower figures Monday night for Option 7, a slightly less expensive alternative that would have modified an existing multipurpose building instead of demolishing it, as well as Option 8, the ultimate choice, after discovering they had miscalculated contingency and escalation costs.
But Option 7 remained at more than $31 million and Option 8 tops out at more than $33 million even after the revised figures are used. The project had been budgeted at $29 million.
Option 8 still received unanimous support Monday. Its new, long building, with central corridors rather than outdoor breezeways, limits access into the building. The Board agreed it should be of modular construction, an approach that kept the costs from being even higher.
Because it is modular, the Board can lock down construction prices more quickly, Marcus Hibser of the architectural firm told the Board.
John Muir Elementary School is the only one that is slated for full campus replacement using Measure R money.
Martinez Junior High School would get locker room and classroom renovations, a project expected to cost nearly $6 million. But the measure's greater focus is on the elementary schools, after Measure K bond money underwrote improvements at Alhambra High School and other projects.
John Swett Elementary School is expected to get a new multipurpose room, renovations to its administration area, a new kindergarten and other modernizing changes, a project expected to cost more than $24 million.
Las Juntas Elementary School would get new classrooms and kindergarten, a new multipurpose room, administration area and library, at a cost of more than $30 million.
Morello Park Elementary School would see its multipurpose room and administrative area reworked, would get new classrooms and have other rooms upgraded, at a cost of more than $18 million.
Management of the projects is expected to cost about $2.25 million, and furnishing the improved areas is expected to cost nearly $200,000, and the bond issue should still be able to keep $2.1 million in reserves, Hibser said.
Before the final design is submitted, Contra Costa County Fire Protection District should be able to make suggestions to assure children's safety in case of a fire at John Muir Elementary School, Boardmember Kathi McLaughlin said.
Brenda Navarro urged the John Muir classrooms have doors to the outside in case of fires, saying that opening a window and lifting all the children out is not a good option.
Board Clerk Bobbi Horack urged fencing for all campuses, especially after several members of the public as well as a teacher urged the Board make student safety its top priority. And one speaker said the enclosed building offers greater safety for children.
Assistant Superintendent Helen Rossi, who has been participating in the subcommittee meetings that led to the campus options presented to the Board, said, "We spent a lot of hours putting our heads together," and said the subcommittee's focus was "the best interest of students and staff."
Deidree Sakai, an attorney with Dannis Woliver Kelley, explained the various ways the Board could proceed with paying for the campus's construction, including their benefits and drawbacks. However, no decision on the approach was made Monday.
On another matter, the Board showed it remains divided.
President Jonathan Wright, Vice President Deidre Siguenza and Horack, who originally favored developing a Project Labor Agreement (PLA) between the district and the Building Trades Council (BTC), represents area labor organizations, indicated they favored continued negotiations. Siguenza suggested the longer negotiations go on, it is less likely the District and the unions would build a strong relationship.
However, McLaughlin and Boardmember John Fuller said they were frustrated the talks have gone on as long as they have.
McLaughlin said the results of the latest session, as reported by District Superintendent C.J. Cammack, didn't answer questions she raised at an earlier meeting.
She pointed out the BTC hasn't budged since it said the construction project cost threshold that would trigger the PLA should be $1 million.
Sakai, who is representing the Board in the negotiations, said the unions originally wanted a zero-dollar threshold, while McLaughlin said the Board has dropped from its earlier threshold figure of $5 million.
McLaughlin wanted the unions to commit to hiring more than 30 percent Martinez area workers, although BTC and labor organization representatives said meeting the 30 percent local hiring requirement could be challenging, because many local workers are out on jobs.
She also is concerned that the unions aren't ready to offer financial support to MUSD's Career/Technical Education (CTE) classes, or commit to participating in more CTE activities and events, such as job fairs.
"Funding for CTE is a big thing for me," she said. "Kids want to go into the trades." Although her current job isn't union, she has been a union member in the past, she told the Board. But she is finding the ongoing negotiations frustrating, and said she wasn't satisfied with the BTC's commitment to attend just two events in an academic year.
She criticized the trade council's resistance to modular construction, saying if the Board dropped that option, "we betrayed the taxpayers."
After learning the trade council's positions, McLaughlin said, "I don't trust you. I don't think you tell the truth every time…..This is not a negotiation. This is 'You tell us what you want and we give it to you…..' Trust is a two way street."
Boardmember John Fuller was frustrated that limiting the PLA to Measure R projects was a negotiating point at all, since Measure R projects had triggered talks about establishing the PLA. "It's a Measure R PLA," he said.
Such agreements are established to prevent work stoppages or other construction interruptions, since those are banned in the pacts. However, other points can be discussed, and frequently the agreements require non-union companies that win contracts to pay union dues and abide by union rules.
He said the District had come down from a threshold of $10 million, not just $5 million, and said he has heard labor organization promise to promote career and technical classes but have not appeared at such events.
Fuller asked if the unions would be punished if they failed to participate in career fairs and other events, and Sakai said they would face no penalty.
He said the ongoing talks are costing the District money with each session. "The Board could have been pleased by the second meeting," Fuller commented.
"I didn't to into the subcommittee to nix this," but Fuller added that a $5 million threshold would trigger the PLA for 90 percent of Measure R projects. "That's not good enough," he said.
Regarding the CTE programs, he said, "I go to events and nobody is there from the unions. I hear the same rhetoric I hear tonight.
Saying each session costs $10,000 to $20,000 each, Fuller suggested Cammack and Rossi simply close the deal, since he believes District points kept getting whittled away.
But a majority of the Board felt differently.
"I see this as we're tightening up (the agreement)," Siguenza said. "I'd like to see us reach a point to finalize an agreement, but I don't see anything that offends me in any way. We're still in negotiations."
She continued, "We're not going to please everyone on the Board….we need the expertise with people we trust and trust us."
Horack said she was concerned at the tone of Monday's discussion. "My feeling is we're entering into a contract, and any time you enter into a contract, there has to be an element of trust," she said.
"I don't see that happening. I don't see a solution – I don't see that on the part of the district. I think they (BTC) are a trustworthy group. If they say they will participate in CTE, they will," she said. "I don't see trust, and that bothers me."
Wright supported her position.
"I've worked with them. They are trustworthy," he said. He explained he understood the unions' preference for a $1 million threshold. "It's important," he said.
"I'd like to proceed," he told the Board and Cammack. "This gives us the best people (who would bring projects) on time and under budget."
He said the Board may have been "miseducated" about what a PLA is, and he apologized if there was a misunderstanding. He said he took it upon himself to examine the mechanics of forging a PLA, "and it's eye-opening."
Union supporters also spoke in favor of continuing negotiations. One described working conditions few office workers face, saying that many construction workers spend their entire careers using portable toilets on the job, and said he was offended that his colleagues have been called "greedy."
He said unions have apprenticed 180 Alhambra High School students in 10 years, and that unions are training students in ways public school systems are failing to do.
He said the state of California pushes students to attend college, and when they are graduated, they are saddled with debt. Union apprentices who are graduated face no such burden, he said, and then they go into careers, not just first jobs.
As for modular construction, he told the Board, "The bridge that fell in Florida was modular."