By PAUL CRAIG
Martinez Gazette Contributor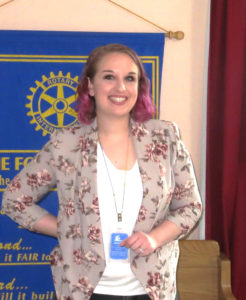 MARTINEZ, Calif. – Jessica Lilja is the Acting Community Library Manager in Martinez. She's only been in her job for a few months, but is learning the ropes quickly. Jessica gave an impressive report to Rotary. There's lots going on! Lots of books are being ordered. And used. Fiction is the most popular category. Also kids books. Also lots of books for people whose native language is not English.
For those interested in esoteric or scholarly material, there's the Link+ system. This system coordinates among many local libraries – including college and university libraries. Link+ delivers books quickly. I use Link+ often to obtain esoteric books. Many of these are expensive; getting them on loan is perfect.
The Martinez library offers something for everyone. Popular books have long waiting lists. However, these waiting lists move remarkably fast. When a waiting list is long, the library orders extra copies. You'll be surprised how quickly your book shows up, even though your place in the the queue may initially be up in the hundreds.
The Martinez library was originally built in 1941. The building itself is historic. With "Measure H" funds it was recently rebuilt. It's a small building, but beautiful and heavily used. The reconstruction added an elevator making the multi-purpose downstairs space accessible to all. The elevator has a mid-level stop providing access to the lovely garden.
There's an adult book group; There are lots of public presentation, such as the recent one done in cooperation with the Martinez Historical Museum on Women of Martinez. Wednesday is "drop in night" for high school students. The 'card catalog' has long been replaced by an electronic data base. The 'kids section' has kid categories such as 'fishing', 'lions', and 'skate boards'. I clicked on 'skate boards" and found 45 titles! The kids catalog tells you up-front whether the book is checked out or available now.
There's no end to what you can find on line. Safari gives electronic access to technical books. I found a dummies guide to block-chain. Up-to-date stuff.
Through ccclib.org you can even get free tickets to the Oakland zoo, and lots of local museums. Our library system is a gold mine.
All you need it a library card. It's free. Just stop in at the Martinez Library and ask!