By MATT SIEGER
Martinez News-Gazette Contributor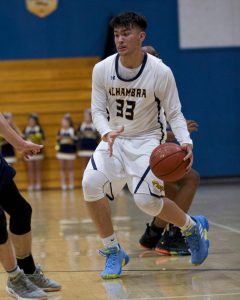 MARTINEZ, Calif. – The Alhambra High boys basketball team (15-8, 6-1 league) is tied for first place in the Diablo-Valley League. But they take no team for granted.
So when the Ygnacio Valley Warriors (12-11, 2-5 league) stepped onto Alhambra's court Tuesday night, the Bulldogs were not looking past this game to Friday night's big home matchup against co-league leader Benicia.
"They work hard. They're a scrappy group," said Bulldogs coach Chris Petiti of the Warriors. "They're much improved over what they were last year. They're moving in the right direction. They're going to want to compete, and we were telling the guys, 'You've got to be ready for them to compete.'"
The Bulldogs were ready and used a big first half to coast to a 69-37 win.
Alhambra seemed to anticipate every Warrior pass in the early going, leading to early fastbreak buckets, including a dunk by Wyatt Hammer.
"We're trying to put them [Ygnacio Valley] in situations where they're uncomfortable with the ball," Petiti observed. 'We're double-teaming, they're trying to make a pass, and we're rotating. We get in the way and the ball is flying all over the place. Exactly what we want. That's been our goal all year. I told the guys at halftime, 'When we talk about our defensive game plan and our scheme and what we're trying to do, that's exactly what I envisioned.' They did a great job."
Many of the fastbreaks were perfectly executed for layups.
"I think they're just eager to find their teammates and put them in positions to succeed," Petiti noted. "We talked before the game about playing together, one of the key points. And again at halftime I told them, 'Look, that's perfectly playing together.' It's just fun to watch. It's beautiful basketball."
The Dogs led 39-11 at the half.
To the Warriors' credit, they never gave up. They outscored Alhambra in the third quarter, 14-12. Ygnacio Valley opened the game playing zone defense, but they came out in man-to-man in the third quarter, also pressing fullcourt. It led to some steals and some scoring opportunities, including 3-pointers by Elias Davis and Ravon Rodrigues. Big men Leoncay Lawson and Christopher Taliva'a, who led their team with ten and 9 points, respectively, battled the Bulldogs hard under the boards all night.
The teams played evenly (12-12) in the fourth quarter, both competing hard to the very end.
The Bulldogs had very active hands on defense. Jalen Shepard had four steals, Anthony Wong three, and Brody Eglite, who led the Dogs with 13 points and pulled down 16 rebounds, also had three.
"Anthony has good court sense," said Coach Petiti. "He's anticipating where the ball is going to go, and he slides into the right spots, and you see him getting steals because of that. The same with Jalen, another great defender."
Alhambra also got strong performances from Joshua Palmer (11 points, including three treys, and eight rebounds), Bobby Turnquist (eight points, including two 3-pointers, and four rebounds), and Connor Gray (seven points, including one three-pointer and one dazzling coast-to-coast fastbreak layup).
"It's fun to see when your guys who put their heart into it have excellent games," said Petiti.
Wyatt Hammer had eight points for the Dogs, and Jackson Hilton chipped in seven and grabbed six rebounds.