By MATT SIEGER
Martinez News-Gazette Contributor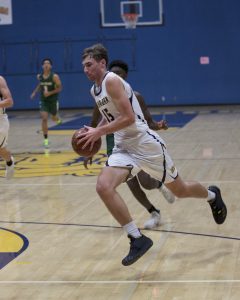 MARTINEZ, Calif. – For Alhambra basketball coach Chris Petiti, it's all about his team achieving its potential. He calls it chasing the unicorn.
"They are this wonderful, magnificent animal that we haven't quite yet found, but are still eager to see," he explains. "Similarly, we have this vision of a perfect basketball game on both sides of the ball that we know is out there and we hope to get closer every game."
It looked like that unicorn might remain purely mythological at the start of Wednesday night's non-conference home contest against Casa Grande (Petaluma).
Garrett Siebels, 6-foot-3-inches , won the tipoff for the Gauchos, leading to an easy layup by Scott Nave off a nice feed from Jack Gallagher. But the Bulldogs found their bite as the game progressed, earning an impressive 58-44 victory.
The first quarter was a back-and-forth offensive battle, the Dogs' Thomas Major breaking a 17-17 tie with a three-pointer with 42 seconds left. Alhambra (4-1) clung to a 20-19 lead at the end of the period.
"I thought we got off to a slow start defensively," said Petiti, "much of which should be attributed to Casa Grande's effective offensive concepts and their disciplined and patient approach."
On the Alhambra side of the ball, Wyatt Hammer had three layups in the quarter, one off a nice pass by Major and another off a dish from Brody Eglite after he grabbed an offensive board. Eglite later rebounded his own miss and put it back in for two.
The Bulldog defense buckled down in the second quarter, limiting Casa Grande (2-3) to just six points.
"Once we settled in,," said Petiti, "we were able to force them into some difficult situations, and then Eglite and Hammer did an excellent job of controlling the rebounds."
Connor Gray cashed in on a trey from the right corner on a pass from Jalen Shepard to give Alhambra a 23-21 lead. Eglite asserted himself with two straight layups with five minutes left in the half, the second keyed by a steal by Major. Eglite drove hard for another bucket with 3:15 left. The Bulldogs ended the half with a beautiful "unicorn" possession. After Hammer pulled down a defensive board, Alhambra patiently worked the ball around until Shepard found Hammer in the right corner for a three-point shot. It drained the net with just three seconds left, giving the home team a comfortable 35-25 cushion.
Alhambra increased its lead to 15 points by the end of the third quarter. Hammer bookended the Bulldog scoring with a three-pointer after one minute of play and another with about a minute remaining. Eglite had a couple of nice assists, one for a backdoor layup by Major and another off a steal, handing it off to Shepard for a fast-break bucket. Lorenzo Fonseca sparkled in the final quarter for the Dogs, putting up five points.
Siebels netted 23 points for Casa Grande, leading all scorers, and Tony Sabella added six for the Gauchos.
Hammer, who was 4-for-8 from three-point range, led Alhambra with 21 points and also grabbed 11 rebounds.
"Hammer played really well," Petiti said. "He seems to have really taken hold of the areas for improvement. Pairing an offensive output like tonight with his understanding and execution of our defensive principles is a formidable combination."
Eglite was his usual formidable self on the boards, pulling down 12 rebounds and matching that with 12 points. He also handed out four assists.
"It helps to have a team with multiple offensive weapons," Petiti noted. "In our five games, we have had four different leading scorers. If a team takes away one option, we have four more ready on the court, just as potent. That's makes it tough for an opponent to prepare."
He added, "Offensively, I thought we made progress from what we showed this weekend, but we are not quite yet where we want to be, where we can be."
Still chasing that elusive unicorn. If you see one running around campus, let the Bulldogs know.