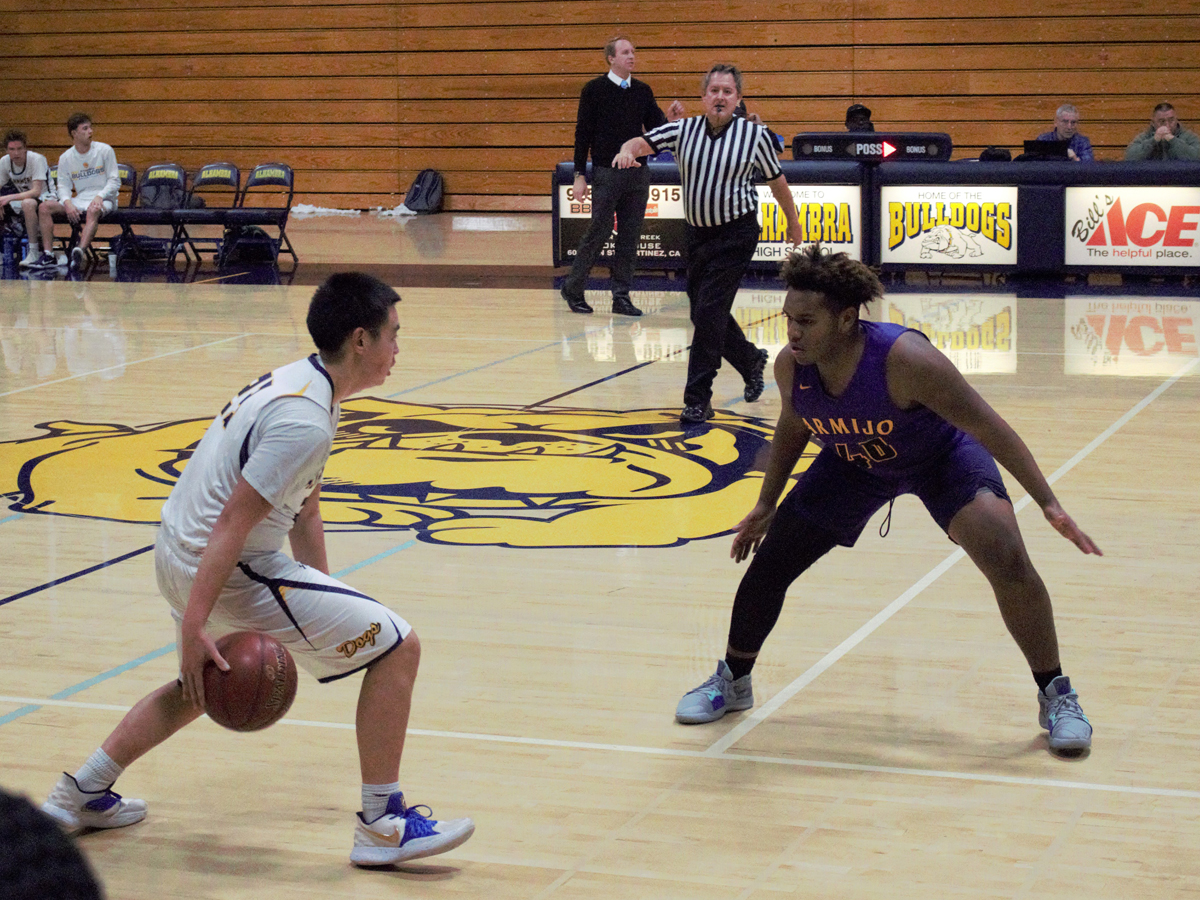 By MATT SIEGER
Martinez Gazette Contributor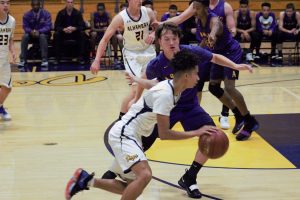 MARTINEZ, Calif. – There's a fascinating video from the Planet Earth television series in which a polar bear is looking to feast on a walrus. You can find it on YouTube. The narration begins, "There will be no easy meals on this island." That's because the walrus herd forms an impenetrable barrier to totally frustrate the polar bear.
If you're wondering what this has to do with basketball, third-year coach Chris Petiti says that "no easy meals" has become a mantra for his Alhambra High Bulldogs. They will swarm and fight and work together to do whatever it takes to prevent any easy baskets by the opposing team.
That defensive mindset was on full display in their 54-40 home win over the Armijo Indians of Fairfield in a non-conference matchup, the first game of the season for both teams. Alhambra's stifling defense set the tone as the Bulldogs took a 14-5 lead after the first quarter and never looked back.
Air quality was a significant subplot to this contest. Armijo coach Christian Stoll said his team was finally able to practice on Monday and Tuesday this week. The Bulldogs, on the other hand, could not use their gym for eight straight days due to the dangerous air quality. So Petiti asked Pastor Terry Reilley of Creekside Church in Martinez if the team could use its facilities to practice. The church obliged, and the Dogs were able to work out there on Tuesday.
"They do such a great job helping the community," said Petiti. "I figured they'd be willing to let us in."
Brody Eglite led a well-balanced Bulldog effort, netting 15 points on 6-for-7 shooting and grabbing 16 rebounds, including several on the offensive glass which he parlayed into put-back baskets. Connor Gray added 9 points, while Wyatt Hammer, Jalen Shepard, and Iverson Suisala each chipped in 7.
"I love that it was a well-rounded effort," said Petiti. "Everybody contributed, which is huge. Somebody's going to have an off night, and somebody else can step up. That's what you hope for as a coach. You have twelve guys who can step in and contribute at a moment's notice."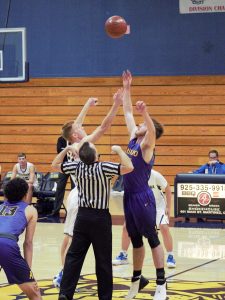 The Dogs turned up the defensive heat in the second quarter, with double teams forcing several Indian turnovers. A nice assist by Bobby Turnquist to Gray for a fast-break layup forced an Armjjo timeout with 3:36 left in the half and the Bulldogs up 25-11. Eglite closed out the half with a great drive to the hoop for a bucket with just one second left, and Alhambra led 30-16.
The Indians fought hard and played the Bulldogs even in the second half. But Shepard stymied a third-quarter comeback, hitting two three-pointers, one from each corner. The senior guard also did a nice job quarterbacking the team.
"He's been with me two years now on varsity," Petiti noted, "so he knows what we want to do. He's a team player. He has a good feel for the game. I can trust him. I can talk with him, hear what he's seeing, we can work together. He sees things out there I don' t always see."
Hammer was an intimidating presence on defense, blocking four shots. But it was a collective defensive effort.
"The defensive intensity is what really won the game," said Petiti. "No easy meals, like the video. When we were attacking the ball screens, collapsing on everybody in the paint, and working together as a unit, it made it really difficult for them to score. And it created easy looks for us on the other end."
Aaron Thaxton led the Indians with 15 points and Cameron Joseph scored 8.
After an alumni game the Friday after Thanksgiving, the Bulldogs' next contest is at home on Tuesday, November 27, at 7 p.m. against Pinole Valley.