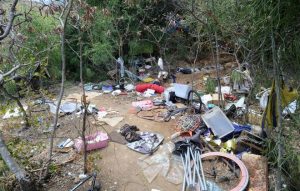 MARTINEZ, Calif. – A review is recommending a rate increase of 3.84 percent for Republic Services garbage, recycling and green waste pickups, effective Jan. 1, 2019, the Martinez Franchise and Infrastructure Subcommittee heard Tuesday.
Erik Nylund, of Crowe, a consulting firm with offices in San Francisco, presented the analysis of the garbage contractor's 2019 interim year rate application, saying rate increases are capped at 4 percent, but are based on changes to an August-to-August consumer price index (CPI) for the San Francisco, Oakland and Hayward areas.
For August 2017 to this year, the CPI changed from 275.89 to 287.66, he said. The interim year rate change calculation is 90 percent of that change, or 3.84 percent.
Although Nylund described that as "on the large end of that range," he said it's consistent with the franchise agreement requirements.
If the Martinez City Council agrees with the change, which will be aired at a public hearing next month, it would mean increases of 75 cents to $1.50 in the rate that customers pay.
For the 1,387 residents with 20-gallon garbage cans, rates would go from $23.99 to $24.91 a month. Older residents get a discount; the 795 "senior" customers would see rates go from $19.43 to $20.18 a month.
The 3,021 customers with 32-gallon containers would see bills rise from $34.36 a month to $35.68; the 1,449 with senior rates would see bills go from $24.26 to $25.19 a month.
Monthly rates for the most popular size container, 64 gallons, would rise from $39.55 to $42.07 for the 3,533 with regular accounts. The 662 senior accounts would rise from $29.68 to $30.82 a month.
Only 150 use 96-gallon bins. Their rates would go from $80.48 to $83.57 a month.
On the commercial-rate side, rates are based on the number of yards of materials that are removed once a week. Republic has 54 customers that discard one yard a week; that rate would go from $173.86 a month to $180.54.
For two yards, which has 58 subscribers, rates would go from $307.77 to $319.59 a month; for three yards, which has 20 subscribers, the change would be from $394.57 a month to $409.72.
The 30 producing four yards of trash would pay $479.18 instead of $461.46; the six five-yard subscribers would pay $558.97 instead of $538.30; the six producing six yards a week would pay $661.15 instead of $636.70; and the three producing eight yards a week would pay $798.30 instead of $768.87.
A lot of neighboring communities also are looking at new rates, so the numbers comparing Republic's proposed rates in Martinez to those in other areas is premature, said Deputy Director of Administrative Services Michael Chandler.
Even with the increase, most of the Martinez residents' rates would remain below the mean average of rates in 26 area jurisdictions, he said.
The regular 20-gallon customer has been paying $3.29 less than the mean; the 32-gallon customer, $2.42 more than the mean; the 64-gallon customer $14.86 less than average and the 96-gallon customers $6.78 more than the average.
With the rate changes, the 20-gallon customer still would pay $2.37 less than the mean; the 32-gallon customer would pay $3.74 more; the 64-gallon customer would pay $13.34 less than the mean and the 96-gallon customers would pay $9.87 more.
For the past year, Republic Services has been trying to correct customer complaints, especially reports of missed pickups as well as oil spills from Republic trucks.
General Manager Art Mejia said he has been striving to add eight more drivers to his fleet staff, but recruiting and keeping drivers has been a challenge. They need commercial driver licenses, and he said commercial drivers prefer jobs that involve driving only, not additional physical labor.
He's hired 24 drivers and put many through the two or more months of training. His company's pay and benefits are comparable to other vendors, Mejia said.
But during the year, he's lost 20 drivers, for a net of only four. The company hired two new drivers and have interviews to fill the remaining two slots. Should that not work, he's considering organizing a job fair, a strategy that has worked in the past.
Chandler said the city is addressing customer reports of oil spills by writing new reporting requirements that would be added to the franchise agreement.
Not only would the city receive the report, so would the California Department of Fish and Wildlife. "The Central Sanitary District also wants to be kept in the loop," he said.
The new requirement could be in effect as soon as Jan. 1, 2019.
Another subject that has involved Republic Services that ultimately lead to another rate increase has been a pilot program to clean up homeless encampments that have been set up in places where extended camping isn't allowed.
In February and March, three encampments were removed, from Marina Vista Avenue, the East Bay Regional Park District's horse arena near the Waterfront Park and near the Berrellesa Street bridge.
In the case of the horse arena, the trash was so extensive, the place needed to be cleaned three times, Chandler said.
The efforts cost $55,000, and 12 tons of trash was removed. But at that point, Republic's money for such projects here ran out.
Chandler said a 1 percent rate increase would generate $90,000 annually to undertake more cleanups.
He called the sites cleaned during the pilot program presented "overwhelming conditions… Republic stepped up." So did ServiceMaster, which handled the removed materials.
The city can't simply approach an encampment and order it abandoned, Chandler said.
A 72-hour notice must be given, and the Public Works and Martinez Police departments work cooperatively with early intervention experts, such as the Contra Costa County Health, Housing and Homeless Services through which the city contracts for a shared Coordinated Outreach Referral, Engagement (C.O.R.E.) team.
At earlier meetings, Martinez Police Chief Manjit Sappal has described the procedures, including removal and storage of private property which the campers later can claim.
Vice Mayor Lara DeLaney noted that the horse arena area is East Bay Regional Park District property, and suggested, "It's their cost to bear and share."
Chandler agreed, but said the district has been dealing with problems on the west side of Waterfront Park. "It's an ongoing problem," he said.
DeLaney agreed, and urged the subcommittee to double its meetings from twice a year to four, to help keep up with the situation.
Another new service Republic has been offering is holiday packaging collections.
The pilot program began collecting discarded and recycled holiday packaging at Golden Hills Park, Alhambra High School, Rankin Park and Hidden Valley Park.
Based on turnout, the next holiday collections will be at Alhambra High School and Hidden Valley Park, Chandler said.
But during the inaugural collection, 34 motorists dropped off nearly 100 pounds of plastic foam (Styrofoam), 13.6 pounds of plastics and 595 pounds of cardboard, a third of which came from two customers whose Christmas presents were patio sets.
Chandler said he was pleased by how much of the items not only were recycled but were reused, such as the plastic foam that was used by Martinez Yacht Club members to transport fish.