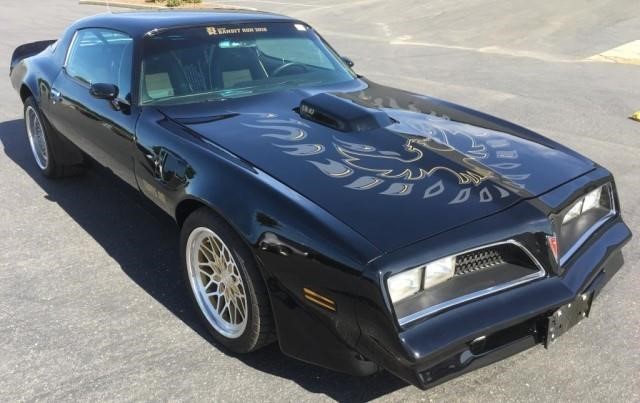 1978 Pontiac Firebird Trans Am once owned by Burt Reynolds
A massive car collection accumulated by DC Solar owners Jeff and Paulette Carpoff will go to auction later this month. It is the largest single car collection that the U.S.Marshall Service has ever sold according to HiBid & Auction Flex.
The 149 vehicles were seized by federal agents in December 2018 from the Carpoffs, who have been accused of running the bankrupt solar-powered generator company as an $800 million Ponzi scheme. These vehicles ranged from normal sedans to over the top including hot rods, muscle cars, sports cars, trucks boats, a dirt bike and even a motorhome.
The Carpoffs haven't been charged with any crimes as of yet, according to the U.S. Attorney's office, but their situation remains under investigation. In the meantime, the Carpoffs and the Department of Justice agreed to hold an interlocutory sale of property and put the proceeds into a seized asset account, rather than continue to incur expenses for the storage and maintenance of the vehicles. The sale is being handled by the U.S. Marshals Service and Apple Auctioneering Co. in Woodland, Calif.
"It is rare for the U.S. Marshals to hold an auction of such a stunning collection of vehicles," Chief Deputy U.S. Marshal Lasha Boyden of the Sacramento office told Fox News.
One of the more unique items on the block is a 1978 Pontiac Trans Am that's not just customized to look like the one from the "Smokey and the Bandit" film, but was once owned by Burt Reynolds. Reynolds commissioned several over the years, the last of which was sold at an auction in June for $317,500.
The formerly Carpoff-owned collection spans nearly a century of vehicles and includes everything from classic Americana such as hot rods and muscle cars to Hummers and modern grand tourers. Below are some of the highlights:
2017 Bentley Continental GT V-8
2017 Cadillac CTS-V
A dozen Chevrolet Camaros of varying vintages
Nine Dodge Challengers, one of them a 2018 SRT Demon
1969 Dodge Daytona
2002 Dodge Viper RT/10
Seven Ford Mustangs
Eleven Plymouth Road Runners, three of them Superbirds
1978 Pontiac Firebird Trans Am owned by Burt Reynolds
A dozen Cummins-powered Ram pickups
The collection is valued at more than $6 million. There also are 1990s Humvees, classic 1960s Ford Mustangs and a 1960 Austin-Healey, the agency said. A few of the cars are from the 1920s, court documents show.
The live/online simulcast sale will be held Saturday, October 26th, 2019 in Woodland, California, near Sacramento. The gates will open at 7 a.m. PDT, with live bidding starting at 9 a.m. PDT. Buyers interested in submitting bids through the online auction platform can view all available assets on Apple Auctioneering Co.'s auction page. More info https://appletowing.hibid.com/catalog/185288/
Bidders are invited to preview the cars Thursday, October 24th and Friday, October 25th from 8 a.m. to 4 p.m. PDT.