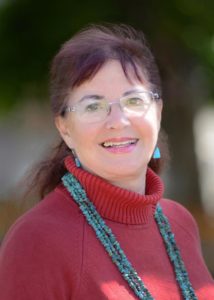 MARTINEZ, Calif. – When Martinez's Home Town Parade travels down Main Street today, Lynda Kilday will be waving to curbside crowds as its grand marshal. For once, she will be the face of the parade on which she has worked for many years.
The recipient of the Martinez Chamber of Commerce 2017 Lifetime Achievement Award, she is a member of the Board of Directors of the Martinez Early Childhood Center, and has been active at its annual spring fundraiser.
Kilday not only has spent years as a member of the Contra Costa Child Care Council, she also is known for volunteering at Council fundraising and community events as well as being active in raising awareness about children's issues.
In addition, she is known for her work in the area of domestic violence prevention, and has volunteered with organizations that seek to stop family violence and to move victims to stable and safe living situations.
Kilday also helps the elderly through her participation in "Mobility Matters," a group of volunteer drivers who drive older clients who need medical treatment.
Active in Main Street Martinez, she has helped with its Beer Fest and other events, including the Hometown Parade on Main Street, and until Main Street was formed, she was active in Martinez's First Night events.
While she has been described as a "cheerleader" for Martinez's business community, she also organized "Adopt a Platoon" when her son, Nick, was serving in the Middle East and they learned that many of his comrades didn't have the type of family or community support he had.
"There are many volunteers in our town who work hard for Martinez and the welfare of its citizens," Harriett Burt wrote when she nominated Kilday for the Chamber award. "But few have done this in as many ways in as many organizations for as many good causes for so many years as Lynda Kilday."
Today's Fourth of July activities start at 8 a.m. to 10 a.m. with a pancake breakfast at Roxx on Main, 627 Main St. Cost is $8 per person.
From 8:30 a.m. to 9 a.m. will be the flag raising ceremony at Veterans Memorial Building, 9:30 Ward St.
The Hometown Parade starts at 10 a.m. on Court Street and Main Street, and concludes on Main Street at Alhambra Avenue. Music, business, dance and youth groups will be participating, and city officials will ride in the towed Joltin' Joe boat once owned by native son and baseball legend Joe DiMaggio. The city's new baseball team, the Clippers, will be walking alongside the boat.
In addition, each child who participates in the Decorated Bicycle section of the parade will receive a ribbon. The Decorated Bicycle Parade is open to children of all ages.
Right after the parade, those who gathered downtown may attend a free showing of the movie "The Music Man" will start at 1 p.m. today in the Martinez Campbell Theater, 636 Ward St.
They also may use the afternoon to visit the Martinez downtown or picnic in Martinez Waterfront Park, said Leanne Peterson, executive director of Main Street Martinez.
At one time, vendors would set up in the downtown area, but that hasn't happened in several years, she said.
Instead, downtown visitors can drop by Martinez's restaurants and craft breweries that are part of the city's renaissance, she said
Fireworks of all types are banned in Martinez, but the city will have its own professionally-produced fireworks show near Ferry Point.
Those who want to watch the fireworks from the park should have their spots in Radke Martinez Shoreline Park selected by about 9:15 p.m. today so they can be ready when the show starts at 9:30 p.m.
Waterfront Park will be closed to vehicles about 6 p.m., and there is limited handicap parking, Recreation Supervisor Patty Lorick said. She has recommended motorists leave their cars in the downtown area and walk to the park, since traffic exiting the park after the fireworks show can remain backed up for some time.
Some residents have views of the show from their own yards and others perch on local hillsides so they can get a view not only of the Martinez fireworks, but those in Solano County cities as well.
Those going to Radke Shoreline Park may bring blankets or lawn chairs as well as food and non-alcoholic beverages, Lorick said.