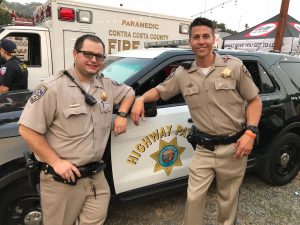 MARTINEZ, Calif. ­­– A law enforcement social media phenomenon that began in June in Texas has spread across the country. And California Highway Patrol officers in Contra Costa County have taken up the challenge.
They've posted their lip-synch video to Facebook.
Things started small, when Bexar County Sheriff's Deputy Alexander Mena did a solo video miming to "Fuiste Mala" by the Kumbia Kings. But things rarely stay small in Texas. Soon departments were challenging each other. As more of the videos were posted, departments outside the Lone Star State were joining in the fun and friendly rivalry.
But CHP officers in Contra Costa County didn't wait to be challenged, Officer Brandon Correia said. His job as a CHP public information officer involves posting on social media, and he soon spotted the videos. He recognized their value in promoting goodwill in the communities served by those law enforcement agencies.
"Nobody called us out," Correia said. The local officers decided on its own to take on the challenge.
But the CHP was going into a busy season – the Fourth of July holiday – as June wound down. So Correia knew officers would need to wait to produce their video. That gave him and Officer Rick Rohrback time to select upbeat songs that would be suitable.
Also, the officers wanted songs that targeted a larger audience. Correia said he knew the agency could have fun with a song like "Desperado," but would a song released in 1973 speak to young people?
Instead, he and Rohrback picked Justin Timberlake's "Can't Stop the Feeling!" from the Dreamworks movie "Trolls." Its verses and chorus encourage people to "dance, dance, dance."
"It reads well for everybody," Correia said.
"From 2 to 200," Rohrback said. "It's a happy, feel-good song."
From there, the officers collaborated on a video storyline, then started looking for filming sites. Correia said he would leave as early as 4 a.m. to site-scout before starting his day. He and Rohrback saw possibilities at BART, in parking lots and at places with a view of the Bay Bridge.
From there, they began recruiting participants, getting about 20 officers to join in the project.
"We rehearsed every time we got together," he said.
The shoot itself took about three days. Rohrback and Correia were there for every part, and others participated as needed.
Since part of Correia's job is to promote the CHP and reach out to the public, Correia could use some of his on-duty time for the project. Everyone else participated on their own hours. Most of those in the video were working graveyard shifts when it was being filmed. They stayed in uniform for their shots in front of the camera.
Others came in early, before starting their shifts.
Rohrback is prominently featured in dance sequences. "I have no dance background," he said, laughing. The only dancing he's done previously has been with his 2-year-old daughter.
The video has been up since July 24. It's available for viewing at https://www.facebook.com/CHPContraCosta/ and on YouTube
The area CHP has challenged anyone who sees the video to join the challenge. "Record your best moves or recreations and message us or post them in the comments," they put on the CHP – Contra Costa Facebook page. "Get creative and have fun," they have urged.
The two officers said the video has brought a lot of smiles. When they're spotted by the public, many people will recognize the two, as well as other personnel featured in the video.
Many of those who saw the two officers at Martinez's National Night Out congratulated them on the music clip. Nearly everyone who comments has something positive to say, the officers said.
The video has gotten nearly 350,000 viewings and has been shared nearly 8,000 times. So far, it's gathered 1,200 comments.
"I'm glad we did it," Correia said.