Event disrupted by protestors on Saturday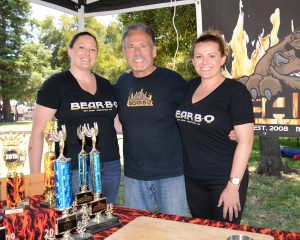 MARTINEZ, Calif. – With favorable weather and a picturesque venue the annual King of the County BBQ Festival hosted by the Martinez Chamber of Commerce drew large crowds eager to sample a variety of food.
Last year a stifling heat wave kept the crowd low at the yearly festival, held on Father's Day weekend. With temperatures much cooler and the event shifted to East Bay Regional Parks property due to ongoing renovations at Waterfront Park the 2018 version was a huge success according to Chamber president and CEO Julie Johnston.
"We had fabulous weather and our attendance was fantastic," Johnston commented. "This was about Father's Day and having some BBQ with dad. That is what this event is about."
The shift to the East Bay Park side was a success according to Johnston.
"Working with East Bay Parks was a pleasure, they were great to work with," Johnston said. "I was extremely grateful in the first place they even allowed us to have the event over on their side of the park. I know that is not something they would traditionally allow. They were a great partner to the Chamber and the City for allowing us have the event over there."
The first ever People's Choice contest was also successful.
"On Saturday three of our backyard teams were competing. Attendees could purchase rib tickets and vote on the people's choice," Johnston explained.
"It was a huge hit, all three teams sold out of BBQ by 3 p.m. So that was an amazing success and something we hope to expand to five teams next year."
On Saturday an aggressive group of vegan protesters disrupted a portion of the event.
Around 4 p.m. as festival organizers were preparing to announce the BBQ awards "a gentleman came to the back of the stage and told our emcee that his child was lost," Johnston said. "He asked if he could use the mic and call their name to try to help find the child."
At that point six to 10 protesters got up on the stage to hold up signs and yell their message to festival attendees.
"'It's violence, not food' seemed to be their message," Johnston said.
After the stage was cleared, "Tom Rizzo and I went on and finished announcing the awards."
Martinez Police and EBRP police were called and handled the situation Johnston said.
"It lasted 20 minutes and then it was over with," Johnston said. "I think most of our visitors had no idea what was going on. Unless you were up front (by the stage) you had no idea what was going on. The show went on, it happened and it is what is."
Johnston said this was the first time anything like this had happened at the annual event. In the future organizers will be more alert for these type of disruptions.
"It is something for us to keep our eye out for next year and have some options."
According to Sgt. Tyrone Davis of East Bay Regional Park District Police one person was arrested on Saturday. A woman identified as Tiffany O'Neill, 18, of Martinez, was taken into custody on a charge of battery, but Davis said her arrest was unrelated to the protest.
Although the King of the County festival took place on the East Bay Regional Park District portion of the waterfront park, Martinez Police also arrived.
"Apparently several people showed up to protest violence against animals and we responded. We detained several people, and East Bay Regional Parks Police responded to investigate," Chief Manjit Sappal said.
"East Bay Regional Park Police were extremely helpful in helping resolve the event that took place in their jurisdiction," Sappal said. "MPD was responsible for patrolling the event.
Once officers showed up and some of the protesters had left, some more confrontations took place, between festival goers who favored the protests and those who opposed them.
"As you know, social protests of many kinds have become more common in today's media-driven environment. It is a reality that all communities must be prepared for and a situation that I believe the majority of the public understands," City Manager Brad Kilger said.
"I don't feel that this particular incident reflects negatively on Martinez or the Chamber of Commerce, particularly given the large amount of positive press we receive on a monthly basis on events held in the city," Kilger said.
Robert Ramey, a lifelong Martinez resident, had come specifically to participate in the Saturday barbecue competition, including the People's Choice, which his My Signature Smoke Barbecue won.
He hadn't anticipated the protest, nor had he expected someone would knock down his display of past trophies, breaking several as they hit the ground.
He said he's seen the video posted online and featuring Priya Sawhney, Direct Action Everywhere international coordinator and investigator, as she described the protest, festival attendees' reactions and her questioning them about why they eat animals.
Some of what he saw he called "some really good acting." Ramey said he suspected the group had hoped festival attendees would do more than snatch signs. He suggested protesters had a goal of going to the festival, get beaten up, get on television and have viewers feel sorry for them – and donate to their cause.
The protestors walked past Ramey's booth, and someone shoved his trophies to the ground, breaking four.
"If they were there to push meat alternatives, they would be more accepted," Ramey noted. "The problem is that's not what their message is. Their message is if you eat meat, you are a murderer and there's something wrong with you."
Calling their appearance "Mayhem Saturday," 15 members of Direct Action Everywhere entered the festival site and stood on the stage, spokesperson Matt Johnson said.
"Every place where violence towards animals is normalized is a good place to speak up for them," Johnson said. Large corporations are ideal to focus on, but we should highlight that animals are exploited close to home as well."
He explained that his organization promotes plant-based eating. "It will take a variety of approaches working together that will create change. Direct Action Everywhere uses nonviolent direct action, directly confronting violence where it exists, which we feel is a vital and largely overlooked aspect of the broader movement."
Johnson said the man who took the microphone from the emcee didn't mention anything about a child, just that he had an announcement.
"We also did not damage any property. Such actions are contrary to our organizing principles of truth and nonviolence, respectively. Tens of thousands of people at the event, and on social and mainstream media have been exposed to a message of animal rights, so we consider this a positive step."
Despite the 20-minute interruption on Saturday Johnston was extremely satisfied with this year's version of the festival. Word of the protest was spread on social media and may have helped attendance the next day
"Sunday's crowd was phenomenal, we were so busy," Johnston noted.
"The bulk of the event was fabulous and much like it was my first year here. Where it was like, 'wow, where do all these people come from'. Last year we had the 108 degree heat. But this year is was just incredible. It was all great.
"This was our 12th year of holding this event and we've never had anything like this," Johnston said. "The Martinez community has been extremely supportive of the Chamber and this event. I don't believe this incident reflects negative on the event or the city at all."