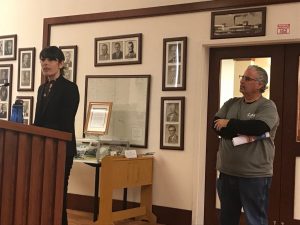 MARTINEZ, Calif. – In 2017, California had an estimated 134,278 homeless people living on its streets. That was about half of the homeless population in the entire United States.
The same study showed that only New York came close to California, with 89,503 counted as homeless that year, said Jenny Robbins, housing and services administrator for Contra Costa County. Third on the list was Florida with 32,190.
California lags behind other states in dealing with its large homeless population, including the veterans and families that find themselves without shelter. Chronic homelessness in California has increased by 5.5 percent while in the rest of the country, it's declining by 22 percent, she said.
Homelessness is a local issue, too, Robbins said. A family must bring in at least $44 an hour to afford a home in the San Francisco Bay Area, and more than that to afford the median asking rent of $2,300, according to a report by Paul Waddell, of the University of California, Berkeley, Urban Analytics Lab.
Robbins cited his report that showed that instead of the $7,667 a month needed to afford the median asking rent in Contra Costa County, minimum wage earners bring in $1,820 a month, retail salespeople earn $2,083, custodians earn $2,733 a month, preschool teachers get $2,989 a month, bus drivers are paid $3,278 a month and medical assistants earn $3,527 a month.
The housing crisis is one reason that 2,334 people experience homelessness in Contra Costa County on any given night, she said.
"Contra Costa County needs 30,939 more affordable rental homes to meet the needs of very low and extremely low income residents," she said.
It also needs more shelters, she said. Contra Costa County has but 30 percent of the spaces needed to provide shelter for those on the street, according to the numbers gleaned in the 2018 Point in Time Count, she said.
During her presentation Wednesday to the Martinez City Council, she said the lack of housing also is associated with those suffering from both mental and physical illnesses. It also compounds the problem, because without a home, a person often can't get the medicine or proper care for chronic conditions, she said.
Studies and records show that a small portion of those without homes account for the majority of acute care use and cost. "We call them high utilizers," she said.
Homelessness cost the Contra Costa County healthcare system $45 million in Fiscal Year 2013-14, for such services as primary health emergencies, impatient and outpatient care, substance abuse services, psychiatric emergencies and mental health treatment. And 12 percent of the homeless population account for 75 percent of the costs incurred.
"It helps to know this information, to target interventions," she said.
And that is where the Coordinated Outreach Referral and Engagement (CORE) teams come in, said Scott Williams, the lead of the team Martinez shares with Pleasant Hill. Rather than creating a new agency, Contra Costa County has developed the teams under its Health Housing and Homeless (H3) Services program.
Martinez was the first city to fund a CORE team, which is in this city Wednesdays, Fridays and alternating Mondays.
In the past year, the CORE team made contact with 348 individuals, of which 83 percent slept outside the night before the contact, nearly two-thirds in Martinez and 87 of whom lost their homes in Martinez. Another 44 lost their homes in Central Contra Costa County, 28 from the eastern part of the county and 16 from the county's west side.
According to a survey by the CORE team, 76 percent have a type of disability, 23 percent have experienced domestic violence, 18 percent are on probation or parole, 18 percent are at least 60 years old and 8 percent are veterans.
Half are male, and half are female, ranging in age from 32 to 71, according to CORE's April surveys. Of those interviewed, 31 already had been in contact with CORE. That month, 94 percent had slept in Martinez the night before speaking to the CORE team, and most said they feel safe here.
More than a third grew up in the Bay Area, and half in Contra Costa County, with 27 percent grew up Martinez. More than half have lived in Martinez for more than 20 years.
In describing their goals, 60 percent said they wanted to find housing, 44 percent want to work, 21 percent want to get financial benefits and 12 percent want to reunite with their families.
The report showed that 40 percent of CORE users in Martinez moved to shelters or housing or otherwise resolved their situations so they got off the streets.
"If CORE did not exist, we are only left with three options: Jail, psych emergency or hospital," Martinez Police Chief Manjit Sappal has said. "We would not have the trust, time or the right type of people to do the work."
In the past, services to the homeless were "siloed," Williams said, working independently with little mutual communication or interaction. CORE teams help coordinate those services, he said.
Members of CORE teams try to build relationships with those on the street, encouraging them into shelters or warming centers, helping them obtain physical and mental health services, arrange transportation to family members, and enroll them in benefits programs or get them identification cards.
The teams also become involved in encampment abatement, which Williams said "is a hot issue" among the homeless and other residents.
In the past, when Martinez strengthened its laws against sleeping in cars or harassing people in storefronts, citizens who sought those laws were countered later by those who worried the new rules under consideration were harmful to people in need.
At Wednesday's meeting, one man told the Council that trash and waste left by the homeless has increased, and he regularly sees needles on such playgrounds as Rankin Park and near the Susana Park playground.
He complained about area "shanty towns," and those sleeping in cars at shopping centers and near the marina and those who openly urinate at bus stops.
Some of the homeless recently helped Williams fill eight 55-gallon bags of trash from Ilene Street, he said. But he challenged the Council to visit the encampments for themselves, and pick up the syringes from the ground, to speak with public works employees who deal with the situation daily and to address laws that offer little consequences.
Another acknowledged that the rights of homeless people have been protected, but said taxpayers also have rights. She said there are places where Martinez children can't play, and she urged the Council to make homelessness and public safety a top priority.
The county is forming more teams, Williams said. Besides the Martinez-Pleasant Hill team, another works in Concord and Walnut Creek. A third is dedicated to public works issues, such as creeks, waterways and trash abatement. Williams said he and homeless residents have pulled 12,000 pounds of garbage from sites.
Other teams that are being formed address housing disability advocacy and those having issues getting hired.
Another issue is the elderly, Williams said. Retirees may be getting pensions of $900 a month, but if they didn't buy their homes and have them paid for, they lose their residences and find themselves on the street. "They're living in their cars. They're miserable and terrified."
Williams said the local CORE team's relationship with Martinez Police is a "best practices model." CORE doesn't handle anything criminal in nature – that's for the police, he said.
"While being homeless is not a crime, many kinds of public conduct are illegal and should be reported," he said, listing such activities as loitering, prowling, fighting, trespassing, aggressive panhandling and behaving in a threatening manner.
He said residents should call police in those cases. "I have a lot of faith in Martinez Police," he said.
But if there is a non-criminal need for help or social services, residents should call 2-1-1 or email CORE@hsd.cccounty.us. A team will respond, he said.
"The person may not go to a shelter, but if you are inside near a window, watch what happens," he said.
Williams described one individual's story that began before the first CORE team was formed.
The man first was contacted by a homeless outreach person in 2008, but from that first contact to 2016, the man's emergency room visits, inpatient admissions, ambulance trips, mental health services and other aid cost $17.7 million.
He stayed at the Concord shelter nine times, used homeless services 32 times and joined 13 other programs. He had 99 contacts with Martinez police in a single year.
The CORE team met the man in 2017 four times, but the most important contact came when Officer Rodney Brinser found him at a bus stop near the Safeway supermarket.
The man was taken to a shelter, but members of the CORE team realized he was in such poor health, he needed immediate transportation to an emergency room.
Later, the man would say that was the wakeup call he needed. "I didn't abuse drugs to die," he told Williams.
He was placed into the Concord shelter, accepted into a veterans program that helped address his drug abuse, and was introduced to Veterans Administration staff that helped him obtain those and retirement benefits.
Williams said the man has been sober five months and is about to receive permanent housing. "He is off death's door and has got keys to a home," Williams said.
Residents need to understand this is a transient problem, too, Williams said. "We are always going to have the homeless," he said. "I could house every homeless person today and tomorrow we would have more homeless."
He pointed out that many low-level crimes don't lead to incarceration, nor are they likely to funnel a person into ways to address underlying causes, such as mental illness or substance abuse.
Still, CORE's goal is to get someone on a track that leads to permanent housing. "We're all frustrated by it, but we can find solutions together."