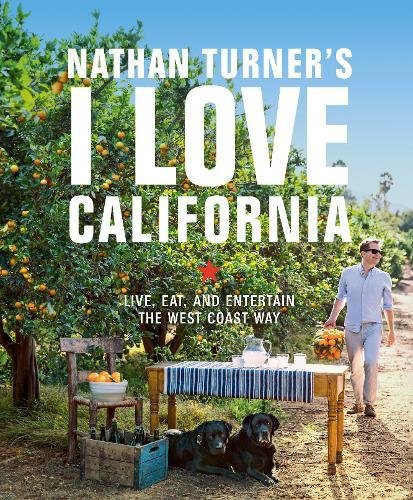 MARTINEZ, Calif. – A Martinez native whose career has made him a widely recognized decorator is coming home next month to celebrate the publication of his second book.
But Nathan Turner, who is known for his appearances on Bravo's cable program "Million Dollar Decorators," didn't write about designing or how to make a home more beautiful.
His latest book is "I Love California: Live, Eat and entertain The West Coast Way."
Turner's first book is "Nathan Turner's American Style: Classic Design & Effortless Entertaining." So his editor was surprised when he said that for his next book, he wanted to write recipes.
To those who know Turner, the decision made sense. He is a fourth-generation Californian, the son of Richard Turner, spent weekends in his younger days riding horses at the family cattle ranch or in his mother's Napa organic grocery cooperative.
He earned his business degree at St. Mary's College, then went abroad to live in France and Italy, where he studied those countries' languages, art history and cuisine.
He returned to California, to the Los Angeles area this time, and opened Nathan Turner Inc., a storefront featuring interior designs inspired by themes from his home state, from coastal Malibu to the High Country area.
At the same time, he also incorporated ideas for entertaining, and at one time had a full kitchen in his store so he could be the host – and chef – of dinners and parties.
He has called his latest book "a love letter to my home state. I drove up and down Highway 1, from the redwoods of Northern San Francisco to the mountains of the Sierra Nevada to the beaches of Southern California, collecting simple recipes for California comfort food, like my family's Cioppino, Marinated Tri-tip Steak, Mexican Chocolate cake and more."
He also provides entertainment tips in his book.
One chapter of the book is devoted to Martinez, with a menu of a dirty vodka martini, Fiori fritti, Marion's Sicilian meatballs, Brussels sprout salad, red pepper garlic bread and frozen Zabaglione pie.
He opens the chapter reminiscing about his childhood, when Martinez reminded him of living in the country, with "backyards that fed into rolling hills, perfect for exploring, and even horses that we may or may not have ridden to the Burger King drive-through now and then."
He describes the city's Gold Rush heritage, Victorian homes and John Muir's home. "Yes, the godfather of our national park system chose to live here, thank you," he writes.
His great-grandmother, Marion, moved to Martinez from San Francisco when she married Turner's great-grandfather. He said she was a "bold Italian-American," whose cooking and home reflected her personality. "She and Martinez were my inspiration to create this table and menu," he writes.
He incorporates European updates of the typical Italian restaurant's red and white check tablecloth and candle that drips on a Chanti glass, but keeps the approach warm and welcoming, he writes.
In his culinary salute to Martinez, he writes that he chose dishes that can be made a day in advance, "and I think taste better when prepared the day before. It's my cozy Italian supper with a California twist."
In between pictures of food and décor, Turner's book has a shot of the Martinez Marina, as well as some of his relatives.
Turner lives in Ojai, in a home he's decorating. He's been featured in Architectural Digest and is the magazine's special projects editor, Domino, Vogue, Elle Decor, House Beautiful, Food & Wine, Veranda, Luxe Magazine, C Magazine for which he is a contributing editor, the New York Times and the Los Angeles Times.
His book is avaible on Amazon and at Abrams, Barnes and Nobile, Indie Bound, Indigo and Books-a-Million.
The book signing will be from 5 p.m. to 8 p.m. Thursday, June 21, at the Old Southern Pacific Depot, 401 Ferry St. Copies of the book will be available for purchase, and cocktails will be served.