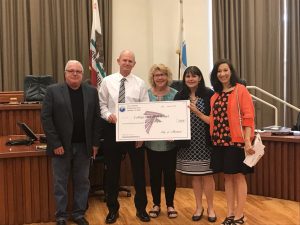 MARTINEZ, Calif. – Martinez has accumulated so much money through the half-cent Measure D sales tax that it can accomplish 10 times the road repair projects in one fiscal year than it could previously, City Manager Brad Kilger said.
During Wednesday's meeting, Martinez City Council unanimously approved the lengthy list of local streets that will have potholes filled, surfaces renewed and other repairs done in Fiscal Year 2018-19. While Vice Mayor Lara DeLaney was absent Wednesday, she previously has expressed her endorsement of the project list.
To make a comparison between what the city could accomplish prior to voters' approval of Measure D, City Engineer Tim Tucker said last year, the city had to save up for several years to repair 130,000 square yards of roadway.
In a previous report, Tucker provided statistics about road maintenance and repair revenues.
Prior to the passage of both Measure D and Senate Bill 1 that increased fuel taxes, Martinez's share of gasoline and the county Measure J sales tax was just $450,000 a year, Tucker wrote. "Our overall poor street condition was directly related to the lack of adequate funding to maintain our streets in a condition acceptable to our residents."
As a result, in Contra Costa County, only Orinda had worse streets, according to 2015 examinations and reports by the Metropolitan Transportation Commission. "We were losing ground," Tucker said Wednesday.
This year alone, because of a boost in road repair revenues, the city has been able to repair 330,000 square yards of local roadways, he said.
In his earlier report, he wrote, "When the measure (D) was drafted, it was estimated that the revenues would be approximately $2.1 million.
"Based on the 2015 Pavement Management Report, this level of funding would enable the city to maintain our streets at the current overall condition. Actual revenues in Fiscal 2018 are estimated to be approximately $3.36 million," Tucker wrote.
Combining the previous revenue sources with those from Measure D and the increase in California's gasoline tax and additional vehicle fees through Senate Bill 1, Martinez's road repair funding has increased ten-fold, Tucker wrote.
Martinez, as have other cities, has been struggling to meet its road maintenance needs during the past several years, which have seen sharp declines in gasoline tax revenues as vehicles become more fuel-efficient and motorists switch to hybrid and electric cars.
In answer to citizens' complaints about roadway conditions, the Council voted to put the half-cent sales tax on the Nov. 8, 2016 ballot, gambling that at least two-thirds of the voters would back the measure. In fact, 72 percent gave their approval.
The tax has a 15 year life span, but the city didn't begin collecting its revenues until April 2017, Kilger said.
"People are frustrated," he said. But now that the city has a year's worth of revenue dedicated to road maintenance, "Now they will see….They will see the difference this year."
Because the tax lasts so long, Councilmember Debbie McKillop assured those whose streets aren't on the initial list that road repairs in their neighborhoods will be placed on future lists.
And the way the funds have been earmarked, there is some "wiggle room" to add smaller but necessary projects that may have been over looked, Tucker said. "It's flexible enough."
A few smaller projects, such as patching and pot hole filling, already have been accomplished, and Kilger said he hoped crews were marking the work sites with signs that identified those projects as funded by Measure D revenues.
Two other major local streets, Green and Brown, will receive attention through separate funding, Councilmember Mark Ross said. One resident who was happy to hear that called Brown Street "a roller coaster."
Another resident, Julian Frazer, urged the Council to examine damage to local streets by garbage, recycling and green waste trucks, which he said are made of heavy steel but till are lifted when they collect receptacles.
The new pavement management program calls for completion of some projects that had to be delayed because of conflicts with Pacific Gas and Electric scheduling.
The areas on the list approved Wednesday has assignments on Canyon Way, Castro and E streets area, portions of Alhambra Lane, Canyon Way, Castro Street, E. Street, F Street and Teresa Street.
In the Brookside area, parts of Brookside Drive, Estudillo Street, Park Glen, Shady Glen, Terrace Way and Vista Way would receive work. The expanded Brookside Area would see crews working on Graffanti Court, Pine Court, Pinon Court, Pinon Drive and Wyoming Street.
In Muir Estates, the city would repair portions of Alhambra Way, Barber Lane, Donaleen Court, Grothmand Lane, Laurel Court, Sonora Court, W. Hayward Court, Church Street, Gilbert Lane, Mackie Drive, Phylis Terrace, Truitt Avenue and Valley Avenue.
Parts of Alpine Court, Amber Lane and Bernice Lane in Virginia Hills also made the list.
In the Morello-Chipancingo area, the streets that would get repairs are Bernard Way, Debbi Court, Isabel Drive, Lake Crest Court, Lakehurst Drive, Lake Ridge Drive, New Lake Place, Oak Glen Circle, Oak Glen Court, Quiet Lake Place, Willow Lake Court and Willow Lake Drive.
The Hidden Lakes Drive Area streets that would get attention are Eagle Lake Court, Glacier Drive, Hidden Lakes Court, Hidden Lakes Drive, Lake Brook Court, Lake Court, Lake Dale Court, Lake Meadow Circle, Lake Meadow Court, Lake Oaks Court, Lake Reed Court, Lake Villa Court, Oak Court, Silverlake Way, Spring Lake Court, Spring Lake Drive, Swan Lake Court and Yellowstone Drive.
In the Olympic Drive area, the streets that made the list are Arcadia Court, Arcadia Place, Banner Court, Begonia Court, Bryce Drive, Fushia Court, Gardenia Court, Joshua Drive, Lassen Drive, Blue Ridge Court, Condor Court, Condor Drive, Deer Path Court, Eagle Nest Court, Eagle Nest Drive, Francis Court, Francis Drive, Frumenti Court, Jenay Court, Kathy Lane, Knoll Crest Court, Sage Drive, Shenandoah Drive, Sherree Court, Skyline Drive, Sterling Drive and Webster Drive.
The Vine Hill Way area streets on the list are Ashwood Drive, Beechwood Drive, Cherrywood Drive, Elderwood Court, Elderwood Drive, Linton Place, Linton Terrace, Vine Hill Way, Woodview Court, Lyle Court, Minaret Drive, Mono Drive, Olympic Court, Olympic Drive, Pinacle Drive, Platt Drive, Ranier Court, Rubicon Court, Sequoia Court, Sequoia Drive, Shasta Drive, Trinity Court and Trinity Place.
In the Fig Tree area, the streets to receive repairs are Eastwoodbury Lane, Fig Tree Lane, Fraga Court, Gilda Avenue, Hatchwood Court, Holiday Court, Holiday Hills Drive, Midhill Road, Midway Court, Midway Place, Rangel Road, Ridgewood Court, Ridgewood drive, Sunhill Court, Sunhill Lane and Windwood Court.
Also on the list are downtown area streets that could receive crack seal and microseal treatments. Those are Castro, Escobar, Estudillo, Ferry, Las Juntas and Ward streets.
Since both Brown and Green streets will undergo extensive repairs that are expected to be finished before the start of the 2018-19 school year, downtown street work may be delayed to prevent excessive disruption of traffic, Tucker has said earlier.
In other matters, the Council confirmed Mayor Rob Schroder's appointment of Jeff Roubal to the Veterans Commission and unanimously approved its consent calendar.
That portion of the agenda included a resolution expressing the city's opposition to the Tax Fairness, Transparency and Accountability Act, a state constitutional amendment that could void local measures approved by voters on or after Jan. 1 but before the act's effective date should those measures fail to comply with the act's provisions.
The act calls for a two-thirds voter approval to raise any and all new local taxes, including general purpose taxes that currently need only a simple majority's approval. It would redefine some other levies, such as service fees, as taxes and require a two-thirds vote of city councils for their approval, and voters would have a process by which they could overturn those fees. Changes in the use of tax revenues also would require a two-thirds vote of both a council and residents.
Finance Director David Glass had recommended the city's opposition to the act, saying it would interfere with a city's ability to provide needed services, address community needs or keep infrastructure in good repair.
One resident, Dick Duncan, wrote his objection to the matter being placed on the consent calendar, which is decided by a single vote, saying, "It's one thing for bureaucrats to try and kill such citizen driven initiatives to require fairness, transparency and justification for raising taxes on the citizens at large. It is something else to put it on the consent calendar and attempt to evade public discussion and input and allow Council members to take the easy way out."
He asked that each member of the Council state an opinion on the act and describe how that opinion was reached. Instead, the item remained on the calendar, which was approved unanimously.
Other items on the consent calendar include the assigning of the amended pipeline franchise ordinance to TransMontaigne Operating Company; the notice of completion of the Martinez Marina Dredge project, and a report on the city's investments, which City Treasurer Carolyn Robinson said conform to the city's investment policy and are of sufficient liquidity and anticipated revenues to meet Martinez's budgeted expenditure requirements for the next six months.