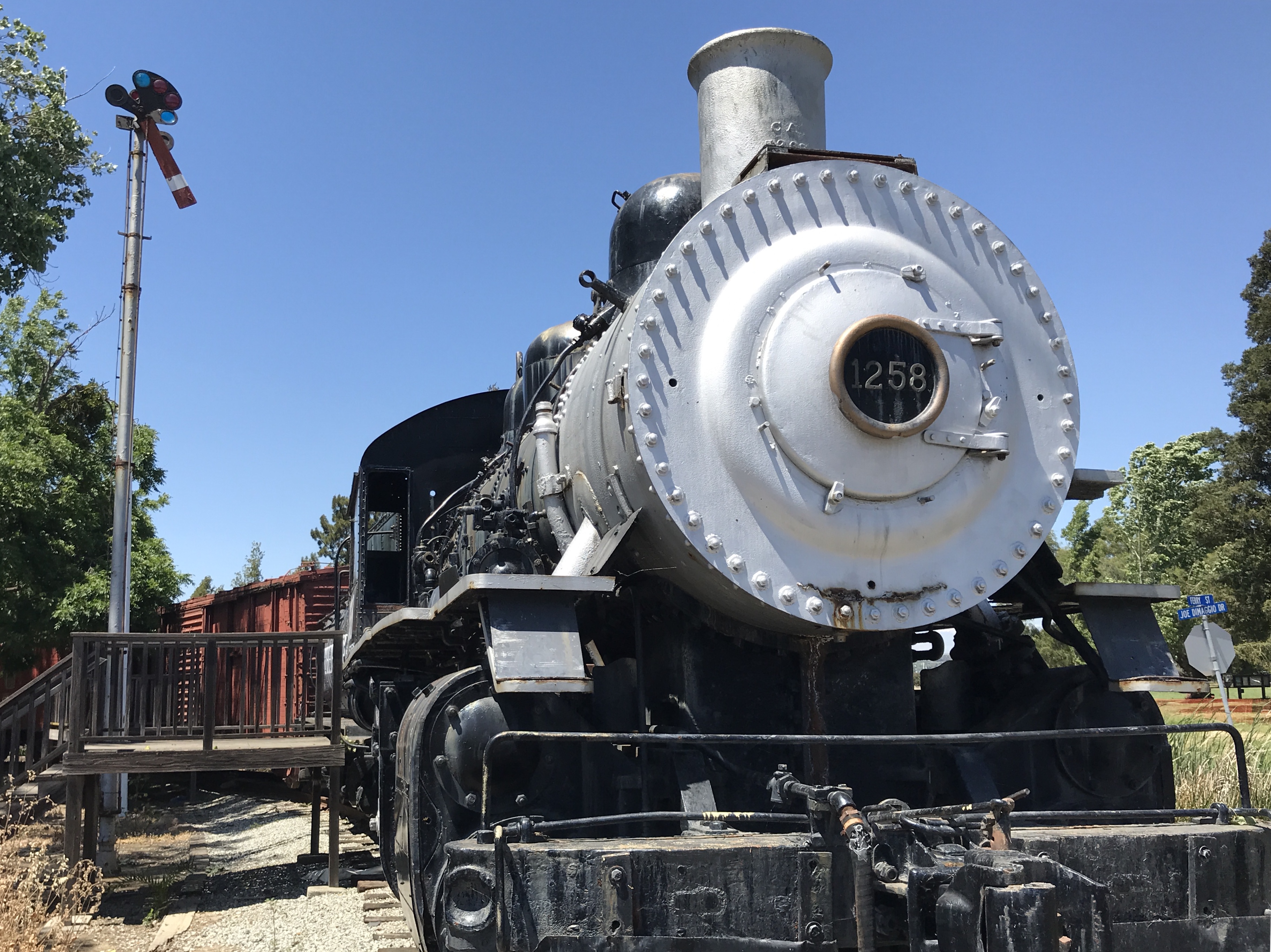 MARTINEZ, Calif. – A majestic black steam locomotive, Southern Pacific 1258, sits prominently in Martinez Waterfront Park, and is a landmark for those arriving at the local Amtrak station.
Many longtime residents remember playing on the locomotive when it sat at Rankin Park.
But at one time, the city considered letting go its own locomotive, and a group of citizens, who banded together as the Martinez Railway Historical Society, made sure the locomotive remained here, said Roger Colton, a member of the society when he lived in Pleasant Hill.
The SP 1258 was built in Los Angeles in 1921 by Southern Pacific, the railroad company that operated from 1865 to 1998, when it merged with the Union Pacific Railroad.
Its primary duties was as a switcher, and was sent to work in various railroad yards in California and occasionally to Nevada, Colton said. "In real life, it worked the industries, bringing freight cars from other destinations to Shell," he said. Sometimes it would take train cars to warehouses. It was photographed working along Alameda Street in Los Angeles as well as other places as needed.
"It performed multiple jobs every day," Colton said. Crews would come aboard to replace others that were done with their shift as the locomotive worked on, sometimes 24 hours a day.
"It was sent where it was needed," Colton said. "A lot of rail fans forget that not all locomotives led exciting lives. Some were everyday workhorses. That's what this was."
When the Southern Pacific switched to diesel power, the company sold some of its larger locomotives for scrap, but gave away some of its switchers, Colton said.
"When cities asked for donations, these were available," Colton said. Martinez received the 1258 in 1959, one of 14 donated to various cities, and it was moved to Rankin Park near the pool, he said.
But in the late 1980s and early 1990s, concerns were raised about asbestos in the boiler, Colton said. Some city officials became so worried that they considered getting rid of the locomotive.
That didn't set well with fans of the locomotive. About a dozen decided to form the Martinez Railway Historical Society, a grass-roots organization that urged the city to keep the 1258.
"It was a citizen effort to hold on to it as an asset to the city," Colton said. "It wasn't affiliated with the Martinez Historical Society or part of any organized group."
Martinez Railway Historical Society was incorporated Dec. 8, 1986, and Keith Jackman was its president, Colton said..
The society's status has been listed as dissolved, Colton said.
One thing the group did do was print T-shirts to promote its cause, he said.
Colton wrote up a presentation, which he gave at a City Council meeting. In his talk, he described the history of this locomotive. He voiced the Martinez Railway Historical Society's contention that the locomotive was an asset, not a liability.
Finally, city officials agreed, and Martinez was able to keep its locomotive.
Colton said the Martinez Railway Historical Society lasted only a couple of years, and few residents may remember it existed at all.
A lifelong train enthusiast, Colton has kept his hand in railroading, and operates Private Car Service for rail excursions, and has an interest in model railroads as well. He now lives in Livermore.
Despite its short existence, the legacy of the Martinez Railway Historical Society lives on in the 1258, he said.
After suffering some vandalism at Rankin Park, the locomotive was moved to Waterfront Park, Colton said. Its placement originally was to be on pavement between turns on a proposed design for Ferry Street. Instead, plans were changed and the locomotive was placed where it is seen today, near Alhambra Creek, he said.
"When they built the display with the box car, the idea was to make a railroad park," Colton said. That's why a picnic table and stairs to the cab were built. However, a transient person started causing problems at the site, even starting a fire. "That ended the access," he said.
Members of the community remained fans of the locomotive, and some repainted and relettered the 1258 to beautify the display, Colton said. That needs to be done again, he observed.
As was the custom of the day, the city allowed museum members and others to remove parts if they could be used in returning a similar locomotive to operating condition, so long as it didn't affect the integrity of the display. "That's why if you look at the locomotive, pieces are missing," Colton said. "The whistle and boiler plate are long gone."
The locomotive will experience another move shortly, but City Engineer Tim Tucker said this won't compare to the relocations the locomotive has experienced in the past. Those stopping by the locomotive may have noticed stakes have been placed in the ground around the display.
"We are sliding it back a bit to run a path in front of it from the new parking lot to Ferry Street," Tucker said.