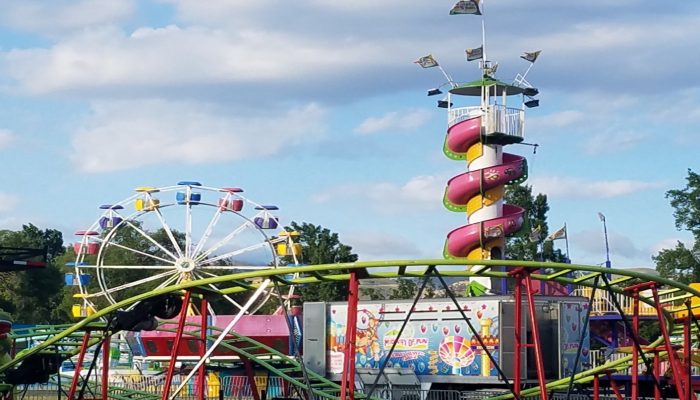 Contra Costa County's own county fair opens at noon Thursday for four days of family fun.
Opening day also is "Dollar Day," with $1 admission until 5 p.m. and $1 carnival rides until 5 p.m.
Those 62 and older will be admitted for $1 Friday, "Seniors Day." Those buying a carnival ride wristband can get a second band free through 6 p.m. Both riders must be present at the time of purchase.
Saturday is Military and Law Enforcement Day, when those active in either the military or law enforcement, along with their families, will be admitted free if they present an active identification.
Fiesta Day is the fair's finale. Sunday will have Hispanic-themed stage and grounds entertainment throughout the day.
Each day is packed with entertainment, including special events on specific days. Brass Ring Midway of Fun is bringing its carnival rides, including a Ferris wheel, a carousel, the more vigorous Zipper and the Viper, plus new rides Jumbo the Elephant and the Star Tower, as well as challenging games to the fair.
The Arts and Agriculture pavilions will have displays and competitions for home and fine arts, photography, floral exhibits and horticulture, agriculture mechanics, industrial technology and science categories.
New in that are fair-theme food contests and exhibits from area 4-H groups.
Each day, area youth will be busy grooming and showing livestock, from poultry and rabbits to sheep, hogs and cattle. These culminate in selections of grand champions and the Junior Livestock Auction at 10 a.m. Sunday.
Fairgoers can do their own participation in the Xtreme Sports Zone, which offers bungee jumping, bubbles, the cannonball air blaster, the hang bar challenge, a mechanical bull and other activities.
Others may prefer to take Cowboy Ken's trackless train, a relaxing way to travel around the fair. Youngsters may play at Kids Town America while their parents and guardians take a break.
Among the entertainers appearing this year are characters from the comic strip "B.C.;" Jeremiah the Throw Zone juggler, who is a medalist in the International Jugglers' Association competition; the Street Drum Corps; the K9 Kings Flying Dog Show that demonstrate the dogs' skills catching flying disks; and Coventry and Kaulza, a circus comedy duo.
Also appearing are Linda Hulet, the clown of many faces; the Magic Bean Agriculture Magic Show that also teaches children how food goes from farm to kitchen; Megan the Bubbleologist, who demonstrates tricks with bubbles; the Wild West Turkey Stampede, in which turkeys chase Big Red, a remote truck; Pollywood Bird Show featuring tropical birds from throuout the world; and the Strolling Puppet Truck, a mini model T that travels through the fairgrounds.
East Contra Costa County's own roller derby league, Undead Roller Derby, will let fairgoers see the new, unscripted grass-roots version of the sport, with demonstrations at 8 p.m. Friday and 6 p.m. Saturday at Paradise Skating Rink on the fairgrounds.
Auto racing will start at 7 p.m. Saturday at the fairgrounds' Antioch Speedway, with tickets $12 for youth 6 to 2 and $15 for adults that include fair admission as well as speedway entrance.
Gotcha Covered, performing music from the 1970s to the present day, will perform on the Midway Stage, and a variety of music and comedy acts will entertain on the Modelo Pavilion Stage.
Among them will be Bump City, the Bay Area rhythm and blues band, Patton Leath performing original hits, Big Bad Boogie Rock, playing rock, funk and other music of the 1970s; and Uptown Funk, a salute to Bruno Mars.
Sunday's Hispanic entertainment features Los Kinos, Miguel Angel El Judicial, Mariachi ORO and Latido de Aguililla.
The Contra Costa County Fair is open from noon to gate closure at 9:30 p.m. Thursday through Sunday at the Contra Costa County Fairgrounds, 1201 West 10th St. Antioch. Carnival hours are noon to 10:30 p.m. Thursday, noon to 11 p.m. Friday and Saturday, and noon to 1030 p.m. Sunday.
Advance admission tickets are $8 for adults, $5 for those 62 and older and for youth 6 to 12, and free for those 5 and younger. Tickets at the gate are $10 for adults, $7 for those 62 and older and youth 6 to 12 and free for those 5 and younger.
Adult season passes are $25 and youth season passes are $15. Daily parking is $7, and season parking passes for the livestock lot are $25.
Unlimited ride carnival ride wrist bands are $25 in advance and $35 at the fair.
Tickets may be purchased online at https://contracostafair. com/contra-costa-county-fair-2019/.
A complete schedule is available online at s://contracostafair .com/wp-content/ uploads/2019/03/Entertainment.pdf.