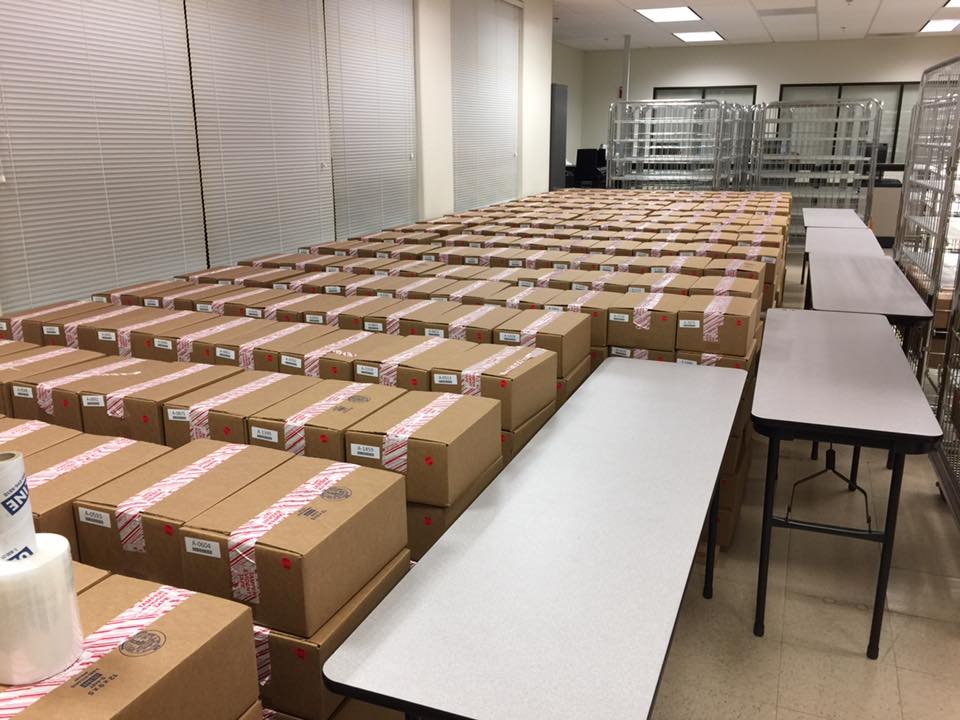 MARTINEZ, Calif. – A couple related to the incumbent District 4 Council member, Debbie McKillop, said they were given the wrong provisional ballots during Tuesday's election. Now the two are wondering if their votes for McKillop will be counted.
McKillop notified election officials, saying that if this wasn't an isolated incident, it could affect those who wanted to vote in the District 4 race, whether for her or her opponent, challenger John Stevens.
Meanwhile, election officials said they are looking into the matter.
The situation started when the couple, April and Jeff McKillop, mistook their vote-by-mail ballots for sample ballots, and went to their longtime polling place to vote Tuesday.
Many residents have requested vote-by-mail ballots, but others were notified in August by the Contra Costa County Elections Division that they no longer had a polling place and would be sent ballots that could be mailed or dropped off at certain sites.
That change was prompted by the decision of both Martinez City Council and Martinez Unified School District to adopt by-district elections after a Malibu attorney, Kevin Shenkman, threatened them with a lawsuit and accused them of violating the California Voting Rights Act by their use of at-large elections.
Shenkman contended the two panels were diluting the voting impacts of protected groups to the point their preferred candidates likely wouldn't be elected.
He has sent such letters to multiple cities and other elected panels, and those who fought his accusations invariably have lost, sometimes at a cost of millions of dollars.
While both panels vehemently denied Shenkman's accusations, both took advantage of the state's 90-day protection period during which they had to conduct several mandated public hearings, draw maps that met California and federal voting rights laws and adopt the districts.
The Council decided to adopt four districts for Councilmembers, but to keep the mayor as an at-large elected position, a solution that is similar to what the courts imposed on Palmdale, the city that spent millions and fought hard for two years against Shenkman's accusations, then settled after paying Shenkman's law firm $4.5 million in attorney fees.
Despite multiple mandated public hearings during the process for both the city and school district, a recent survey indicated that three-quarters of Martinez residents either were not aware the 2018 Council and Board of Education elections would involve by-district voting or they were convinced both elections would remain at-large decisions.
April McKillop, the incumbent Councilmember's sister-in-law, said she and her husband, Jeff, who is the Councilmember's brother, consider themselves average Martinez residents who didn't realize they were in District 4, although an elections divisions website check of their home address confirmed their home indeed is there.
The pair went individually to the polls Tuesday afternoon, April voting first while Jeff watched their child. April and Jeff knew they were supposed to see McKillop's name on the provisional ballots they were given at Alhambra High School, historically the place they were to vote.
Instead, their provisional ballot had District 1 Councilmember Lara DeLaney's name instead.
April said she told a pollworker there had been a mistake. "My sister-in-law's name is not on this list. She's the incumbent. Can I switch this page and get the right one?" she recounted her conversation with the pollworker.
She was handed a substitute page, but that one also had DeLaney's name, she said. "They told us to vote what you think is right. So I wrote in Debbie's name," April said. Later, she told her husband as he went to the high school, "You may have to write your sister's name, too."
She said her mother had been a pollworker for 10 years, and she knew pollworkers are given a class they take before election day. She said she relies on pollworkers and election officials to guide her in the procedure.
But, she said, poll workers told the couple to write in their candidate's name and that the city had sent randomly sent out vote-by-mail ballots to voters, and that they should visit the Elections Division at 555 Escobar St. to decline vote-by-mail in the next election and to call later to make sure their votes were counted.
"They gave me the wrong paperwork and the wrong information," April said. "I'm upset as a voter that my vote for my sister (-in-law) may not count," she said.
She and Councilmember McKillop said they also are concerned that any District 4 voter who was casting ballots provisionally might not have been given the right ballot.
April said she saw about a half-dozen other voters getting provisional ballots, and when her husband voted, he saw about 10 voters handed provisional ballots. They wondered whether their experiences weren't isolated, but had been happening throughout the day.
"To me, it's not legal," she said.
While Councilmember McKillop said she realizes some might say this could be a concern for her because it's her relatives or because after Tuesday's votes were counted, she trailed Stevens by 25 votes.
"Win or lose, I don't care," she said. "I want confidence in our voting. It's our democracy."
She contacted the elections office and met with representatives Wednesday afternoon. She pointed out that if provisional voters didn't realize which district they're in, they might not recognize incidents of getting the wrong ballot.
"Is it because they're family members? Well, the family members knew they had the wrong ballot," she said.
"Did the pollworkers even know there were two ballots there?" she asked. "This didn't affect Lara, but it impacted John Stevens and me. I want to be assured they'll handle things appropriately"
After her meeting with elections officials, McKillop said she still is concerned that incorrect ballots might have been distributed elsewhere, not just at the high school polling place. However, the officials said it has ways to investigate the situation. "I'm confident that will happen.," she said.
Officials told her that some of those receiving mailed ballots had not followed instructions, and because voting by district is new, some voters were confused.
"I would expect the elections office to be able to help them (pollworkers) give them proper information. I didn't see that play out with my own family," she said, saying errors "could jeopardize votes for John or myself."
Stevens said the elections division had an enormous job in modifying precincts once both the city and the school district submitted their respective voting districts, four for the city, five for MUSD.
He praised the county's clerk-recorder-registrar, Joseph E. Canciamilla, and his staff for making the adjustments to what he called "gerrymandered" Council districts in time for the Nov. 6 election. "
Until the matter was raised by the McKillop family, he said he had not heard of any voting concerns.
"Of the vast number of people I spoke with, none told me of any ballot issues," he said.
He said some people might have been confused, because in some places those living on one side of a street could be in one Council district, and those on the opposite side could be in another.
"A handful of people may not have been clear what district they lived in – I saw a lot of that right up to the election," Stevens said, suggesting people shouldn't wait until election day to determine their districts.
Still, he said, he expects any discrepancies on Election Day would be "very limited, if at all.
"I'm not concerned about it for me personally," he said about possible election errors. "I'm concerned for the process. We need to make sure in the future this doesn't happen. I'm hoping that this was a limited incident. I'd be gravely concerned if it were commonplace."
Paul Burgarino, community education and engagement specialist for the Clerk-Recorder-Elections Department, said the elections division is including its investigation of the incident as part of the post-election examination. First it must process more than 170,000 votes that have arrived at the Elections Division outside of those cast conventionally on Election Day.
He said the Elections Division is verifying who voted, then will look at provisional ballots, including a specific examination at the Alhambra High School polling place and the McKillops' complaint.
"I can tell you that this elections incident is an isolated one," Burgarino said, explaining that there were no other complaints about poll workers issuing wrong ballots.
Having two districts' precincts at one polling place is rare, he said. "This is one where it is sort of a byproduct as we work with the city of Martinez and they work on districting."
He said Martinez's districting was more complicated for the Elections Division to handle compared to the way Concord made its districts. That city also received an attorney letter threatening suits if it kept its at-large system.
He said all voters who received vote-by-mail ballots got the ones that matched their districts.
Burgarino said pollworkers are trained to look for a four-digit number that indicates which ballot is associated with which district. "They're trained to make sure the ballot ticket corresponds with ballot cards," he said. 'We don't want to give pollworkers the chance that there might be mistakes made."
As for the McKillops' contentions they were told to write in the name of someone from a different district onto a ballot, he said the pollworkers wouldn't be trained to do that.
Instead, he said he was confident in the way pollworkers are trained to deal with situations involving ballot distribution.
"It's not an epidemic," he said, despite the voting changes in Martinez and plenty of voting newcomers who showed up Tuesday. "There were no other reports of discrepancies Tuesday countywide."
Burgarino said there was a line of people outside the Elections Division office after 7 p.m. Tuesday.
"It showed how many people are interested in elections and are willing to participate. That was great to see," he said. "The biggest complaint was they had to stand in line too long."