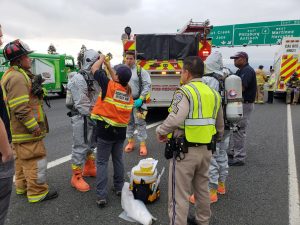 MARTINEZ, Calif. – A multi-vehicle collision involving a company truck loaded with pool chemicals forced the closure of south Interstate-680 Thursday morning, according to the California Highway Patrol reports.
Once the chemicals, described as chlorine and muriatic acid spilled onto the highway, the accident triggered a hazardous materials cleanup response from Contra Costa County's fire protection district and hazmat crews, the agency said.
The interstate's southbound lanes were closed to traffic until about 10:45 a.m., causing disruption to commuter traffic. Only one person, a woman who was in the final vehicle hit, was reported injured, and her injuries were described as minor. She was treated at a nearby hospital, according to CHP reports.
The crash, near California Highway 4, Pacheco, happened about 8:06 a.m. Thursday when a man driving the white pickup truck was unable to control the vehicle when others on the highway were slowing, the CHP report said.
The loaded truck crashed into the vehicle it was following. Then it swerved left, striking another vehicle. The truck overturned, crashing into two more vehicles and causing the injury to the woman, according to CHP reports
The agency's report said swift action by the hazmat crews contained and mitigated the chemical risks, resulting in no safety concerns.
The accident is under investigation, and those with information may contact the CHP at 925-646-4980.