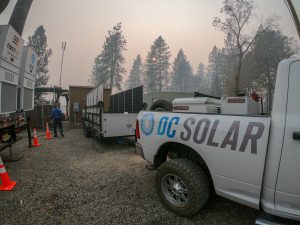 DC Solar Solutions and DC Solar Distribution both have filed for reorganization in Nevada Bankruptcy Court.
The Benicia-based companies owned by Martinez residents Jeff and Paulette Carpoff were raided along with the Carpoffs' home Dec. 18 by the Federal Bureau of Investigation.
The FBI has confirmed the raids, but have released few specifics, citing the ongoing investigation that reportedly involves the Internal Revenue Service. The Department of Justice has been quoted as saying the raid was related to an investigation of investment fraud.
The Carpoffs' attorney, Armando Gomez, of the Washington D.C. firm of Skadden, Arps, Slate, Meagher and Flom, issued a statement on behalf of his clients after the raid to the Martinez News-Gazette.
"The Carpoff family was surprised and disappointed with the actions taken by the government earlier this week, which appear to relate to an ongoing tax dispute. They are long-time residents and supporters of the Martinez community who believe in our country and all that it stands for," the statement said.
"The Carpoffs are grateful for the support of their friends and family, and have trust in the system to resolve this matter in a fair and just manner at the earliest opportunity so that they can continue to grow their business, which brings clean, reliable, renewable power to first responders and others whenever and wherever needed," it continued. "Until that time, they will have no further comment on this matter."
In documents filed Monday on behalf of DC Solar Distribution, the company's Nevada representative, Tracy M. O'Steen, has declared Seth Freeman as the debtors chief restructuring officer.
For DC Solar Solutions, O'Steen asked Sunday that Glass Ratner Advisory and Capital Group, for which Freeman works, provide the chief restructuring officer and additional personal and asked that Freeman be named the debtors chief restructuring officer.
A meeting of creditors for both DC Solar companies is expected to take place in the court at 2 p.m. March 4. Judge Bruce T. Beesley has been added to the case.
O'Steen has asked for interim and final orders that would let the debtors maintain existing insurance policies.
The early morning raid at the Carpoffs' home involved agents breaking through the door to seize multiple types of property, according to witnesses' accounts that described armored cars being loaded with money or papers and transport vehicles that took away cars.
At the DC Solar campus, 4901 Park Road in Benicia Industrial Park, other property was seized, described as trucks, documents, computers, more vehicles and other equipment.
Employees were escorted from the property that day.
So far, the status of Paulette Carpoff's baseball team, the Martinez Clippers, has not been announced, although the Pacific Association of Professional Baseball Clubs Commissioner Theo Fightmaster said earlier the league remains optimistic the local ball club will be playing in what would be its sophomore season.
City staff has been reviewing the five-year contract Martinez has with the club owner for use of Field 3.
DC Solar also has been involved extensively in NASCAR, backing some of Chip Ganassi's racing team drivers, including Elk Grove native Kyle Larson, one the stars of the younger crop of racers in both the second-tier Xfinity Series and the premiere Monster Energy NASCAR Cup Series.
Another driver, Ross Chastain, had been announced as having a full-season ride in the Xfinity Series for Ganassi under a DC Solar sponsorship.
However, shortly after the raid, Ganassi's team announced it was shutting down its Xfinity participation because of the loss of the sponsor.
According to published reports, DC Solar owes several millions to motorsports tracks and companies, including Ganassi's racing team.
It also is describing as having sizable debts with to International Speedway Corp. that owns Daytona International Speedway and 12 race tracks among other holdings, and to Kansas Speedway, ISM Raceway in Phoenix, Ariz., Richmond (Va.) Raceway and Talladega (Ala.) Superspeedway.
Since 2008, DC Solar has been manufacturing and leasing mobile, solar-powered energy products, including generators, light towers, telecommunications equipment and electric vehicle charging stations.