By CHARLIE JARRETT
Special to the Gazette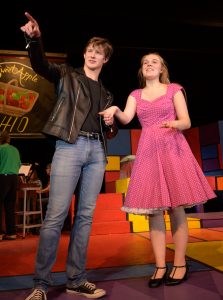 This week I will be featuring a theatrical production right in the heart of Martinez, with a delightful Bye-Bye Birdie student musical production at Alhambra High School.
First of all, let me congratulate the Alhambra high school drama director, Gerry Wiener, and musical director Julianne George for providing such a wonderful opportunity for parents and students in this community, to participate in, learn from, and enjoy a first-class high school theatrical production right here in Martinez.
I have to admit that I'm somewhat biased in that all three of my grandchildren who live in Martinez have benefited from the excellent educational and sports system available to them.
Last year, while serving on the board of the Eugene O'Neill Foundation in Danville, I had the opportunity to meet with director Weiner as our foundation (in partnership with the Eugene O'Neill National Park) provided a free artistic enrichment program for high school students in the Old Barn Theater adjacent to the Tao House home, where world renown, Nobel and Pulitzer prize-winning playwright, O'Neill, wrote some of his most famous plays.
Director Weiner allowed us from the foundation to meet with his students in his classroom, while we explained how his students would have the opportunity to work directly with professional actors and writers to broaden their writing and acting skills.
Following that meeting, students Sam Millson, David Miller, Isiah Huntsinger and Rosette Tyree, at director Weiner's encouragement, took up our challenge and attended the class with 30 gifted students.
The Alhambra high school production of Bye-Bye Birdie is the story of a famous rock star look-alike character of the 1950s, whom all audience members will recognize as Elvis Presley, but who is named Conrad Birdie, is preparing to temporarily set aside his rock 'n' roll luster for a somewhat less flamboyant role as a private in the United States Army.
His manager and promoter, Albert Peterson, at the suggestion of his secretary and girlfriend, Rosie Alvarez (Niki Amini), comes up with a major promotional idea. Rosie suggests to Albert that their rock 'n' roll star should introduce his new but unreleased song, "One Last Kiss", on the live Ed Sullivan show, where, at the same time, he will plant his first kiss on a lovely young fan club member, Kim MacAfee (Skylar Wondrusch).
With 38 student performers in this colorful, upbeat, and fun-filled production, it's very difficult to give appropriate kudos to all those who truly deserve them. I will have to mention at least several who certainly stood out.
I'm pleased to inform you that in this production, at least two of those Alhambra students, demonstrated excellent acting skills and performed in key roles, including Isiah Huntsinger, who performed quite well as the rock-star promoter Albert Peterson. His (Elvis Pressley type) protégé, Conrad Birdie, is played very well by David Miller. In addition, Niki Amini demonstrated not only good acting skills, but a beautiful voice and can sing very well.
Further, Lucas Haller, who plays the father of the Kim MacAfee character, was an absolute outrageous, overboard delight, especially when he and his family were singing about "Kids" and their opportunity to be on the Ed Sullivan show. I wish I had more space to praise all the worthy hardworking talent, but let me say that this theatrical program is going to provide an opportunity for many or our young citizens to become more confident, successful, and intelligent young members of our society. Great job Alhambra High!!