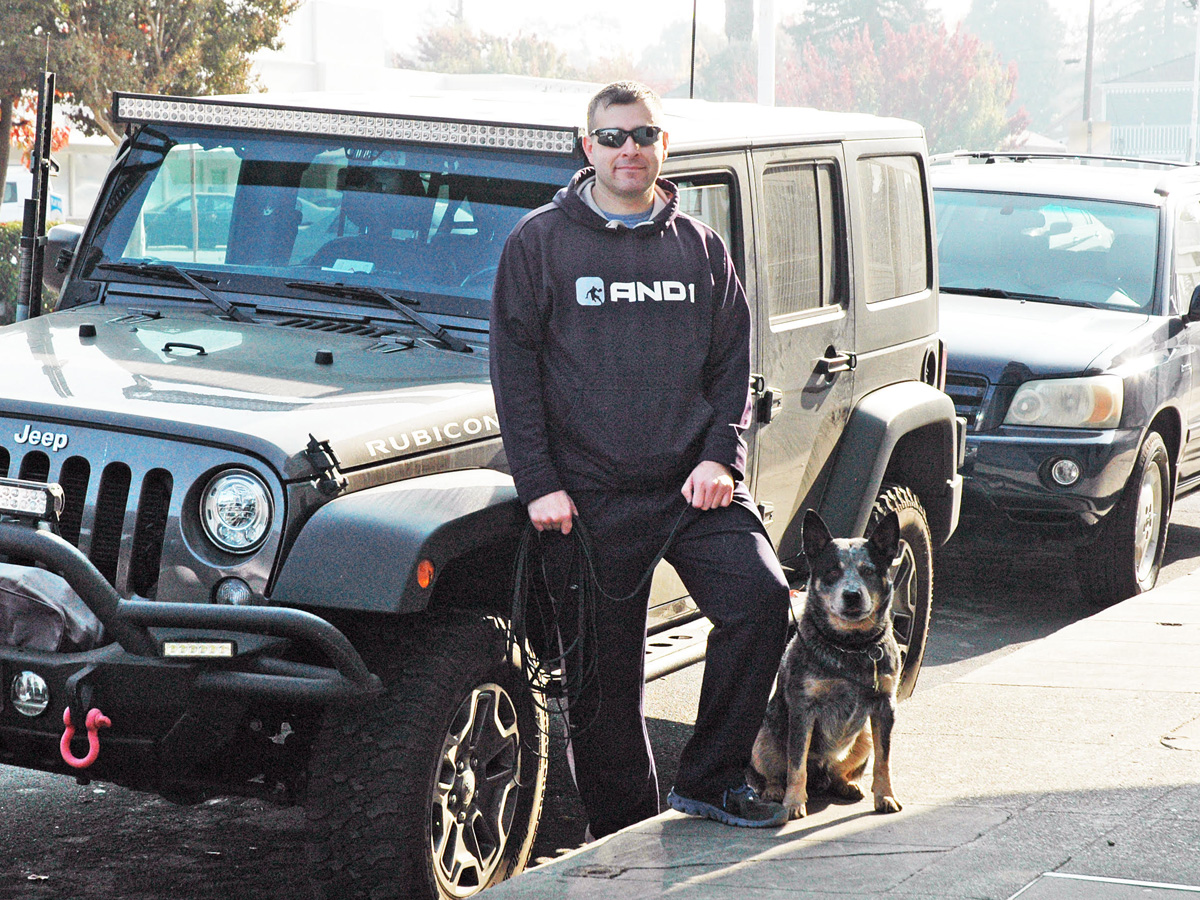 MARTINEZ, Calif. – Kevin Giberti, a member of Contra Costa County Sheriff's Office, knew he wanted the right dog as his partner in a recovery team. He contacted a breeder whose dogs have a reputation for being good in the job.
The breeder had a new litter, but she realized none of the pups appeared to have the qualities Giberti needed for his dog. She urged Giberti to wait.
He did. And in the next litter of Australian cattle dogs, he found his partner, a male he simply named "Dog," now 4 ½ years old.
"I relied on the breeder," he said. "I was pleasantly surprised."
Cattle dogs are tough, said Giberti, a Martinez native and Alhambra High School graduate. They live longer than those of some breeds. Dog may have a career alongside Giberti that lasts from 11 to 13 years, he said.
Dog began his training shortly afterwards, and in two years, the pair was certified to work with the sheriff's office. They've been a working team for two and a half years.
Dog lives with Giberti and his family, and Giberti has been training the cattle dog since he brought him home, when Dog was about 7 weeks old.
The dog weighs about 55 pounds, but when he's on duty and doing his job, he can feel like he weighs 100 pounds, his enthusiasm can be so great, his handler said.
Yet Dog also is gentle, able to play with other family members or their other pet, a Chihuahua, with concern.
The use of dogs in rescue and recovery may predate the earliest recorded efforts, but monks at St. Bernard Hospice in Switzerland were writing about using dogs to find travelers, since the 1700s. The practice continued in war times, when dogs were trained to find wounded soldiers as well as victims trapped under fallen buildings.
In the United States, they're used in disasters, natural and otherwise. Many members of the public learned about rescue and recovery dogs in the aftermath of the Sept. 11, 2001, attacks, or earlier after the April 19, 1995 Oklahoma City bombing.
There is a difference in rescue and recovery dogs. Rescue dogs focus on finding the living, while recovery dogs like Dog are asked to find bodies. Both types have worked California's tragic wildfires, as have dogs specially trained to find cremated remains in fires.
Giberti and Dog were sent to Paradise, where they worked for two days, seeking out the remains of those who had not survived the deadly fire.
But Dog has other training as well. His keen sense of smell has been honed for tracking and for finding firearms, too.
In a recent demonstration, sheriff's employees hid small shell casings in a room. Giberti and Dog walked in, then the cattle dog was taken off his leash. "Bang-bang!" Giberti cued his partner, who began scouting the room for the tiny pieces of metal stashed in corners.
He found them by their scent, lying down to tell his handler he'd located one. His is a quiet "alert" unlike some dogs who are trained to bark or become active after achieving a goal.
Dog's reward is getting to play with a ball on a rope, his favorite toy. At times, Girberti has trouble getting the toy back.
Giberti likes Dog's drive and energy. "He sticks to his task," he said. "But it's all about his toys."
If the 9/11 attacks let more people know about rescue and recovery dogs, the massive operation of seeking survivors as well as bodies taught people more about how the work affects their canine partners.
Dogs can become discouraged and frustrated when their searches are futile, experts observed. So even while the rubble in New York and Washington was being searched, handlers started incorporating ways that kept their dogs engaged, Giberti said.
The dog handlers turned to helpers and coworkers, who let themselves become the targets of the animals' searches, so they would experience some successes. Following that scent and finding someone helped avoid depression in the dogs, he said.
Those techniques are still employed, he said, and that helps keep a dog enthusiastic about the job.
Giberti, 35, has been with the Contra Costa County Sheriff's Office since 2012. He said this assignment is a good one.
"I like playing with Dog," he said. "I really enjoy being with him."