Doris Greene
Oct. 28, 1924 – March 23, 2018
Resident of Martinez, Calif.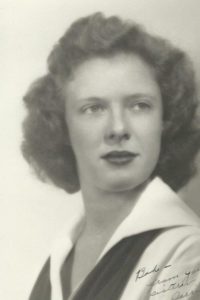 Doris Greene passed away with her family by her side at John Muir Medical Center in Concord. Doris was born at home in Alameda but grew up in Port Chicago, California. She was one of two children from Jack and Mary "Bam" Pacini. Her younger brother Bob passed away in 2013, and she also has a step-sister, Carla Coniglio, who resides in Carmel. Doris graduated from Mt. Diablo High School as class valedictorian in 1942.
Doris married her husband, George Greene, in 1945. They spent the first part of their marriage in Port Chicago, residing next door to their dear and lifelong friends Larry and Kay Caldera, until the Navy forced them to sell their home in 1968. At that time, they moved to Martinez, where she would live for the rest of her life.
Doris and George had two children together. Richard "Dick" was born on May 14, 1946, and Patricia "Pat" was born on April 15, 1950. Pat passed away at the very young age of 33, leaving behind her husband Bill O'Hara and their three boys, Scott, Mark and Keith. Doris was a major part of their upbringing in the absence of their mother. She also had four grandchildren born to her son Dick and his wife Shirley. Jennifer, who passed away soon after being born, and triplets Amanda, John and Michael.
Doris spent most of her married life as a housewife, but went to work at Nourse Insurance as a solicitor for 10 years until retiring. She had a very full retirement in which she went on numerous trips around the world including cruises to Australia, Alaska and the Caribbean, a vacation in England and many more. She also loved to spend weekends at her family's Delta retreat Winter Island. Her greatest endeavor in retirement however, was volunteering at the Contra Costa County Hospital where she won numerous awards and logged an amazing 16,000 volunteer hours over 23 years of service.
Doris was an avid sports fan who enjoyed watching the SF Giants and 49ers, but in recent years became a huge Golden State Warriors fan. She watched every minute of every game and could be heard yelling at her TV whenever they were playing.
She was a strong woman who came back from several severe illnesses including breast cancer and multiple extended stays in the hospital, but always returned home, where she lived independently. Despite having bad knees and trouble getting around in her later years, she always had a positive attitude and truly enjoyed life.
She will be missed by all who knew her and will forever be in our hearts. She is survived by her stepsister Carla Caniglio, son Richard and his wife Shirley, grandchildren Scott O'Hara and his wife Linda, Mark O'Hara and his wife Stacy, Keith O'Hara and his fiancé Michelle, Amanda Nowlin, John Greene and his wife Dolce, and Michael Greene, great-grandchildren Sammy, Joey, Erin, Sophie, Ali and Liam. She is also survived by her devoted niece Karen Pacini, who acted as a wonderful caregiver for her.
She was preceded in death by both her parents Jack and Mary, step-parents Otto and Mariana, husband George, brother Bob, daughter Patricia and son-in-law William.
Services will be held at Connolly & Taylor Funeral Home in Martinez. Visitation on Wednesday, March 28, from 6 p.m. to 8 p.m. Funeral on Thursday, March 29, at 11 a.m. A luncheon reception to follow at Zio Fraedo's in Pleasant Hill. In celebration of her life, donations can be made on her behalf to the Breast Cancer Research Foundation online at give.bcrf.org or by phone at 1-866-find-a-cure.