Reigning NBA Champs head to Antonio with a 2-0 series lead
By Felicia D. Purcell
Martinez News Gazette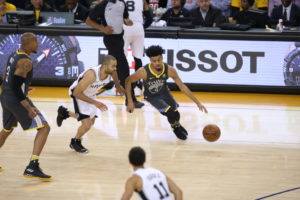 Warriors head coach Steve Kerr said he knew that the Spurs would make the necessary adjustments to compete with his team in Game 2 of the Western Conference Playoffs and they did just that.
The Spurs would dominate in the first half capitalizing on the Warriors costly turnovers and Spurs head coach Gregg Popovich said the Warriors strength and athleticism put his team in a hole in Game 1. However, for the first two quarters of Monday's game it would be the Warriors who battled against the Spurs' strength and athleticism.
"I mean, they just took it to us the whole first half," said Kerr after the game.
Kevin Durant would lead in scoring for the Warriors with 32 points, Klay Thompson finished with 31 points and going 5-for-8 from the 3-point line. LaMarcus Aldridge lead the Spurs with 34 points and 12 rebounds.
Game 3 will be played Thursday at 6:30 p.m. on TNT
Photos by Tod Fierner