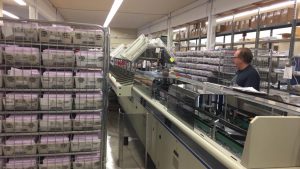 MARTINEZ, Calif. – As votes continue to arrive at the Contra Costa County Elections Division, Martinez voters are preferring Mayor Rob Schroder to challenger Yazmin Llamas-Morales in Tuesday's election. The incumbent has received 6,793 votes to Llamas-Morales's 3,657, giving Schroder a 65 percent of the votes cast.
In an undisputed race, Vice Mayor Lara DeLaney received all 1,988 City Council District 1 votes and was returned to the Council unopposed. Although she ran unopposed, her name remained on the ballot, too.
The Council District 4 seat remains a tight race. Currently, challenger John Stevens leads incumbent Debbie McKillop 1,507 to 1,467, a slim 40-vote margin Friday with more ballots cast by mail to be counted.
The Contra Costa County Elections Division, which is looking into a report of apparent irregularities regarding provisional ballots distributed at the Alhambra High School poll site, also was told that District 4 literature and possibly ballots being sent to at least one District 3 household.
Some candidates expressed confidence in their leads after initial Tuesday's election. All of that day's precincts have turned in their ballots; however, 108,000 ballots countywide, many from vote-by-mail precincts, are waiting to be counted. How many of those are Martinez ballots has not been determined.
"I want to thank the citizens of Martinez for having confidence in my candidacy for another term as mayor," Schroder said Wednesday.
"It has been my pleasure to serve my community as Councilmember and mayor for the last 22 years," he said. "I look forward to working with my City Council colleagues and the Martinez community on continuing to improve the quality of life for all residents, businesses and visitors."
Llamas-Morales wrote on her campaign Facebook page she wanted to send "an enormous thank you" to those who voted for her.
"I captured votes by running a solo campaign and on $200 of donations and no endorsements." she wrote.
"I may not have been elected Mayor, but that does not mean I won't be a voice for Martinez," she promised. "I don't need a fancy title or to run meetings to make a difference. I now have a platform and I will use it to help the residents of Martinez!"
She urged residents to stay informed and involved, and to contact her if they need help.
At least one couple related to McKillop said when they went to vote at Alhambra High School, they were given district 1 provisional ballots instead of those for District 4, in which they live. After voting, they contacted McKillop, who contacted the elections division, which is looking into the matter.
"Every vote counts, and they are still counting," McKillop said. "The Contra Costa County Elections Office is working diligently to count every ballot and investigate voter complaints. They take their role seriously and are committed to accurately reflect the results of this election.
"This process may take up to 30 days, and with close races like my race in Martinez District 4, its now a waiting game. Thank you to my supporters across all of Martinez. I appreciate the help and support I've received from all of you."
In another city election, Measure X, a general half-cent sales tax, has received "yes" votes from 71.80 percent of the voters, or 7,866 votes. Another 3,089 voters so far have voted to reject the new tax that would last 15 years.
Since this is a general tax, it isn't earmarked exclusively for specific expenses as was the 15-year half-cent tax approved in 2016 to generate revenues specifically for Martinez road maintenance and repair.
However, the City Council has told residents the money would be directed toward hiring and retaining quality police officers to increase the city's commitment to public safety as well as to maintain and make improvements to the water distribution system and water quality.
In the Area 3 Martinez Unified School District Board of Education Trustee race, incumbent and Vice President Deidre Siguenza leads challenger Craig Lazzeretti 881 votes to 546, or by 61.74 percent of the 1,427 votes cast.
The Board's clerk and Area 5 Boardmember Bobbi Horack was unopposed, and her name did not appear on the ballots.
"I'm proud that I was able to offer the voters of Trustee Area 3 a choice in this election, which was my primary motivation in running," Lazzeretti, a Pulitzer Prize-winning journalist and a Martinez Unified School District parent, said.
"As a first-time candidate with little name recognition, financial support or organized backing in this race, I am humbled and appreciative that nearly 40 percent of the voters in Area 3 cast their ballots for me, according to the current count," he said.
"I want to thank all the voters of Area 3 who opened their doors to talk to me in recent months, and I encourage them to engage with the school board on the issues that matter to them and to make their voices heard."
The school district's Measure Q, which would extend the term of the school parcel tax and increase it from $50 each to $75 each, needed at least a two-third majority to succeed. It received that and more – a 75.05 percent yes vote, or 6,286 yes votes of the 8,376 cast.
"The Martinez Unified School District community has once again voted in support for our local public schools, our students, and our incredible staff," said C.J. Cammack, district superintendent.
"On behalf of our Board of Education and all MUSD employees, I offer my thanks and gratitude to our voters for passing Measure Q."
He said the revenues the tax would raise "are desperately needed to provide high quality programs for our students which help maintain the overall success of Martinez Unified School District. I look forward to working with an independent oversight committee to ensure the allocation of funds are handled in alignment with our promises to voters.
"It is an honor and a privilege to serve the Martinez community and to work for our students and staff. Together, we can accomplish amazing things," he said.
Martinez has 23,955 voters who registered for Tuesday's election, according to the California Secretary of State's report. Of those, 11,629 registered as Democrats, 5,041 registered as Republicans, 748 are American Independents and 171 registered as Green Party members. Another 252 registered as Libertarians, 61 as Peace and Freedom Party members, 22 had unknown party affiliations 53 listed other party preferences and 5,978 said they had no party preference.
Contra Costa County registered 619,963 voters for Tuesday's election, of which 233,576 actually cast ballots, for a turnout of 37.68 percent according to results listed after election day.
On the Elections Division's Facebook page, Engage Contra Costa, it said many ballots remain to be counted, and when that task will be completed is unknown at the time.
"We do know that (approximately) 60,000 were dropped off at the polls, along with nearly 20k (20,000) that came form the City Clerks drop boxes," the division replied to inquiries.
"We also estimate that we have an additional 25k provisional ballots to individually review along with several hundred conditional voter registrations that came in," the division's reply said. "As a result of adding all of these voter options, the law gives us 28 days to complete our final count…."
Updates are being posted under "Elections Results" on the division's website, http://www.contracostacore.us.
As of Wednesday, the division's estimated number of Contra Costa County ballots to be counted, including those from Martinez, were 151,000 vote-by-mail, 25,000 provisional ballots and another 1,000 cast under conditional voter registrations, for a total of 177,000.
(The following contests show vote totals as of Wednesday, Nov. 7)
In races outside Martinez, Contra Costa County voted with other Californians to return Dianne Feinstein to the U.S. Senate, giving her 122,300 votes to Kevin De Leon's 87,128, according to initial results.
Most of hose living in the House of Representatives District 5 are backing incumbent Mike Thompson with 13,710 votes, or 76.52 percent of Tuesday's votes. Challenger Anthony Mills received 4,207 votes of those cast Tuesday. Part of Martinez is in this district
Martinez residents living in U.S Representative District 11 joined others in that district Tuesday to back incumbent Mark DeSaulnier with 110,188 votes, or 71.91 percent. Challenger John Fitzgerald received 43,053 votes.
Incumbent Assemblymember Tim Grayson of District 14, which contains Martinez, appears to be returning to that post after receiving 74.58 percent of the 58,917 votes cast Tuesday. He garnered 43,940 votes to challenger Aasim Yahya's 14,977.
Contra Costa County also voted Tuesday to return all its judges to their respective courts.
Associate Justices of the Supreme Court Carol A. Corrigan and Leondra R. Kruger will keep their seats as will First District Division 1 Associate Justice Court of Appeal Sandra Margulies, Presiding Justice of Division 1 of the First District Court of Appeals James M. Humes.
In the First District Division 2 Court of Appeals, Associate Justices James A. Richman and Marla Miller were returned, as was Peter John Siggins, presiding justice in the Court of Appeals First District Division 3, John B Streeter and Allison M. Tucher, associate justices in the Court of Appeals First District Division 4.
Contra Costa County indicated a preference for Tony Thurmond rather than Marshal Tuck for California Superintendent of Public Instruction.
Statewide, Tuck has a slim lead, but the race is too close to call since not all votes have been counted. In Contra Costa County, Thurmond received 118,662 of votes counted Tuesday, and Tuck received 92,194 votes so far.
Lynn Mackey has a 110,360 to 80,401 lead over challenger Cheryl Hansen for Contra Costa County Superintendent of Schools, and in Ward 3 of the Contra Costa Community College District election, Rebecca Barrett has received 21,469 of the 36,152 votes cast Tuesday. Of others in the race, Michael Menesini has received 8,985; Joe Munoz has received 3,115; and Murray Bishop has 2,583 of the counted votes.
Updates will be posted periodically under "Election Results" on the Elections Division website, http://www.contracostacore.us.