by Matt Sieger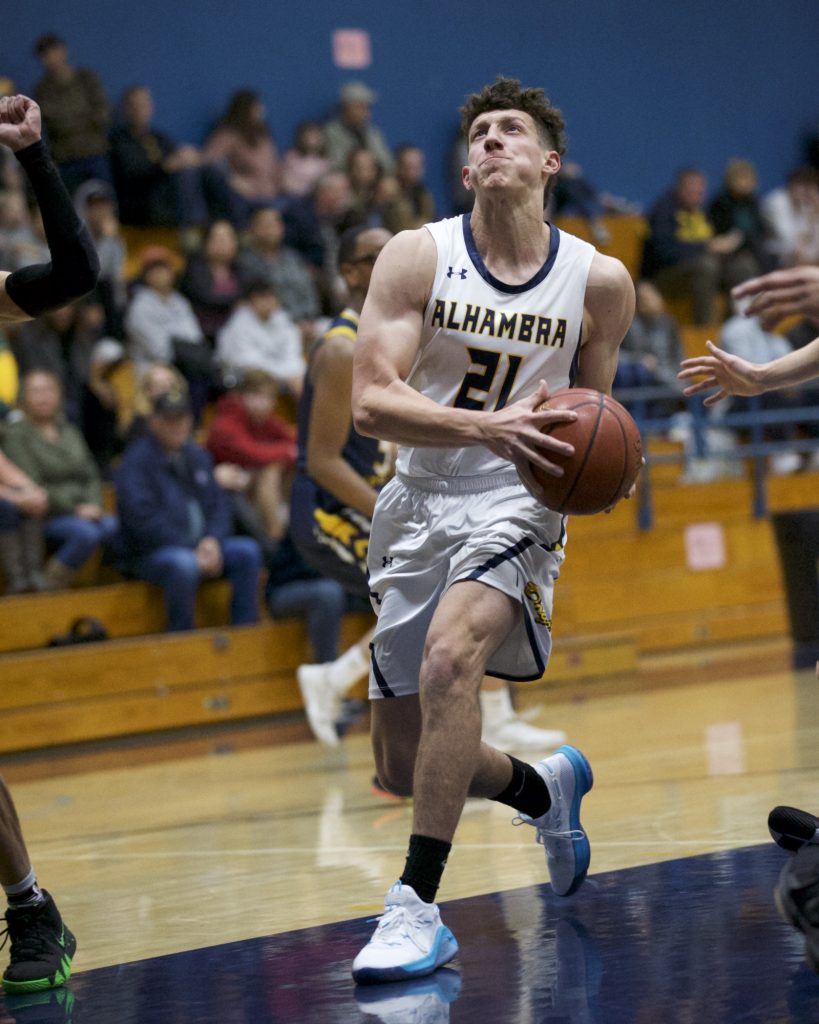 Martinez, Calif. – Now that's the way to play a league home opener!
Facing perennial nemesis Berean Christian, the Alhambra Bulldogs boys basketball squad was as tenacious as its mascot, blitzing the visiting Eagles 72-45 in the first Diablo-Valley League game of the season for both teams.
In Alhambra coach Chris Petiti's two previous seasons, the Dogs have lost four straight close contests to Berean, with no margin greater than eight points. What made the losses more galling is that the Eagles are coached by Petiti's brother-in-law, Justin Wade. So now Petiti has bragging rights at the next family barbecue.
Among those players who suffered along with Petiti in those previous four losses was Alhambra senior Brody Eglite. But tonight he made the Eagles pay. 
Always intense, the third-year varsity player turned it up to number 11 on the This is Spinal Tap amplifier volume. He scored 39 points on 17-for-19 shooting, most of them from inside. But many were strongly contested. Eglite seemed to will the shots into the basket, including one amazing flip high off the glass as he was getting fouled in the third quarter. He also had 13 rebounds and hit five of seven free throws.
Why the extra voltage tonight?
"I like to bring energy every game," Eglite explained. "But it was the league opener. We had it at home. I wanted to make sure we got the win."
The whole team had an extra measure of oomph.
As Eglite put it, "I noticed in warmups we had a lot more energy. I told one player, 'If we have this energy during the game, we are going to play well.' And that's what happened."
After a beautiful rendition of the National Anthem by referee L.G. Mills to kick off the first league game of the season, the Dogs (9-7 overall, 1-0 league) displayed great defensive intensity. They attacked ball screens, mixed up their defensive sets, hustled for loose balls, and generally made life uncomfortable for the Eagles (6-8 overall, 0-1 league). Alhambra led 19-12 at the quarter.
Then it was time for the Brody Eglite show. After scoring a workmanlike six points in the first quarter, he tossed in a layup off a nice feed by Joshua Palmer a minute into the second quarter. He ended up with 15 of Alhambra's 18 points in the quarter. As Petiti put it, "Everybody in the gym knew where the ball was going. And he was still making it happen."
Two straight Eglite layups forced the Eagles to call timeout with 4:09 left in the half, trailing 37-14. Berean Christian finished with six straight points to close the half down 37-20.
In the third quarter, the Eagles' Matt Pintarich (17 points) put on a 3-point shooting clinic, nailing four treys, the last from way past the arc on the left wing. Jayden Hurskin, who also finished with 17 points, added a 3-ball. But Eglite countered with another 13 points in the quarter, two of them on a great pass by Bobby Turnquist. Turnquist also hit a corner trey off a fastbreak, and the Dogs led 58-37 after three quarters.
With victory well in hand for Alhambra, both teams emptied their benches as the fourth quarter progressed,
Wyatt Hammer had 13 points on the night for the Dogs.
With the Berean Christian monkey finally off his back, coach Petiti reflected on beating the team that many consider the favorite to take the league,
"It's a statement win for us against a team that held us back the last four games," he said. "We haven't played with this intensity for a while. If you play hard, it's going to make up for any mistakes that you make."
Tonight the Bulldogs didn't make many. And it was a special night for Brody Eglite.
"I've seen this in him since his sophomore year," said Petiti. "He's a high-motor kid. He's fulfilling his potential. It's a testament about his character when you see all these other 11 guys so fired up (for him) every moment. Everybody loves him. He works so hard. He deserved it. He's never going to forget this moment. His teammates are never going to forget it either."
Neither will those of us who witnessed it.