MARTINEZ, Calif. ­­– Many Martinez residents have received a letter from Registrar of Voters Joseph E. Canciamilla that their voting precincts now are designated solely for vote-by-mail.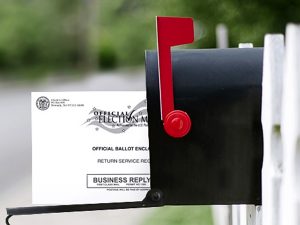 Some voters aren't happy about the change, which Canciamilla's office is blaming on how the city of Martinez and the Martinez Unified School District dealt with a legal threat that forced the two agencies to change from at-large to by-district elections.
Leaders of both agencies said they had little choice, and they accomplished those changes in compliance with the California Voting Rights Act and other mandates.
On social media sites and in emails to Canciamilla's office and to other local officials, some people have said they're worried that people will mistake ballots for junk mail and toss them out – if those ballots are delivered. They worry their ballots could be stolen from their mail boxes and that some could use stolen ballots to sway elections.
Others are concerned that having vote-by-mail as the only option could reduce turnout. And some have said they will miss the physical act of going to a polling place and marking a paper ballot.
Paul Burgarino, the Contra Costa County Elections Department civic engagement specialist, said the changes came about after the adoption of by-district voting by Martinez City Council and Martinez Unified School District Board of Education Trustees races.
The new procedures were prompted by letters to the city and to the school district in October 2017 from Malibu attorney Kevin Shenkman, who accused both agencies of violating the California Voting Rights Act through their at-large elections. He said Martinez and the school district have "a lack of geographic and ethnic diversity" in their recent elections.
The California Voting Rights act states a strong preference for, but does not mandate, by-district elections. However, Shenkman accused both the city and the school district of racist attitudes and of using at-large elections to dilute the votes of "protected groups," giving them little expectation their preferred candidates could get elected.
Few agencies have chosen to challenge Shenkman's accusations after the city of Palmdale spent millions of dollars fighting the attorney's lawsuit threats. The few others that chose to settle after a brief challenge dis so at a cost.
Eventually, the state Legislature set a limit of $30,000 to the reimbursements Shenkman and other attorneys could receive if accused elected agencies don't fight and instead work swiftly to put district elections into place.
Shenkman's letter to the city and school district said he represented Southwest Voter Registration Education Project, based in San Antonio, Texas, with an office in Los Angeles. He mentioned no Martinez client. However, in November, a citizens group called Reform Martinez – District Elections Now" announced it was represented by Shenkman's firm, Shenkman and Hughes.
While  the Council and the MUSD Board of Education strongly denied Shenkman's accusation of racism, they chose to switch from at-large elections rather than risk losing money in challenges..
After hiring different demographic and map drawing consultants, both the city and the school district conducted multiple hearings on the new voting areas, both before and after maps were drawn. Voting areas were adopted before the state's protection period expired.
The two sets of maps also had to work within the schedule of the Contra Costa County Elections Division, or else the Nov. 6 elections would have been separated from the consolidated general election. That didn't happen
But the new maps increased local precincts from 28 to 68, Burgarino said. Many of these new precincts have fewer than 250 people.
In the Aug. 13 letter to affected voters, Canciamilla wrote, "These precincts are designated as vote-by-mail precincts. Because there is no polling place available for your precinct, you will automatically be mailed a ballot with a postage paid return envelope for each election, beginning with the General Election in November 2018."
The letter explains the Elections Division is trying to minimize disruption to voters while making administratively-manageable changes "to preserve election integrity and prevent unanticipated costs."
It said some polling places could revert to polling places after the 2020 census, when both Martinez and the school district will be required to redraw their election districts to assure meeting the one person-one vote federal voter rights requirements.
The Elections Division also dealt with the city of Concord, which also received a letter accusing it of violating California's voting rights law.
"They were open to using existing precinct maps," Burgarino said. "We did not have to do any changes in Concord." In contrast, he said, both the city of Martinez and MUSD "went in their own directions and drew their own lines."
He said the number of precincts where voters could go to polls or mail in ballots decreased from 23 to 18.
The Elections Division chose to make the smaller precincts only vote-by-mail to avoid confusion, Burgarino said. Polling sites could be set up to handle multiple precincts, but that could risk voters getting the wrong ballots, he said. Poll workers at a single site might be distributing five or six different ballots, he explained, and voting by mail would reduce the margin of error.
Ballots will be sent out in mid-October, 29 days before the election, he said. Those who don't want to mail in their ballots may drop them off during business hours at the Elections Division, 555 Escobar St. and at the Martinez Senior Center, 818 Green St., or at a drop box available around the clock at the Contra Costa County Administration Building, 651 Pine St.
A box won't be available at City Hall, he said.
Burgarino said the Elections Division checks signatures on ballot envelopes to assure the person sending in the ballot is the one to whom it was mailed.
Those who mistakenly throw away their ballots or who do not receive them in the mail – or who prefer to vote in person – may vote at the Elections Division, a service that has been available in the past. Voters don't need to bring in a ballot or notice or voter registration card, he said.
Burgarino said vote by mail has grown in popularity in Contra Costa County. "We have 400,000 permanent vote by mail voters in Contra Costa County," he said.
Vote by male also is "our best resource," he said.  "It's the best we could do, given the circumstances."
City Manager Brad Kilger said the city is aware of the letter sent to some Martinez voters, and said the California Elections Code gives county registrars of voters, rather than cities, the responsibility of establishing voting precincts and to convert precincts with 250 or fewer voters to all vote-by-mail precincts.
Kilger said the state code also requires registrars to tell each voter of the location of the two nearest polling places should the voter decide to use then to return the ballots on or before Election Day.
The mayor's position remains as the only at-large election on the panel, Kilger said. For the other four seats, only voters who reside in a particular district can vote for candidates who must also reside in that district, he said.
He said the change to district voting for Council members took months to accomplish.
"The city's change to 'by district' elections was made under threat of litigation under the California Voting Rights Act. While the city did not in any way concede – and in fact, expressly rejected the validity of – the allegations, in an effort to avoid costly litigation, the City Council presided over six noticed public hearings between December 2017 and February 2018 to transition from at-large to district-based elections," he said.
Kilger noted that the city accomplished the change in accordance with the state Election Code, not only within the protected time limit, but with legal notices as well as promotions in the City Manager Newsletter, on social media and in information published in area newspapers, including the Martinez News-Gazette.
Despite those notices and outreach, a recent survey indicated that half of Martinez voters don't know whether the elections are by-district or at-large, and another quarter believe they remain at-large.
Kilger said the city's contracted demographer worked "in close communication with personnel from the County Registrar's office," including making the registrar office's requested changes to the proposed district maps so existing precinct lines could be preserved.
MUSD Superintendent C.J. Cammack said the school district also has received communication from a few people who "are very disappointed they must vote by mail."
He said he has been "in open and honest communication with them." He has said he is "truly sorry" about the resulting changes that have upset some voters.
He noted that the Elections Division has said the changes came about as a direct result of how the city and school district established voting boundaries.
"While I appreciate all the work the Elections Department does for our county and for our Martinez community, they set the precinct locations independent of MUSD or the city of Martinez," he said.
"Understandably, the changes enacted by MUSD and the city of Martinez impact the work of the Elections Department and may cause changes based on their independent requirements based on voter precinct populations," he said.
"For any organization to blame these consequences solely on the city of Martinez or MUSD is not an accurate representation of the entire picture."
He cited Shenkman's letter that threatened suit and accused the city and school district of "racially polarized" voting. "Had there not been the threat of legal action against MUSD which would have devastated our financial ability to serve students, I think a different outcome may have been possible," he said.
"While some data didn't demonstrate a full validation of such a claim, both agencies made the decision to move to 'area-based' elections," he said, acknowledging that "the practical reality that fighting the suit in court could cost the school district close to a million dollars, if not more, to fight the suit through the court system.  Our agency simply doesn't have that extra money when our resources are so limited and designed only to serve students."
Even if MUSD had been the first school district to prevail against Shenkman in court, Cammack said, the district would have been vulnerable to further challenges after subsequent elections. By-area voting was the district's only protection, he said.
The school district and the city don't share the same geographic boundaries, Cammack said, so the two agencies couldn't share the cost of a single demographer to draw a single set of voting regions that would apply to both agencies.
Plus, there were multiple rules about how those lines can be drawn.
"There were requirements under the California Voting Rights act which stipulated how aspects of the voting regions must be established," Cammack said. "During our process, MUSD was only able to govern the establishment of new voting boundaries for our five school board trustees. We worked closely with legal counsel and a demographer to ensure we were in compliance with CVRA in setting up the new trustee areas."
He said it cost nearly $200,000 for the school district to make the change, money that the District would have rather spent on students and staff. Martinez paid in the vicinity of $150,000 for its districting.
He called the creation of so many small precincts "unintended consequences" of a situation he said was foisted on both the city and the school district.
Cammack expressed regret that the change was made as the result of a legal threat. "An organic locally-driven conversation likely would have produced better results for everyone, instead of the rigid process required due to the threatened legal action under the California Voting Rights Act."
The last day to register to vote in the November election is Oct. 22, and Burgarino recommended residents check their registration status.
Voters may register online at https://www.cocovote.us/registration-and-voting-options/register-to-vote/ and may obtain registration documents at the elections office, public libraries, post offices or the California Department of Motor Vehicles.
They can check their voting status online at https://www.cocovote.us/registration-and-voting-options/my-voting-information/#VoterLookupandSampleBallotSearch