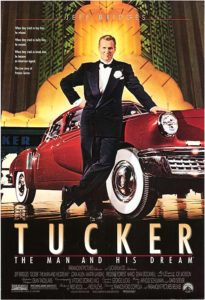 Martinez Historical Society: A special August 11 evening showing at the Shell Club house of Francis Ford Coppola's film "Tucker", the complicated and ultimately sad story of a dynamic automotive visionary determined in the 1950s to create the car of the future. As his car became better, safer and more beautiful, the stronger the opposition from Detroit's Big Three auto manufacturers became. Preston Tucker put up a monumental fight but ultimately, he was driven out of business. The film was shot in 1988 at various Bay Area locations including the Wakefield Taylor Courthouse in Martinez but its release was short-lived. It has been restored and will be released on Blue-ray on August 28.
But first, MHS is being honored with a special screening which will be introduced by James Mockoski, Film Archivist for American Zoetrope. Movie buffs, Martinez buffs, car buffs, history buffs, and everyone looking for a extraordinary evening and a chance to support the MHS work to preserve and publicize the history of this special town is invited.
The event will be held at the Shell Clubhouse on Saturday evening starting at 6-8 with music, hearty appetizers, dessert, wine and period automobiles. There will also be a silent auction.
The movie will be screened starting at 8 p.m. Mr. Mockoski will talk about the film and why Francis Ford Coppola has always felt so strongly about doing this story.
Tickets cost $75 may be obtained on EventBrite.com by entering Tucker in the search box and Martinez, CA in the location. Proceeds go to fund the operations of the Martinez Historical Society including providing popular exhibits such as the recent Women of Martinez and the current "Play Ball!" which features a baseball autographed by Joe DiMaggio and donated to the museum by his late cousin, Tina Davi Collins, and many other items and projects the Society would like to