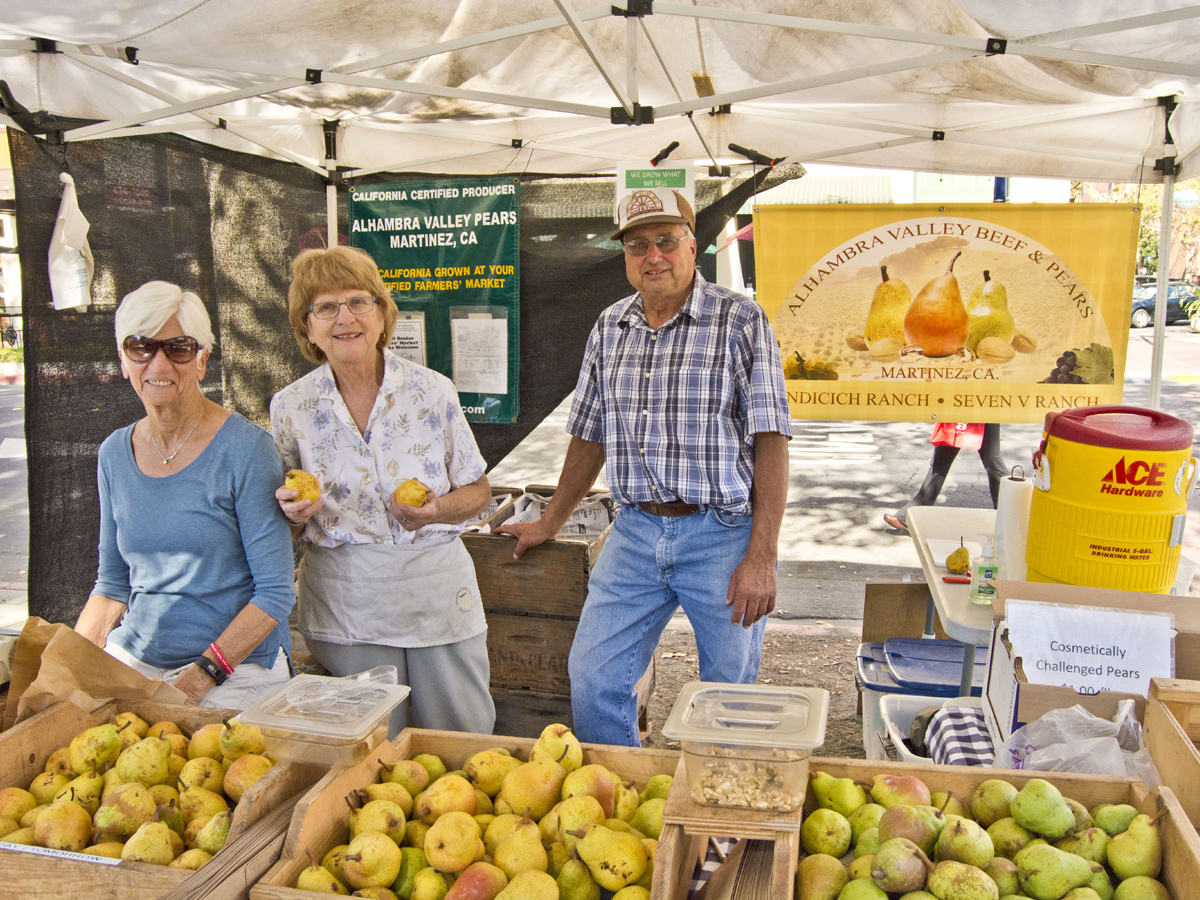 Fall is coming and one of the first fruits to arrive this time of year is the pear. Alhambra Valley Pears & Beef, a family-run ranch nestled in the open space area of the Alhambra Valley / Briones Valley Agricultural Preserve in the hills of Martinez brings some of the best Bartlett pears around.
In ancient Chinese culture, the pear was considered a symbol of immortality due to the longevity of the pear tree. In fact, pears have been grown for human consumption for more than 7,000 years. And the pear trees from Alhambra have been producing succulent fruit for over 75 years. Since their age gives them deep root systems, the pears rarely need irrigation.
The Sindicich family provides you and your local farmer's market with pears each week during the fall season, offering them in three stages of ripeness – ripe, medium ripe, and not-yet-ready. This gives customers the opportunity to select pears for their immediate needs: whether they're going to take them home to save for later, or whether they're using them to put up some pear sauce or pear halves, or whether they want to eat them immediately.
Speaking of canning pears, purchase their medium ripe pears for canned pear sauce (think applesauce, only with pears), canned pear halves in light syrup, or pear raisin chutney. Canning is one of the best ways to preserve the flavors of late summer and early fall. You can also make pear chips in the oven or a dehydrator for healthy snacking.
Try Alhambra's Bartlett pears in a salad with goat cheese and walnuts, or add chopped pears to a sliced baguette with goat or ricotta cheese. Or try a pear and chicken sandwich with mild Havarti cheese.
Stop by and say hello to the Alhambra Valley family and take home a bag of luscious Bartletts to munch on! They grow what they sell, right in your neighborhood! You can't beat the quality and freshness of farmers' market produce. You'll actually know where your food comes from!
Pear Chips

Pears

Sugar mixed with cinnamon

Preheat oven to 200 degrees.

Spray baking pan lightly with cooking spray. With skin on, slice pears thinly with a mandolin or knife and lay on pan covered in parchment paper in single layer. There is no need to remove seeds. Sprinkle with cinnamon/sugar mixture. Bake 2 hours, turning pears over half way through. Transfer to wire rack to cool.

Recipe: PCFMA Staff.