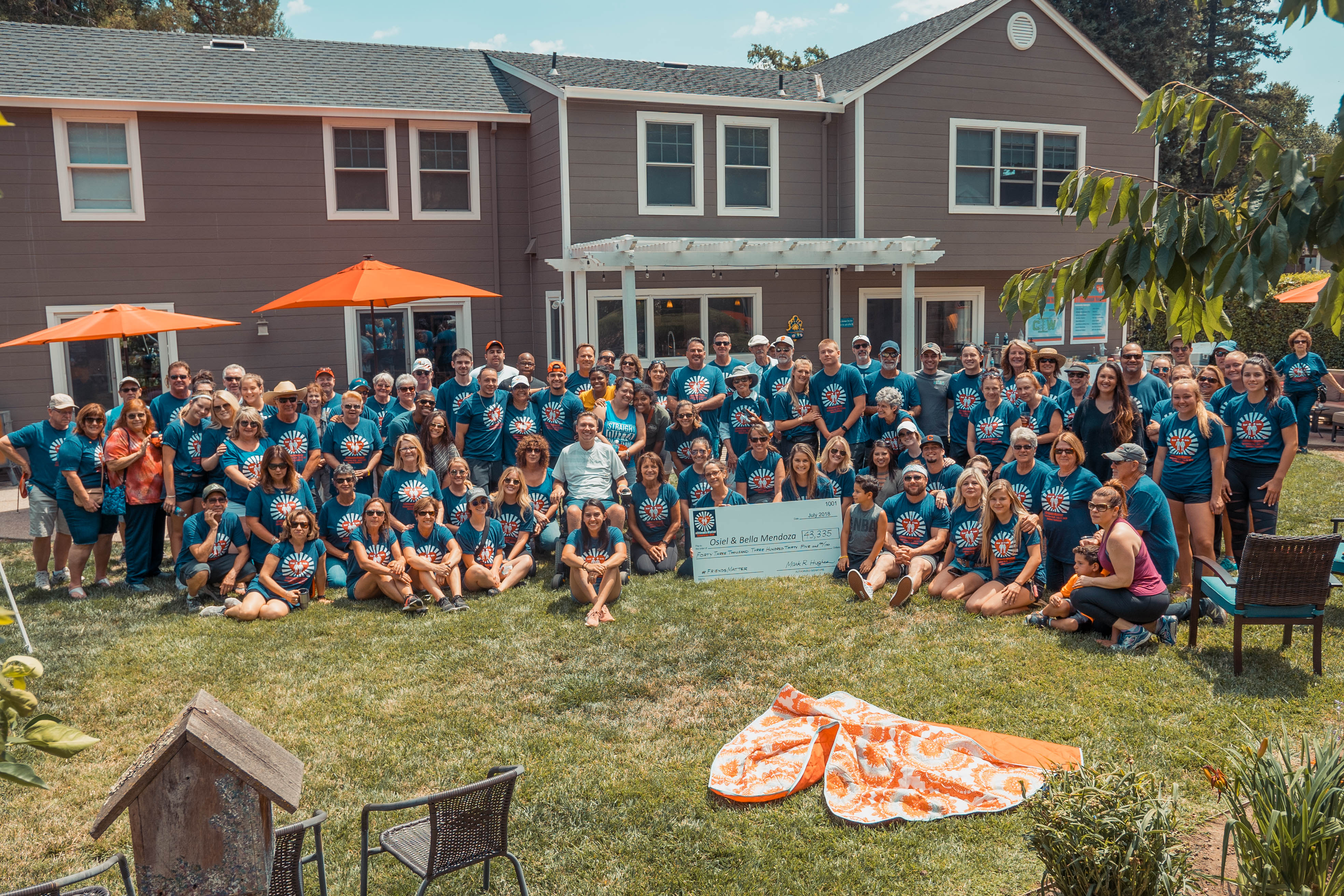 MARTINEZ, Calif. – When Mark Hughes realized that Osiel Mendoza was in a wheelchair, he decided he wanted to help the former Martinez resident and Alhambra High School graduate. He would go large – raise enough to pay a year's rent for Mendoza and his wife, Bella.
That would be about $25,000 for the Mendoza's home, Hughes learned. But friends gathered for a celebratory hike of Mount Wanda and to participate in one more fundraiser, a silent auction Saturday at Hughes' home, the check presented to the Mendozas was far larger – more than $43,000. And counting.
Mendoza was 21 when Oct. 25, 2016, he learned he had amyotrophic lateral sclerosis (ALS) sometimes called Lou Gehrig's disease, since the famous baseball player died of the illness.
Three days before receiving the diagnosis, he had proposed to Bella Gonsalves, his childhood sweetheart he loves so much that he counts the day they met as the best day of his life.
At the time, the two were attending Oregon State, where the athletic Mendoza was busy as a football ambassador, vice president of the Warsaw Sports Business Club and a summer volunteer at the Manning Passing Academy in Louisiana.
He had been experiencing some muscle twitching and weakness, so after the engagement, Mendoza went for an examination that led to the diagnosis.
There is no cure for ALS, which kills the neurons that control voluntary muscles.
"I coached Osiel in CYO basketball when he was in fourth through eighth grade," Hughes said. "He is also our son Hunter's best friend. He was always a kind and caring person, and you couldn't ask for a better teammate," Hughes said.
The disease prognosis caught Mendoza by surprise. When he called his mother, he asked his neurologist to give her the news, and passed the phone to the doctor. Since ALS patients rarely live five years beyond their diagnosis, Mendoza and Gonsalves moved up their wedding date and focus on remaining positive in the time they have left together.
Originally quiet about the diagnosis, Mendoza decided to use his illness as a speaking point to raise money for ALS research, hoping the studies will discover a cure.
That doesn't surprise Hughes at all. "True to this day, he continues to help others," he said.
He said the Mendozas are a young couple who face the types of struggles most young couples experience. "However, their struggles are exacerbated by this dreadful disease," he said.
Hughes and his wife, Cha-Cha, have remained in contact with Mendoza through the years, and were visiting Osiel and Bella when they spoke of their desire to raise the rent money for a year.
"They are so humble and modest that it took a lot of arm-twisting to convince them that there was a community wanting to help them," Hughes said. Finally, the Mendozas gave their consent.
Hughes formed a committee, and the group went to work. In eight weeks, they were done with the first phase of the fundraising, and were ready for Saturday's celebration that ranged from a hike of Mount Wanda to entertainment and that silent auction in anticipation of the check presentation.
"Local businesses, including Roxx on Main, Five Suns Brewery, Viano Vineyards, Bray Vineyards, the New Frantics and many more all generously donated their food, drink and services," Hughes said.
About 100 met Saturday to make the hike and then reconvene at Hughes's home across from Mount Wanda for a party and the check presentation. "It was truly a spectacular gathering of our caring community," Hughes said.
Mendoza and his wife were surprised at the size of the check, and Hughes said those who want to contribute may do so by sending checks payable to Osiel Mendoza to Mark Hughes, 4530 Haag Road, Martinez, Calif., 94553.