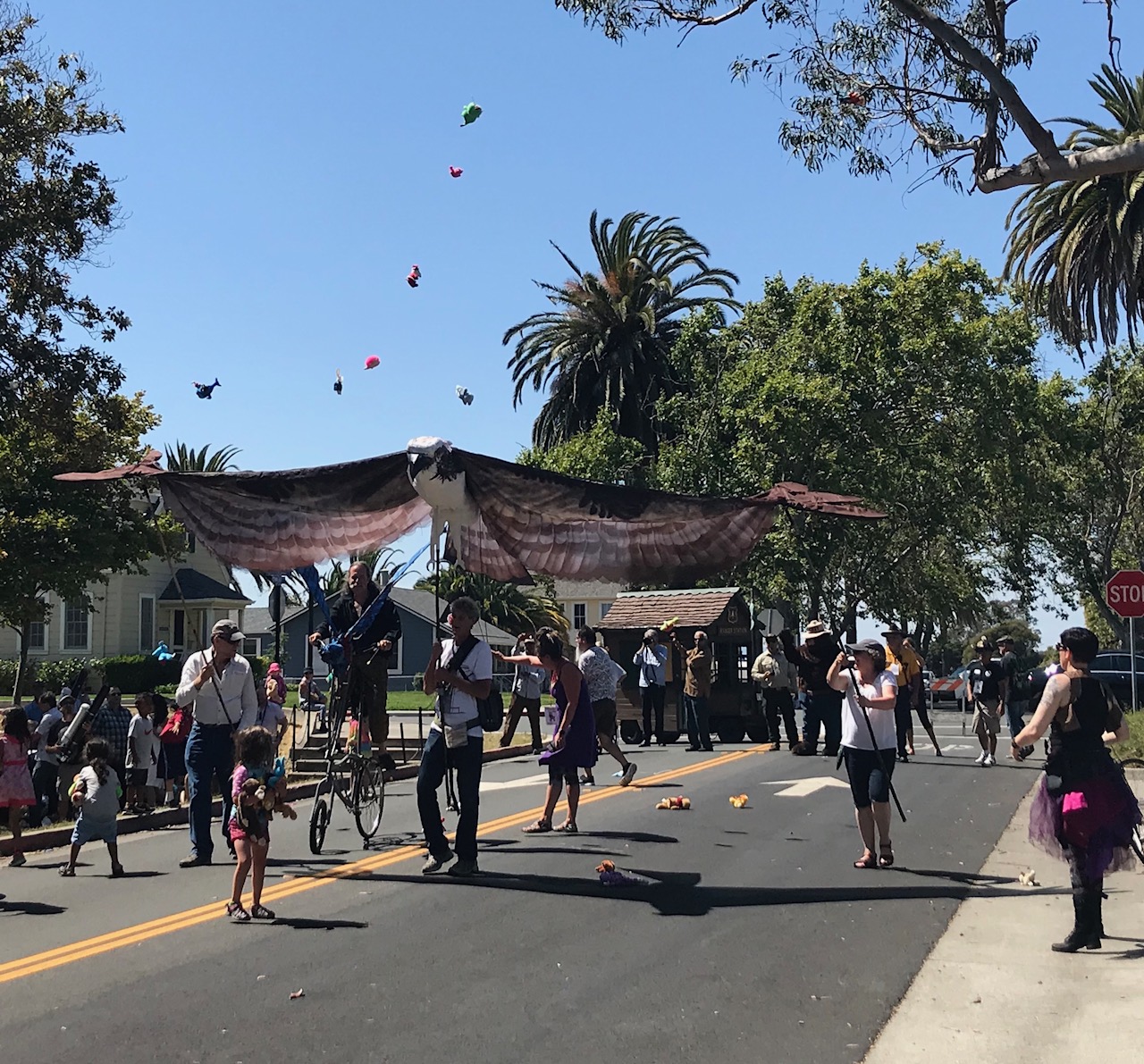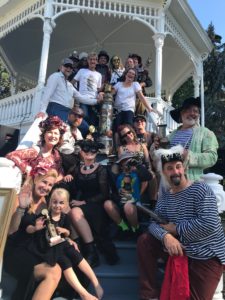 Despite assaults by flying monkeys, robots, zombies, pirates and sharks, a giant Osprey handled by Tree Bartlett, Nick Busch, Dan Baron and Valerie and Michael Nelson won the Obtainium Cup trophy Sunday afternoon on Mare Island in Vallejo.
In its seventh year, the Obtainium Cup Contraptors Rally is an offshoot of other contraptors kenetic rallies, but competitors don't face rough terrain or have to complete courses that may take days to traverse.
Instead, organizers Shannon and Kathy O'Hare of the art collective Obtainium Works and their team of volunteers send handmade contraptions on a mostly-paved course on Mare Island, starting at Arden Park.
Vendors selling top hats, goggles, futuristic and Victorian gizmos, vintage attire and contemporary art, live music by McPuzo and Trotsky and a beer and wine garden kept visitors entertained during the rally, although many followed the entries because the challenges all were within walking distance of the start-finish line at Alden Park.
Busch was astonished after his group's giant winged bird – a puppet rather than a vehicle – was pelted by a barrage of stuffed animals – monkeys, dolls and other creatures in the first challenge of the rally.
"There's something like 50 of them!" he exclaimed as he headed down the street to the next challenge.
Each challenge had its own winner as well, and a pair of pirates in a renovated 1930s four-wheeler rather than a pirate ship was chosen by Vallejo Mayor Bob Sampayan as those best handling flying monkeys. Captain Penelope and Violet the Gunner and navigator, crew of the "Dreaded Petunia," used a blunderbuss to fire their way through the fuzzy assailants – and the mayor.
The Naval Orange tandem bicycle entry won the Robot Challenge trophy, even though the team entered and exited the wrong way and tried to feed a robot through its eyes.
Victor against the Zombies were Rusty Cleaver and Rusty Clover in their Oil Barrel Special, made of an oil drum. They escaped the zombie threat by preparing a tray of "brains soufflé" ahead of time and bribing the shuffling monsters. The soufflé wasn't just a successful ploy. It was an act of desperation. "I'm afraid of zombies!" Clover said.
Sherry Prewitt, the Queen of Diamonds, chose Libby the Dragon for another of the event's awards. An attractive mobile creature made by students of Benicia's Liberty High School, the vehicle may have been beautiful, but its pilot had to overcome a serious handicap – he had trouble seeing the road. Victor John of Obtainium Works, the art collective where Libby was made, accepted the award.
The Evil Princess Ellie, a darker version of Cinderella portrayed by Ellie Beistel and riding in a moss-draped metallic pumpkin carriage accompanied by Kathy Beistel and Renee and Ronnie Kale, received the Little Nipper Award.
The "So Long and Thanks for All the Fish award went to Spencer Rogers, 10, of Vallejo, who rode on a rhino beetle fitted with an old cavalry McClellan saddle. Another art vehicle made at Obtainium Works, the beetle was decorated with steampunk gears and other accessories. Spencer did more than pilot the beetle through the course. He also had painted a portion of the beetle and had fashioned some of its finishings.
He said his mother originally made him go to the studio to work on the project, but Spencer found out quickly he was having a good time. As a pilot, he had several strategies – capturing monkeys and bribing zombies by sending them off to nom on others' brains. As for he rest, he decided he would make up his defenses as he drove along.
The rally attracted a variety of pedal-powered, electric and motorized contraptions, many of which had "steampunk" looks as if they were imagined by vintage science fiction authors Jules Verne or H.G. Wells.
Among them were a two-person pedal vehicle with two giant wheels on either end – "The Vicious Cycle." Also entered were Kevin Milton's Pickle vehicle, a giant swan piloted by Howard Redding who also is known for driving The Cat of a Different Color in previous editions of the rally and the "Cullens Zombie Chopper" bicycle by Dennis and Denise Cullens, based on a Schwinn cruiser that itself had been inspired by Harley-Davidson motorcycles.
Another entry was from the USDA Forest Service, with its mascot and national symbol, Smokey Bear, taking time to remind the public to prevent forest and other fires.
Nathan Judy, accompanied by the big brown bear, drove the Mobile Visitors Center and Ranger Station. "It went great – it was a nice little ride!" he said. The forest service also had an informational display that taught visitors about wild animal footprints and other identifying animal signs.
"It's not a race," Shannon O'Hare said as he made adjustments to the Cinderella carriage. "It's all about participation."