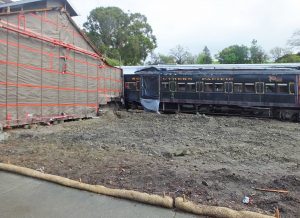 MARTINEZ, Calif. – Martinez Historical Society is more than halfway to its goal of $10,000 needed to move the Vic Stewart rail car here, President John Curtis said.
"The Society's crowdfunding campaign to raise the funds to move the car continues," he said. So far, the Society has raised about $4,700 through its GoFundMe website, MoveTheTrainCar, he said.
"However, any donors are mailing checks directly to the Martinez Historical Society," he said. The Society has received another $2,000 that way, bringing the total raised so far to about $6,700.
The Society has received some good news from Pacific Gas and Electric, too, he said.
"When last we compared notes, PG&E was not going to de-energize the transformer until June. Now they have agreed to do so in early April."
Originally, the utility company had said the transformer box to the south of the rail car would take place early this year, then told the society it would take place in June to accommodate other customers, complicating the rail car's removal. Fortunately for the Society, the impediment has been resolved.
The transformer's removal would make it easier to remove the rail car from behind the surviving portions of the Vic Stewart Restaurant and a concrete wall on the opposite side, he said. "That wall separates the restaurant site from the Iron Horse Trail, the former rail line," he said..
Those restaurant remains are the original 1891 Walnut Creek Train Station, which is being preserved during the demolition of the rest of the restaurant to make way for new development, including commercial construction.
The restaurant's owner, John S. Herrington, decided to give the vintage rail car to the historical society once the restaurant closed. The car had been part of the restaurant.
The rail car will be stored locally until a permanent display site is found, Curtis has said in the past.
Meanwhile, the Society is focusing on raising enough money to pay to have the car moved professionally, since the car is in its particular site and hasn't been run on rails since the mid-1970s.
Its GoFundMe crowdfunding web page is https://www.gofundme.com/MoveTheTrainCar.
Donors also can give directly at the Martinez Museum, 1005 Escobar St., or by mail to the Martinez Historical Society, P.O. Box 14, Martinez, Calif., 94553.