Robert Joseph Butler
Jan. 13, 1969 – March 18, 2018
Resident of Martinez, Calif.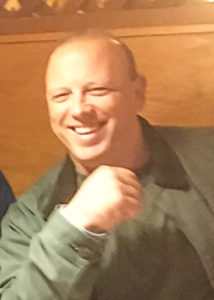 Robert Joseph Butler, 49, of Martinez, California, passed away on March 18, 2018 in Pleasant Hill, California.
Bob was a graduate of Alhambra High School, where he was a football star, nicknamed Bob "the Bullet" and considered a legend by many. He graduated in 1987 and maintained close friendships with his fellow classmates and teammates. Bob went on to earn his B.A. in Geology from Humboldt State University.
Bob was an Environmental Specialist at Tesoro/Andeavor refinery, where he was highly respected. During the course of Bob's career, he developed wonderful and invaluable friendships.
Bob is survived by his three children, Elyjah (22), Sierra (17), Delaney (15), and their mom, Gina Butler. He is also survived by his twin brother Bill, as well as seven sisters; Mildred, Marcia, Beverly, Kathy, Roberta, Debra, and Kami. Bob is also survived by a very large loving family too numerous to list, but whom he loved with all his heart.
Bob loved the outdoors, he loved taking his children on trips, camping, hiking, going to the beach, playing softball, reading his bible, attending Giants games, listening to music, and spending time with family and friends. Bob and his close friends were planning a trip to Ireland in June.
A Celebration of Bob's Life will be held Saturday, April 7, 2018, at 11 a.m. at the Alhambra High School Gymnasium, 150 E Street, Martinez, California (Gymnasium located at the top of F Street).
All who knew and loved Bob Butler are welcome. In lieu of flowers, a Go-Fund-Me Donation site has been set up to provide for his children https://www.gofundme.com/bob-butlers-family.
"But the fruit of the Spirit is love, joy, peace, forbearance, kindness, goodness, faithfulness, gentleness and self-control" Bob was a man of high character who strived to live his life by this scripture.
Bob's smiling face and warm heart will be missed by all. We love you, Bob, and until we meet again – Save a seat for us, Bob!