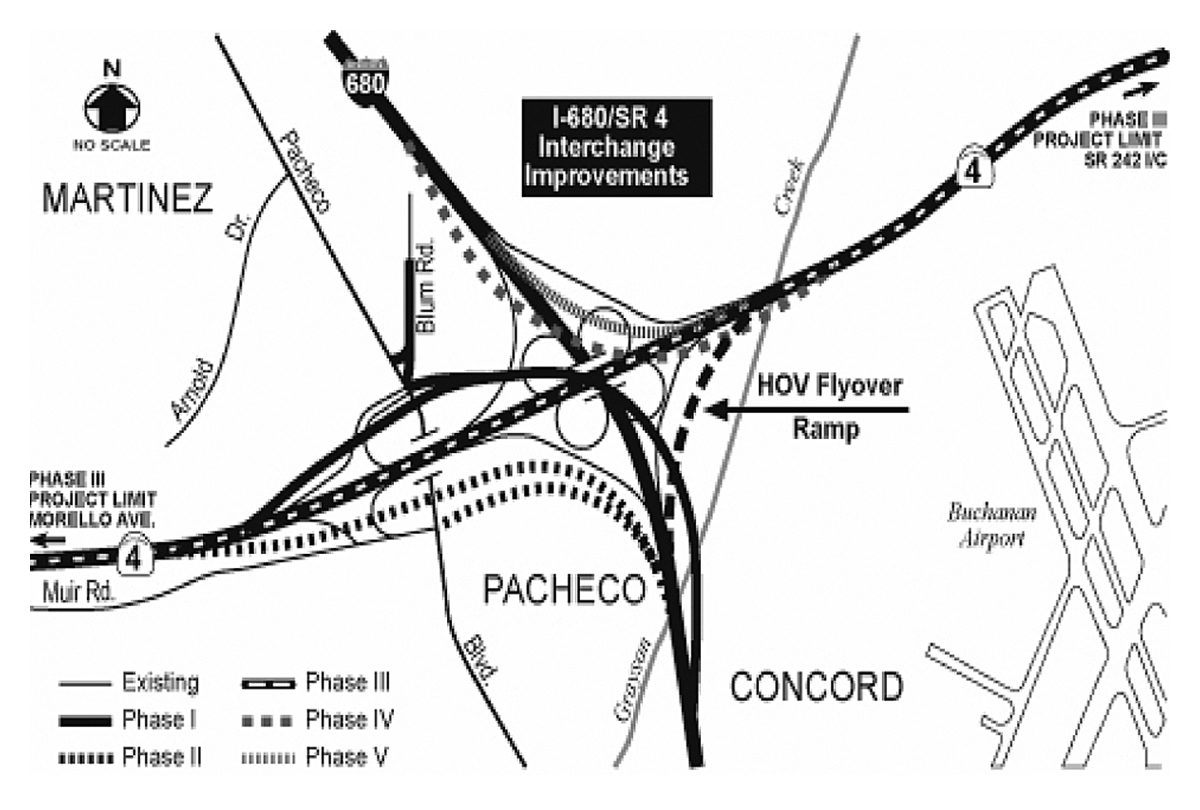 Ground has been broken for a four-mile widening of California State Highway 4 that is expected to lead to improvements of its interchange with Interstate-1680, Contra Costa Transportation Authority has announced.
After a ceremonial groundbreaking Thursday, work will start that will widen Highway 4 from Morello Avenue to California Highway 242, adding a third lane in both eastbound and westbound directions.
Construction on this phase of the overall interchange project should be finished late in 2021. Research and planning of the project goes back to 2001, with driver surveys, safety and other analyses to establish needs and best approaches as well as environmental studies undertaken in the intervening years.
Designed to improve safety in on and off ramp merging at the interchange, this is a multi-phase project to reduce congestion in that area, according to information provided by the transportation authority.
Besides the additional lanes, Highway 4's profile will be raised to improve its resilience and widen the median and outside shoulders at Grayson Creek which will be replaced, extend East Highway 4's carpool lane another two miles and add safety lighting and striping.
The project will lay the groundwork for future improvements to connector ramps and other construction to improve traffic safety and enhance its flow.
Among the other projects are widening and retrofitting nearby bridges, including the five-span Walnut Creek Bridge, the Solano Way and Peralta Road undercrossings and widening of both inside and outside shoulders in both directions of the Pacheco Boulevard undercrossing
According to the transportation authority, the current design of I-680 and Highway 4 no longer can handle the volume of traffic that uses the interchange.
Construction will be funded in part by Senate Bill 1 that increased fuel taxes and other vehicle fees. For the $135,195 million project, $77.699 million will come from SB1 money, and the transportation authority will underwrite $58.496 million.
The widening is one of five phases of the overall project, which builds a three-level interchange. Other phases involve connecting North I-680 to West Highway 4; connecting East Highway 4 to South I-680; connecting South I-680 with East Highway 4 and connecting West Highway 4 with North I-680.
The additional phases will be built as funding becomes available.
Caltrans is leading coordination with utility companies Kinder Morgan, Phillips 66 and Contra Costa Water District.
The transportation district said I-680 is the main north-south artery for motorists traveling through central Contra Costa County and connects it on the north to Solano County and to the south to Alameda and Santa Clara counties. I-680 also is part of the Department of Defense Priority Network.
In addition, Highway 4 is the only major east-west link, joining eastern Contra Costa County on one side to San Joaquin County and the Central Valley and on the other side to the rest of the San Francisco Bay Area.
Randy Iwasaki, executive director of the Contra Costa Transportation Authority, was the emcee of Thursday's groundbreaking, which was attended by members of the California Department of Transportation, the California Legislature and the Contra Costa County Board of Supervisors.