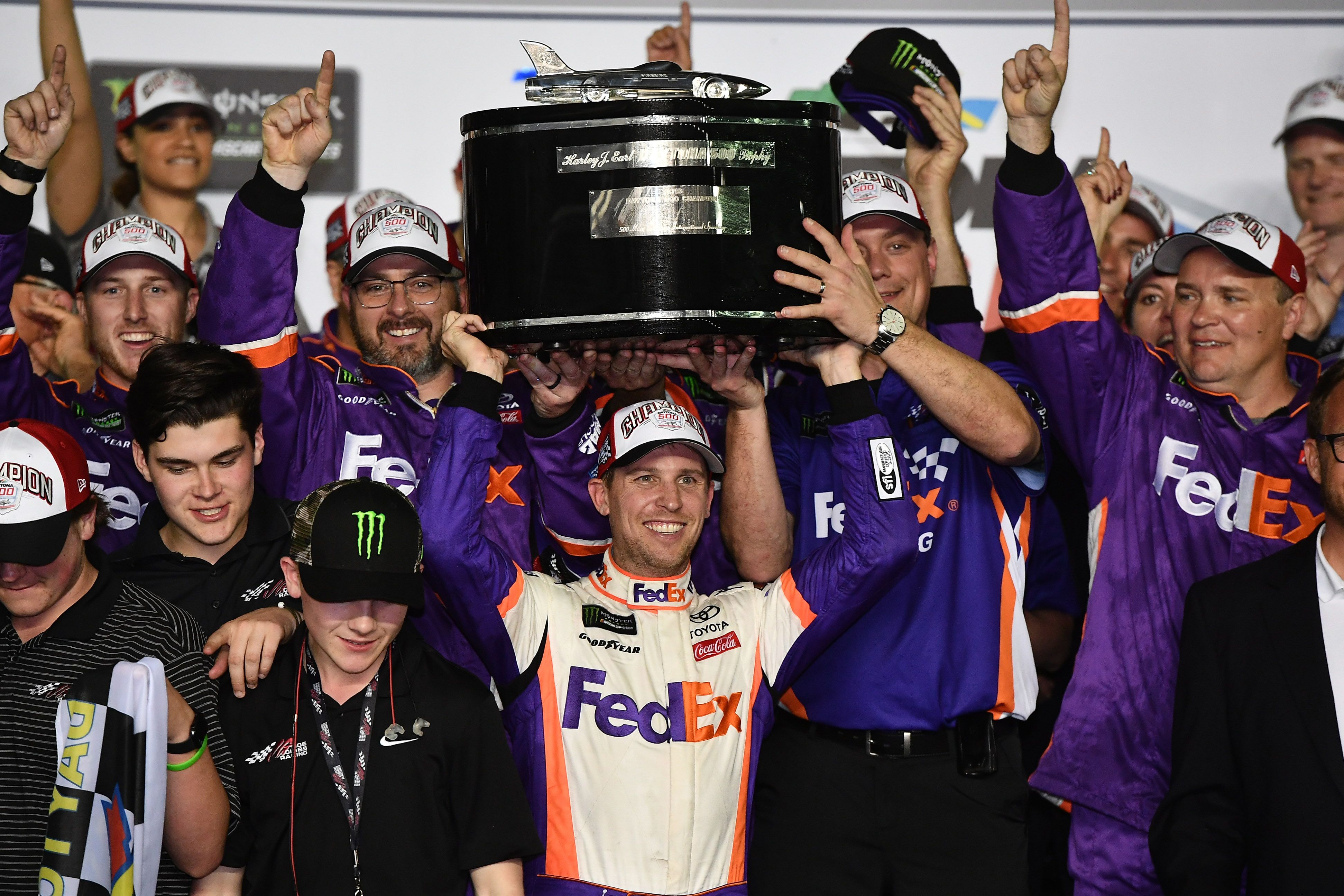 Denny Hamlin won the Daytona 500 for the second time Sunday. This time, he had teammates Kyle Busch and Erik Jones in tow, giving owner Joe Gibbs Racing a 1-2-3 finish in NASCAR's iconic race in its premiere series.
The first time Hamlin won the legendary race was 2016, when he barely edged Martin Truex Jr. This year, his margin over runnerup Busch was larger.
But as the race neared its end, it looked like the track would be the victor.
By the time went into overtime laps, more than half the field had been eliminated through accidents, including pole winner William Byron, in his second year in NASCAR's top series, and Grass Valley native Matt DiBenedetto, who led the most laps in an impressive start with his new team.
Two red-flag stops were called to clean up mangled remains of race cars involved in fiery, multiple-vehicle crashes that came late in the contest. Fans grabbed some of that debris as souvenirs.
So much oil absorbent was used that commentators suggested Daytona International Speedway was building a second "World's Most Famous Beach."
The crashes didn't spoil the finish for Hamlin, who drives the No. 11 FedEx Express Toyota for Gibbs. He said he had prepared well for this year's race and knew where he wanted to be and how he wanted to drive on restarts. He was so relaxed, he snoozed during one of the halts in the race.
In the runner-up spot was Busch, driver of the No. 18 M&Ms Chocolate Bar Toyota, and Erik Jones, who pilots the No. 20 Sport Clips Toyota for Gibbs Racing, was third.
The drivers acknowledged the loss in January of Gibbs' eldest son and cofounder of the Gibbs racing operation, J.D. Gibbs, who succumbed to a neurological illness at the age of 47, and considered taking the top three spots in the race a tribute to their friend.
The car Hamlin drove to his first Daytona 500 win is in his home. But given how fresh and deep is the loss of J.D. Gibbs to the racing operation, Hamlin said, "This is a special car for the family."
"We'll take care of this car," Gibbs promised.
But first, the car will be on display at the Daytona 500 Experience Museum, next to the famous Florida track.
Joe Gibbs told how J.D.'s purchase of late-model parts from Hamlin started the relationship that would lead the former NFL and Superbowl-winning coach to hire Hamlin for his team.
The number 11 was J.D.'s favorite number, and that became Hamlin's racing number. For Sunday's race, Hamlin had J.D.'s name painted above a door post of his car.
Gibbs said he believed his racers might have had some help from his late son. "People are saying, 'That just happened,'" Gibbs said. "I believe the Lord looked down to us."
The victory became an emotional moment for his personal family, his racing family and even his sponsors. "This is the most important night of my emotional life," he said.
The 2019 season opener in the Monster Energy NASCAR Cup series initially looked like it would unfold as duels among drivers, some of whom chose the top line of the challenging tri-oval while others drove the inside line and handfuls tried to create a third line in between, all trying to find a way to the front of those lines.
During the first two stages, the race had the usual caution incidents, such as Corey LaJoie's solo spin on Lap 20 and a three-way collision among last year's runner-up Bubba Wallace, Kurt Busch and Jamie McMurray in his final Daytona 500 as he transitions from racing to broadcasting.
Other early-race cautions were scheduled, coming at the end of those stages. Kyle Busch won the first stage at Lap 60 and Ryan Blaney took the second stage on Lap 120.
But the final stage turned a superspeedway's 500-miler into the fabled short-track racing under a full moon.
On Lap 158, between Turn 4 and the entrance to pit road, Cody Ware sent Corning native Tyler Reddick's car over the back corner of El Cajon native Jimmie Johnson's No. 48 Chevrolet. Johnson then incurred a two-lap penalty for having too many crewmembers in his pit block.
As the night temperature cooled, racers' aggression rose. Kyle Busch said their brains became disconnected from the accelerator.
Hamlin, who was well-positioned in the field much of the day, had been inching past the frontrunners and took the lead on Lap 170.
He had to fend off challenges from Byron and teammate Kyle Busch, and bide his time under caution when Elk Grove native Kyle Larson went for a solo spin on Lap 180.
When the green flag signaled a return to full-speed racing, drivers expected a 20-lap shootout to the finish. So did fans.
But Hamlin's new crew chief, Chris Gabehart, knew better.
"Anyone thinking these guys are going to line up and be boring had another thing coming," he said.
"This is the Daytona 500….. This one counts, and it's the biggest of the year." He knew he was right when he saw drivers sliding and battling on the track.
Brad Keselowski spun on Lap 186.
Then after the restart with Hamlin in the lead ahead of two trains of thundering cars, DiBenedetto got tapped by Paul Menard, causing a pileup that collected Austin Dillon, Ryan Newman, Bakersville native Kevin Harvick, Chase Elliott, Aric Almirola, Blaney, Ty Dillon, Ricky Stenhouse Jr., Martin Truex Jr., Jones, Reddick, Matt Tifft, Kurt Busch, David Ragan, Larson, Daniel Suarez and Johnson.
Some of the cars locked into each other like puzzle pieces as they skidded along the track.
DiBenedetto was philosophical about the wreck. "It's just a racing deal. It wasn't intentional. What an amazing day – I accomplished a lot,"
After being a midpack finisher with a previous team, DiBenedetto joined Leavine Family Racing, which has a working alliance with Joe Gibbs Racing.
While many observers have suggested he would get better finishes with better equipment, the California driver's strong performance Sunday was his way of showing supporters they were right.
"Leavine Family Racing took a tremendous chance on me," he said. Finally getting to drive a competitive car, "I was like a kid in a candy store. I'm heartbroken, but it's Daytona."
The race was paused for nearly a half-hour to clean up debris and remove fluids that leaked from the ruined cars, then restarted with six laps left.
But the hits kept coming before the field could make it around the track.
Another crash between Turns 3 and 4 added damage to Brad Keselowski's battered car as more drivers collided. Daytona 500 first-timer Ryan Preece managed to thread his car through narrow openings and escape damage.
Harvick wasn't so lucky. His car, with hood pointed to the dark sky, was towed to the garage.
Two laps from the regulation finish, Clint Bower attempted to pass Michael McDowell on the same section of the track, hoping to improve his position. Instead, his car turned into Chase Elliott's, causing other cars to spin and requiring another red flag for cleanup.
Admitting that he flubbed his move, Bowyer said, "This was my best foot forward I have ever had here…. We had a shot at it, and I took it."
He said he rushed the pass "because in the mirror, they were going three wide and losing their minds, so you knew that was going to come down on you. So I decided to lose my mind, too."
Bowyer has experience with Daytona 500 drama. At the finish of the 2007 race won by Harvick, Bowyer was involved in a crash that sent his car across the finish line upside down and on fire.
With Sunday's race sent into an overtime green-white-finish and half the field eliminated, Hamlin raced to keep his lead, with Kyle Busch and Joey Logano in hot pursuit. Erik Jones was seventh.
On the final lap, Jones made a powerful pass to finish third behind Hamlin and Busch, with Logano settling for fourth.
Michael McDowell, Ty Dillon, Larson, Preece, Johnson and Ross Chastain round out the top 10.
The next four drivers also finished all 207 laps: Alex Bowman, Keselowski, Stenhouse and Newman.
Parker Kilgerman, 15th, and last year's winner, Austin Dillon, 16th, finished two laps down but in running condition. LaJoie was 18th and B.J. McLeod was 19th after finishing 200 laps with running cars. Kurt Busch, who ended 25th, completed 196 laps with a running car.
The rest of the field saw their cars wiped out by accidents.
Of the other Californians, Harvick was 26th, DiBenedetto was 28th and Casey Mears, of Bakersfield, was 40th.
Drivers will race next in the Folds of Honor Quik Trip 500 at Atlanta Motor Speedway, Ga. Broadcast will be at 11 a.m. Sunday, Feb. 24, on FOX.