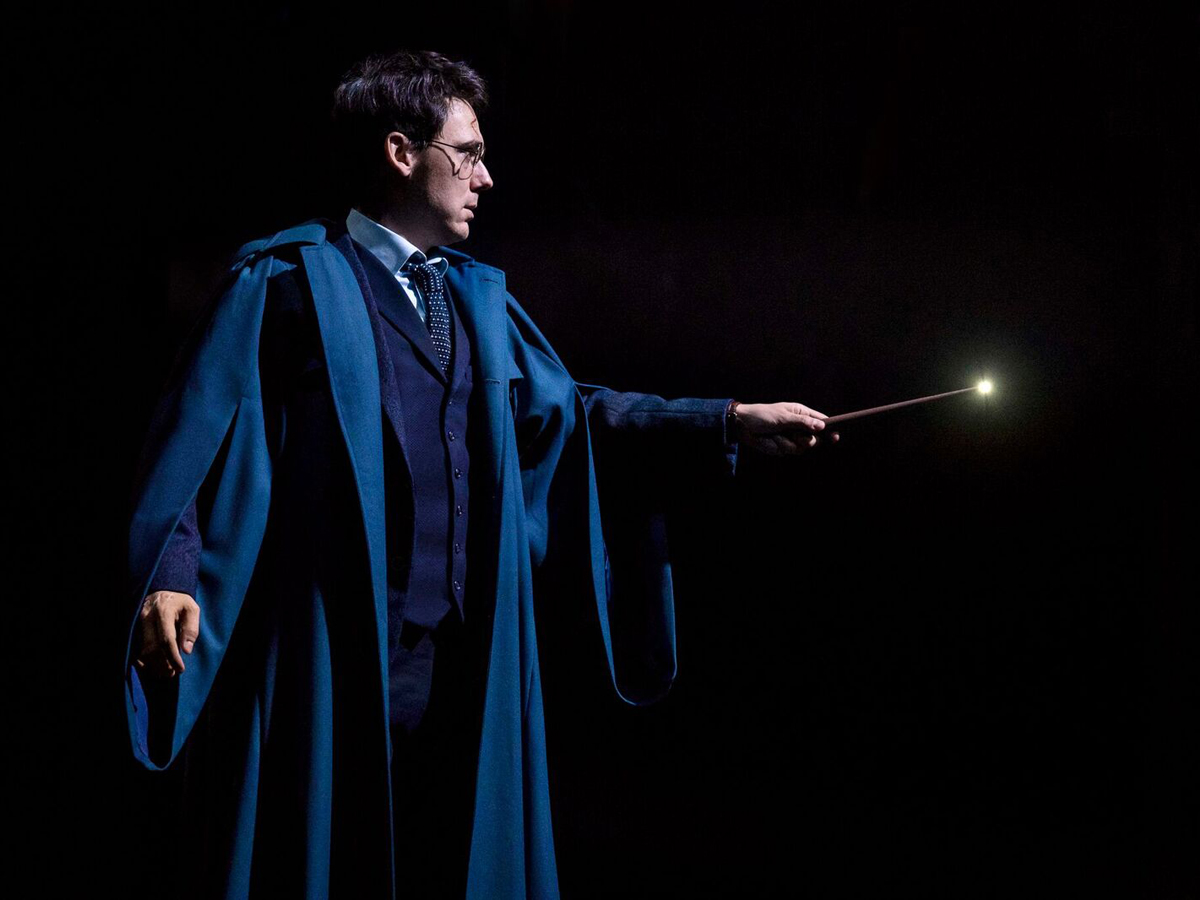 By CHARLIE JARETT
Martinez News-Gazette Columnist
Today, I am indeed fortunate to be able to share with you the incredible West Coast official world premiere opening of J.K. Rowling's Harry Potter and the Cursed Child, her eighth story, written and envisioned as a theatrical production by Jack Thorne, and subsequently directed by John Tiffany, as unveiled in the Curran Theater in San Francisco this past Sunday. In the two years since the play first premiered at the Palace theater in London in July 2016, it has already become the most award-winning play in theater history.
The concept of Harry Potter, the "boy who survived", began on a delayed train ride from Manchester to London in 1990, as Joanne Rowling, an employee at that time for Amnesty International, conceived the idea for the Harry Potter fantasy story. Rowling's life up to that time had been very difficult, following the death of her mother seven years prior, the birth of her first child, and the divorce from her first husband. She had entered deeply painful poverty which led her to embark on this fantasy novel series, embracing the search for friendship, survival, growth, courage, and the desire for love and belonging.
In June of 1997, the first book, Harry Potter and the Sorcerer's Stone, was released and rapidly encountered an astounding popularity, positive critiques, and incredible commercial success worldwide. Late in that same year, film producer David Heyman's office received a copy of the book, where it was promptly shelved in a low priority area until one of his secretaries read the book and gave her boss a very positive review. Her discovery and review led her boss to read the book himself and thus began the process of creating one of the most successful cinematic franchises of all time.
There were six sequels that followed that chronicled the lives of Harry Potter and his friends and fellow young students, Hermione Granger and Ron Weasley, at Hogwarts School of Witchcraft and Wizardry. The principal storyline of these seven novels details Harry's struggle against a dark wizard, Lord Voldemort, who intends to become an immortal power who will ultimately control all of the Earth's inhabitants.
My wife and my introduction to the Harry Potter series was initiated when my wife's mother began buying the books for herself, her children, and her grandchildren. We became hooked on the first audio books that came out, and ultimately became captivated by the film series. I had often wondered if and how any stage production, no matter how brilliant its creative artists, could ever begin to encapsulate and present such brilliantly imagined sequences of fire, fantasy characters, and wizardry through live stage productions. That question has now been answered!
Harry Potter and the Cursed Child takes place 19 years following the Battle of Hogwarts, wherein Harry Potter is now 37 years old, married with three school-aged children, and is employed at the Ministry of Magic. Harry continues to struggle with his controversial past; the mysterious death of his parents, his unhappy upbringing, and his mysterious connection with the dark wizard, Lord Voldemort. At the same time, his youngest son Albus struggles every day with the weight of his family legacy that he does not fully understand nor wants anything to do with. Consequently, a deep frustration exists between Harry and his son.
If you're familiar with the mind-bending special-effects described artfully in the books and exhibited in the series of movies created to bring these stories to life, you will not be disappointed with similar mind- bending special-effects created live, right before your eyes on stage. Everything from incredible lighting, sets that appear to move by magic, body bending and elevating magic that hurls people and objects through space, fearsome fire and energy emitting wands hurling furniture and artifacts across the stage, and people disappearing or transforming mysteriously before your eyes. And unlike an apparition, it is demonstrated that there is little danger of serious injury for wizarding transportation from one place to another by means of floo powder and fireplace points of departure and arrival in this world of magic.
The characters throughout these stories share great words of wisdom with young and old alike, such as this thought by Albus Dumbledore, "It does not do well to dwell on dreams and forget to live," and separately on another occasion, Sirius Black exclaims, " If you want to know what a man's like, take a good look at how he treats his inferiors, not his equals." The entire story series is a melting pot of great ideas and thoughts to live by.
During the production, at intermission, I engaged a couple of children, Toko Komiski and Vivienne Cooper, asking them how they liked or disliked the show, and whether anything was scary or disturbing. They both wholeheartedly resounded that they loved it, and enjoyed almost every minute of it! Toko and her mother, Myra, secured their tickets at the incredible price of only $40 per seat during the special lottery that is known as the "Friday 40" special deal available by way of the official website HarryPotterOnStage.com, that occurs at 1 PM on every Friday.
Harry Potter and the Cursed Child as presented in the recently renovated Curran Theatre has practically blown our minds over the course of the two segment shows we saw presented over the course of one afternoon and evening. There are so many reasons for me to recommend that everyone, from senior to small child, should absolutely find a way to see this show at least once during its run. Today in a time when our world is so stressful and painfully realistic, for me this has been a rare enjoyable opportunity when I could drift away in the storyline of a play. Harry Potter is absolutely magical in every sense of the word, and very nearly every scene in this truly spectacular production is worth every cent spent in joining the excited throngs attending the show.
Ticket prices currently range between $59-$199 per part with premium seats available for all performances. Standard service fees also apply. Tickets may be secured at www.HarryPotterOnStage.com and performances continue with two performances (both parts, one and two) on Wednesdays, Saturdays and Sundays, part one beginning at 2 pm and part two concluding at 7:30 pm the same day. Then, with performances of part one on Thursdays at 7:30 pm and with part two performances at on Fridays at 7:30 pm, with no closing date announce as yet. The theater is located at 445 Geary Street in San Francisco, fairly easily reachable by BART, departing the Powell Station in San Francisco and walking four blocks to the theater.