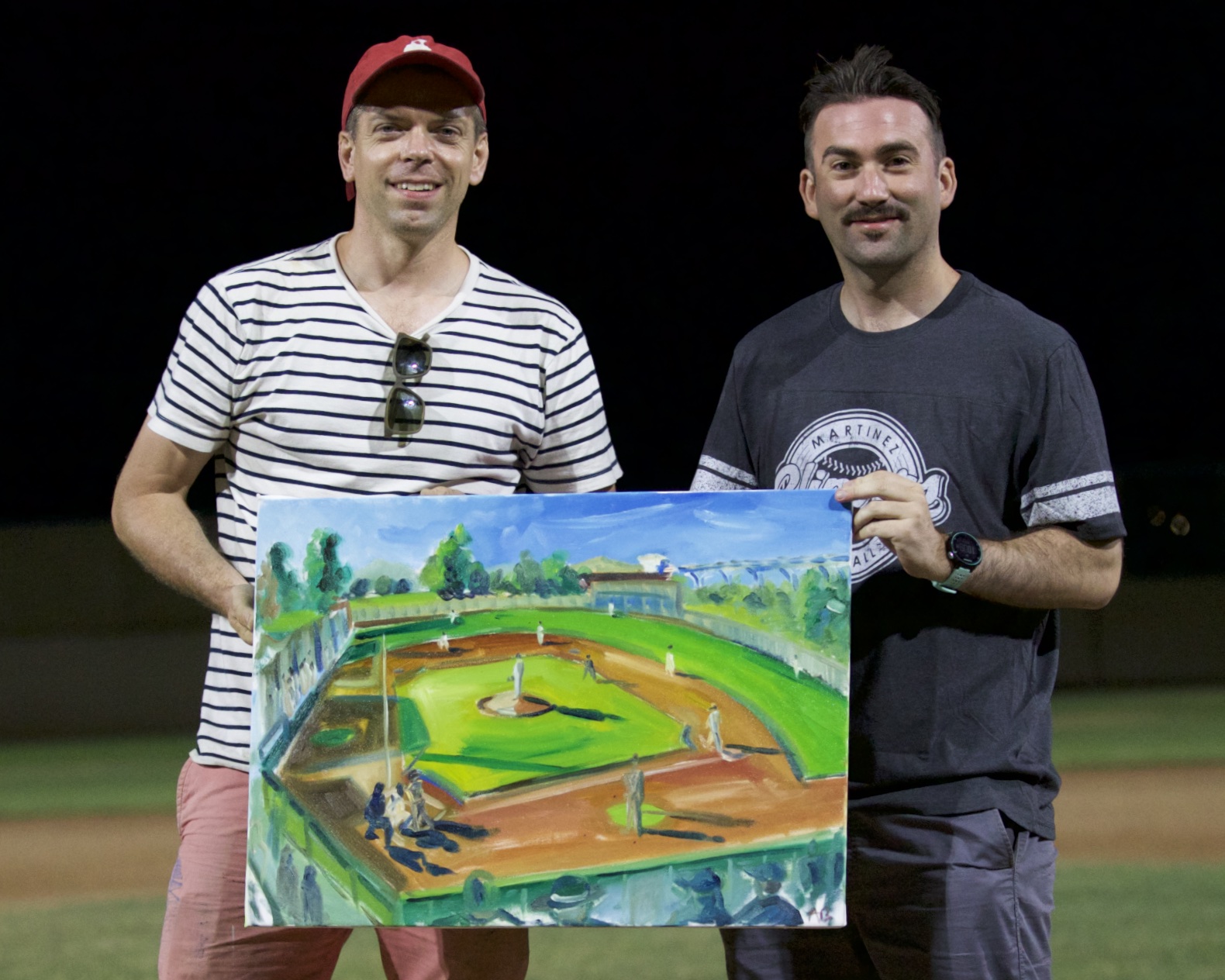 Joey Mellows, right, with artist and traveling companion Andy Brown at a recent Martinez Clippers game. Here is a story on Brown, who paints the ballparks he visits with Mellows.
MARTINEZ, Calif. – Martinez Clippers games have drawn baseball fans from past Sacramento and from such other Bay Area cities as Sunnyvale and Livermore. But Joey Mellows has those fans beat. He came to Martinez from England just to see the new team play.
"I'm a sensible guy most of the time!" Mellows joked about the journey. It's part of a year-long trip he is making around the United States, seeing as many baseball games in as many ballparks as possible.
The Portsmouth native planned well. He has been a boarding master at schools, first in England and later in Seoul, South Korea. In that position, he gets to live without paying rent. Mellows set aside what he would have spent on an apartment, and at the end of 10 years, he had enough money saved for the adventure.
He was ready. As a boarding master, he hadn't had a day off. "After 10 years, I thought it would be nice to get out and see the world."
But why baseball?
"I didn't know anything about it until I went to South Korea. I didn't even know the number on a team," he said. But the Koreans love baseball, and before long, Mellows gained an appreciation of the game. He also saw games in Japan, another place where baseball is a top sport. He began to follow games in both countries.
"There's something about the atmosphere," he said. "It's slow. There's time to chat."
But he's got another reason to see baseball in its various iterations in the sport's birthplace, the United States. Next year, the New York Yankees will be playing the Boston Red Sox in London Stadium, in England, a two-game stand June 29 and 30.
It will be the first time Major League Baseball teams have played in Europe. Mellow not only wants to be more fluent in baseball by then, he also wants to get his countrymen excited about the game.
He's already been doing that as @BaseballBrit on Twitter, where readers can get Mellows's own take on the sport and its teams. He's also with "Bat Flips & Nerds, a British Take on Baseball," at http://batflipsandnerds.com, which gives visitors access to podcasts, guides and the opinions of British baseball fans.
England has baseball, but it's not considered a top sport, he said. Many teams depend on volunteers, and on donations for funding. Still, among some people there, baseball has a following.
While Mellows is focusing on independent and minor leagues, he is taking in Major League games, too. His trek started in Houston, home of the Astros.
He caught some independent games in Texas, among them the Frisco Roughriders, the Double-A affiliate of the Texas Rangers, and the Cleburne Railroaders, of the American Association of Independent Professional Baseball.
Then came a long drive to Chicago, Ill., where he saw a women's fast-pitch softball game and became intrigued with the winding underhand pitch. He would have liked to have seen the Cubs play in historic Wrigley Field, but the team was on the road.
That leg of the trip gave him insight to another aspect of America. "The distances here are crazy!" he said.
While in the Bay Area, Mellows will take in an Oakland A's game Monday and a San Francisco Giants game Friday. He's also going to watch all six teams of the Pacific Association of Professional Baseball before heading out to see games in the Frontier League, including the Washington (Pa.) Wild Things that were voted to be a United Kingdom affiliate, and teams in the Atlantic League Professional Baseball,
Although his time in Martinez was brief, he stayed at a local hotel and had a chance to visit the city's downtown.
He dined at Creek Monkey, where he sampled its craft beer. American beer has a stronger percentage of alcohol, he said, and the flavor of the brew he had in Martinez "is very hoppy."
But that was no criticism. "It's a very tasty brew."
The Clippers treated Mellows well, welcoming him to the top row behind home plate, where Sam Weismann provides the color commentary for home games. Weismann did an on-air interview, and the team gave Mellows a souvenir shirt.
Unfortunately, the visiting Stompers blanked the Clippers 8-0 Tuesday night, including the two-run homer by Kenny Meimerstorf, the first home run Mellows had seen this leg of the trip.
But the game typified why Mellows likes independent baseball.
"It's about the love of the game, of making it to the next game. It's not about glitz and glamor. It's the camaraderie. I'm blown away how hard it is in independent leagues," he said.
"They're the dreamers I want to write about," he said. "I'm enjoying it. I'm thankful I got the chance to do this."