John Joseph Dutra
Dec. 19, 1934 – Jan. 6, 2018
Resident of Martinez, Calif.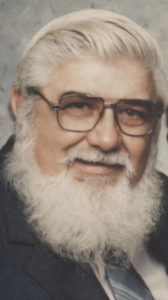 John Joseph Dutra was born in Franklin Canyon, at the end of Dutra Road, to Margaret and John Dutra, December 19, 1934. He moved to Pacheco, Calif., when he was six. After graduating from Mount Diablo High School, he soon wed Anneka Jan Walton.
John had a number of professions over the years. He proudly served in the National Guard, helped his family on the ranch, worked at Shell Oil and became an owner/operator truck driver. He was the hardest working man anyone ever knew.
After retirement, John moved to Burney, Calif., with his long time partner Jean Macey, roaming the mountains on his ATV, fishing, relaxing at the diner and finding luck at the local casino. He loved having his family up to visit and teaching his grandkids to fish.
John loved telling a story, a joke, some good country music and having his family around him.
Everybody loved our dad. He was everyone's dad, grandpa or friend. He will be greatly missed by all who had the pleasure to know him.
John is survived by his six children, Steven (Eileen) Dutra, Peggy, David (Leanna) Dutra, Garry (Diane) Dutra, Lauren (Richard) Zolezzi and Stacy Dutra, as well as his 14 grandchildren and 13 great-grandchildren. He is also survived by Jean Macey's children and grandchildren and many more relatives and friends.
A funeral service will be held on Saturday, January 13, at Connolly and Taylor Funeral Chapel, 4000 Alhambra Avenue, Martinez, CA 94553. Viewing to begin at 9 a.m., service starting at 10:30 a.m. Interment and reception to be held at Queen of Heaven Cemetery, 12 p.m. to 3 p.m.